We may earn money or products from the companies mentioned in this post, and as an Amazon Associate I earn from qualifying purchases. Please see my full disclosure for more information.
Cheap and even better than shop-bought nut butters, this insanely easy way to make homemade almond butter is a must for everyone!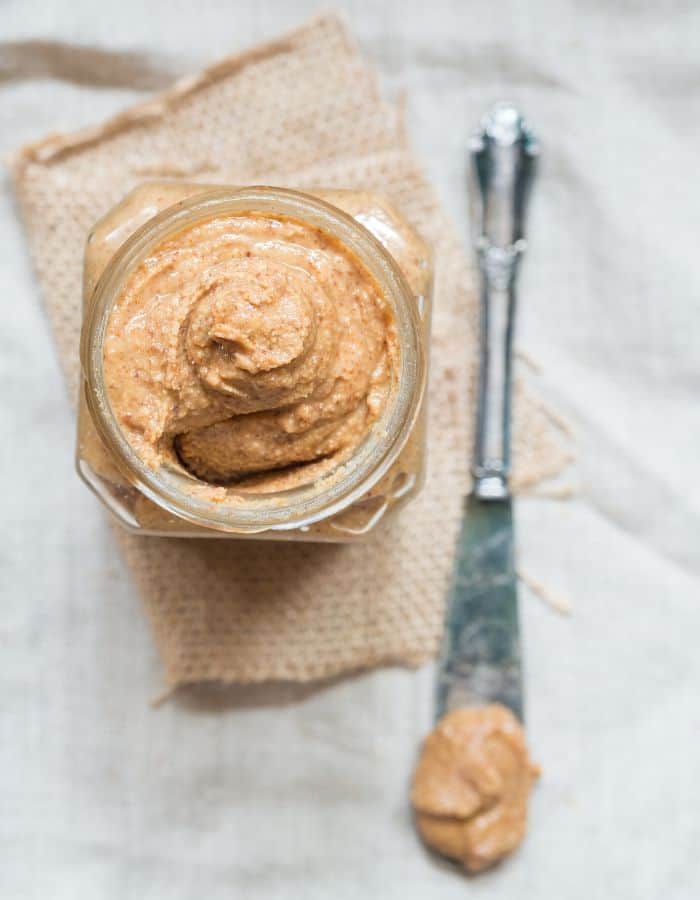 I am a total nut butter addict. From the classic, humble peanut butter to the more exotic almond and cashew butter, I'm a big fan.
Like many people, nut butter is a staple item in my diet – I love adding a spoonful of almond butter on my oats or even just on a slice of toast with some banana for breakfast to keep me full all morning.
However, what I'm certainly not a fan of is the cost of almond butter. A 12 oz jar will set you back at least $12 when you're shopping for the quality brands that are free from excess sugar, salt, and palm oil.
You know what you can also get for $12? At least 1 lb of almonds – if not way more than that (which, by the way, makes 1 lb of almond butter). If you're an almond butter addict like me, making homemade almond butter can save you a lot of money – with the added bonus that it tastes so much better than the jar-bought stuff.
All you need? raw almonds, and a little salt.
This is one of those frugal hacks that I cannot believe I didn't discover sooner. I always assumed making my own nut butter would be a lengthy and more complicated process, when in fact, it's so easy and results in the best almond butter I've ever had. If you're trying to save money, this is one food hack you need to try!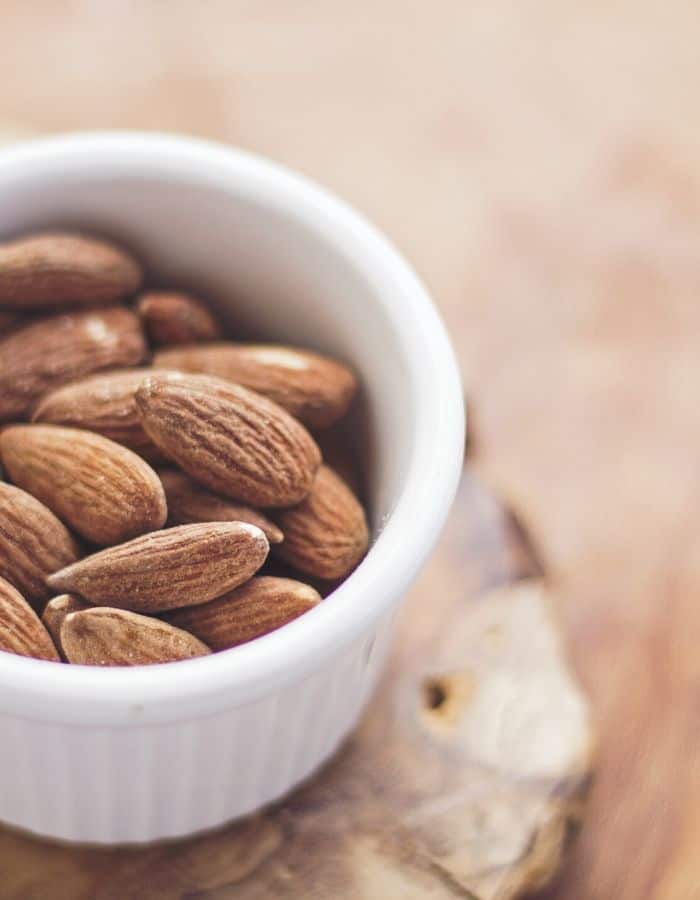 What does homemade almond butter taste like?
It tastes like almonds – ultra-thick, nutty, creamy, and with a hint of saltiness. If you use roasted almonds (or roast them yourself), your nut butter will taste exactly like freshly roasted almonds. Heaven.
 
How to make homemade almond butter: key tips
Be patient with the blending process
The first time I tried making homemade almond butter, I simply switched on my blender and let the magic happen. It took a while, but the nuts eventually turned into thick, creamy almond butter. The second time, however, a lot more patience was needed – plus, I had to scrape down the sides a couple more times. The key trick is just to be patient – it might seem like your almonds are never going to turn into almond butter, but they will.
Keep an eye on your mix if you want crunchy almond butter
I love my homemade almond butter with a bit of texture, so I make sure I stop blending before the nut butter gets completely smooth. Depending on your preference, make sure you keep an eye on your almonds so you can have smooth or crunchy almond butter depending on what you prefer!
Try roasting your raw almonds
If you've got raw almonds, try roasting them in the oven before blending to really take the taste of your homemade almond butter up to the next level. Plus, warm roasted almonds actually tend to blend a little easier than cold, raw almonds my experience. All you need to do is heat your oven to around 200 degrees C | 400 degrees F and dry roast the almonds for around 10 minutes.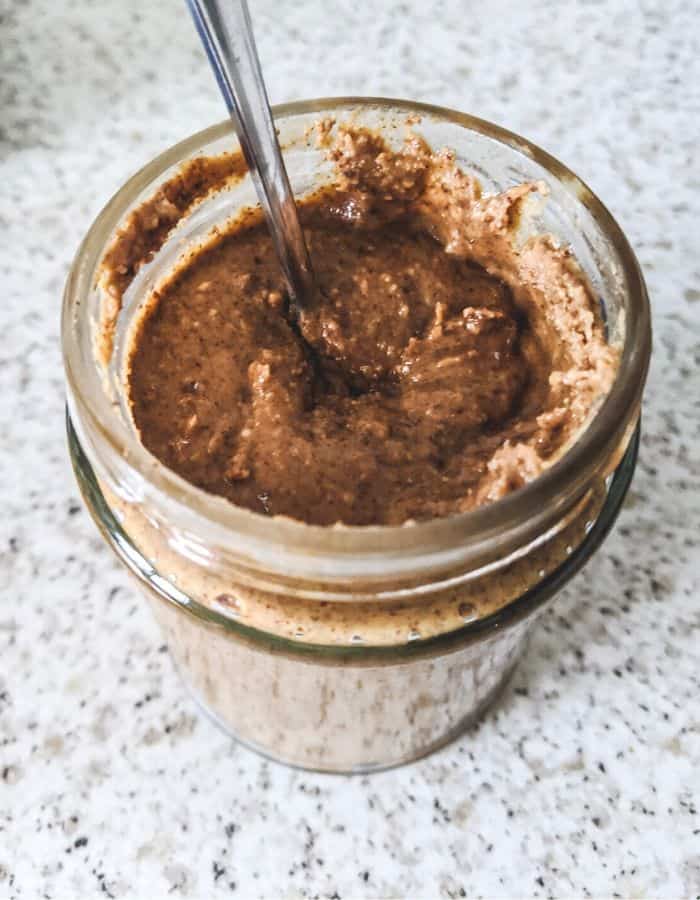 What equipment do you need to make homemade almond butter?
I use my NutriBullet to make my homemade almond butter which works fine. If you are using a NutriBullet, make sure you use the blender blade and not the milling blade as you'll just end up with almond flour!
The only downsides of the NutriBullet is that sometimes I do have to stop it, scrape down the sides, and then blend again which can get a little annoying. What's more, it can get pretty noisy!
Other excellent blenders I've seen recommended for making homemade nut butter quickly are the Vitamix blender (I cannot wait to invest in one of these for my kitchen one day!), and the Cuisinart blender also gets a lot of fantastic reviews (affiliate links).

Best recipes to enjoy with homemade almond butter
I love having almond butter on wholegrain, seeded toasted with fresh raspberries on top. However, it's also great paired with protein oatmeal for a hearty, filling breakfast, and can even be stirred into treats like banana bread.
Yield: 1 lb (16 oz) almond butter
Homemade Almond Butter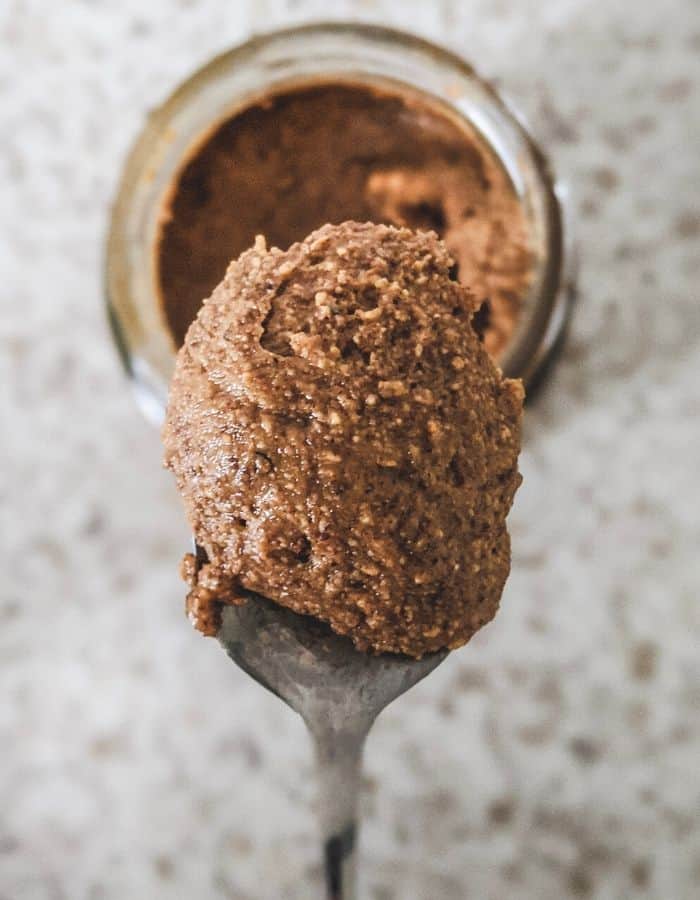 An insanely easy homemade almond butter recipe resulting in super thick, creamy, nutty almond butter to enjoy for a far cheaper price than shop-bought nut butter.
Ingredients
1 lb (16 oz) raw almonds
1/2 tsp salt
Instructions
Heat your oven to 200 degrees C | 400 degrees F and dry roast your almonds for 10 minutes
Remove from the oven and allow to cool slightly for 5 - 10 minutes before adding to your blender with the salt.
Blend until the almond butter is to your desired consistency (crunchy versus smooth). The almonds will first turn into a flour-like consistency - keep blending until the nuts start to release their oil and the flour transforms into almond butter!
If necessary, scrape down the sides to ensure all of the floury almond consistency is blended.
Notes
Mix it up by adding maple syrup, cinnamon, or even some cocoa powder to get creative with your homemade almond butter!
Nutrition Information:
Yield:
16
Serving Size:
1
Amount Per Serving:
Calories:

164
Total Fat:

0g
Saturated Fat:

0g
Trans Fat:

0g
Unsaturated Fat:

0g
Cholesterol:

0mg
Sodium:

73mg
Carbohydrates:

0g
Fiber:

0g
Sugar:

0g
Protein:

0g