We may earn money or products from the companies mentioned in this post, and as an Amazon Associate I earn from qualifying purchases. Please see my full disclosure for more information.
Hey everyone! Today, I'm introducing a new theme to the type of posts I publish here at The Wallet Moth, so it's an exciting time! I'm going to be publishing a digital nomad travel guide to the destinations I visited throughout 2017, and continue this theme for the places I visit and work in for the future.
As readers of this site will know, last year I started a business and began travelling the world. It was one of the best decisions I have ever made, and this whole site revolves around giving you the tools you need to make whatever dream you have possible.
I love writing about ways to diversify your income, live more frugally, and ultimately manage your money to create your lifestyle, but it occurred to me that once you've done those things, you might be wondering "now what?". I want to give you the tools to make your dream lifestyle happen – and that includes picking a new temporary home in the world if that's your desire!
Plus, who doesn't like having a nosy at neighbourhoods around the world 😉
Today, I'm focusing on a place we spent about 1.5 months in total in 2017, and really enjoyed as a safe, easy to navigate introduction into the digital nomad lifestyle.
Chiang Mai is a total digital nomad hub. Every cafe we visited, there would be lone travellers sipping on a coffee and typing away at their laptops. There are co-working spaces, wonderful restaurants and cafes, tonnes of street food, and the people living there as so friendly and welcoming. There are even organised digital nomad events if you're travelling on your own and want to meet some like-minded people!
Below, I've highlighted a few key things I'd always look for in a digital nomad destination, and the details for Chiang Mai.
Getting There
Getting to Chiang Mai is no hassle at all, as there is an international airport just outside of the city (about 150 baht in an Uber), and a train station a 10-minute drive away.
I first visited Chiang Mai in 2011 with my sister, and we caught a night train from Bangkok to Chiang Mai along with some friends. It was so exciting! We were some of the only Westerners on the train and loved the authentic experience.
Pete and I repeated this journey in 2017 and it was very different – I don't think I spotted a Thai person on the train. It seems that everyone now uses the overnight train to get to Chiang Mai so it's definitely lost a bit of excitement, but it remains a good way to get there and you also save a night of accommodation.
The second time, we flew in from Bangkok. This was only an hour or so flight with AirAsia and was really convenient with the airport being so close. It is a little more expensive than the train as you would expect, but if you don't have long in Chiang Mai then it might be worth paying extra so you have more time in the city.
Read Next: 60+ Ways to Save More Money Every Month
Accommodation
We spent the first month of our trip in Chiang Mai and stayed in a gorgeous little Airbnb studio apartment with an open-air bathroom.
It was based on the North-West side of the old city (just outside the moat) and was in a great location close to many restaurants, cafes and little side streets packed with interesting sights to wander through.
I mean, one major downside to the apartment was that I woke up with a cockroach crawling over me…*shudders*…but honestly, I think I just got unlucky because the apartment was spotless.
We always stayed in the Old City part of the town, although Nimmanhaemin Road also seems to be a popular location. We visited there once or twice for some amazing food, but it did seem to be a little busier and to have more of a professional/worker scene than the old city – it depends on what vibe you'd prefer, but we loved the hippy/backpacker feel of the Old City without horrible bucket parties and restaurants offering nothing but burgers and chips that we often found in the backpacker districts in South Thailand.
Read Next: How to Find the Best Deal on Your Accommodation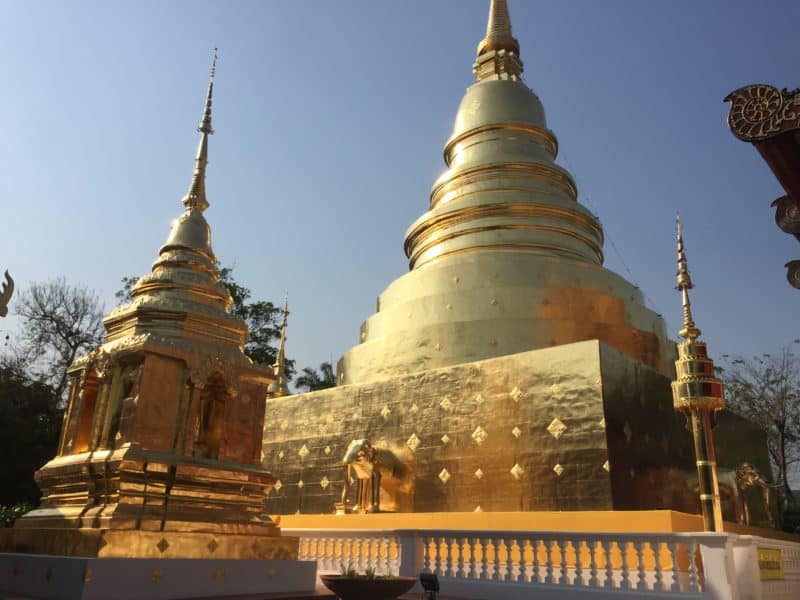 Working
We always worked out of restaurants and cafes, preferring the more laid-back vibe than checking out coworking spaces.
However, I did look into the coworking spaces and found that there are loads to choose from if that's your scene. The most popular seem to be CAMP, Punspace, and M-A-N-A. I only saw CAMP with my own eyes, as it's located on the top floor of a shopping mall that also happens to have a great cinema for rainy days. It looked clean, spacious and very modern – but also very busy.
Thankfully, Chiang Mai has a huge cafe scene that is great for getting some work done when you feel like you need a break from your hotel room.
Our favourites for working away the day were:
Secret Garden Cafe
Overstand
I wish I could list more cafes to be more helpful, but we fell in love with these two places and just kept going back.
Secret Garden Cafe is beautiful, has lovely staff and delicious food, with plug points all around the cafe – but the secret is definitely out, so we'd struggle to find a good table sometimes.
Overstand has a very hipster-vibe, but honestly, I totally love that kind of place. The food was more expensive than most places in Chiang Mai (although very tasty!), but it had lots of tables, friendly staff, and played great music throughout the day – closes at 3pm.
Eats
Chiang Mai is stuffed with amazing restaurants and street vendors making every single day a gastronomical delight. Pete and I are both total foodies, so we loved exploring what was on offer in this city.
We often headed to the night market for cheap BBQ fish, noodles, pork and rice, and other delicious dishes! There are two main night markets in the old city: North and South gate. We went to both – North has more of a local feel to it, with loads of vendors with seating on offer.
South felt a little more tourist-friendly and didn't appear to have as much seating. We didn't love our visit to this market though because a swarm of flying ants had come out which put us off eating or being outside in general!
Much as we enjoyed the street food, Chiang Mai also has a tonne of restaurants serving delicious, budget-friendly (and a few not so budget friendly) food.
Absolute highlights included:
Dash
Cooking Love (our favourite!)
Cat House
The Hideout
La Fourchette (not budget friendly by any stretch, but a mind-blowingly good treat)
Ginger & Kafe
Read Next: Fail-Safe Ways to Save More Money on the Road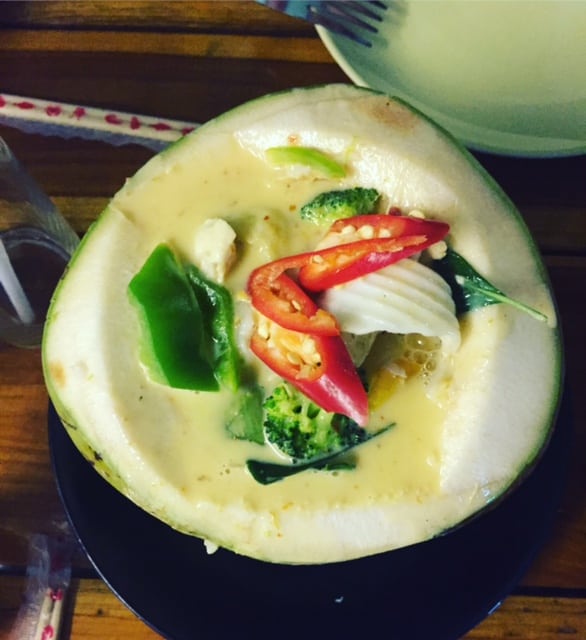 Things to Do
Climbing
As climbers, the first activity on our list was, of course, climbing! Crazy Horse Crag is about 45 minutes out of the city, with the option to either stay at Jira Homestay opposite the crag, or stay in the Old City and catch the daily red bus with the climbing shop (a more expensive option, but we liked being in the action of Chiang Mai rather than being isolated up by the crag for the whole month).
The crag offers some truly amazing climbing for climbers of all levels (we met a few people having lessons with guides from the climbing shop so you could try it even if you've never climbed before!), and it also gave us some amazing views of the Thai countryside.
If you're a climber and travelling in Asia, I'd really recommend checking out Crazy Horse. Just be cautious about when you go – we were there in March and by midday, any rock in the sun rock was unbearably hot! November – March are the peak months with the best weather to climb, apparently.
Elephant Sanctuary
Chiang Mai is home to an elephant sanctuary, providing a home for elephants rescued from the logging industry.
Travellers should be cautious to make sure you are visiting a legitimate sanctuary and not just another elephant farm for tourists entertainment masquerading as a sanctuary.
We visited the Elephant Nature Park which judging from many reviews, is one of the most established and legitimate sanctuaries. It was a great day where we fed and bathed the elephants, but I do have my reservations on outright recommending this activity to others.
The elephants, though well treated and spoiled with bananas, are visited by tourists every single day. Part of me thinks perhaps these rescued animals would be better off allowed to explore the jungle in peace all day every day, but another part of me knows that the money from the tourist industry is a huge reason that so many elephants are rescued from horrific treatment in the logging industry.
I haven't made my mind up on it – but I'd advise you to do your research and decide where your feelings lie before booking a visit.
Kayaking
We did another tour where we kayaked down a big river in the surrounding countryside of Chiang Mai and it was great fun.
Pete and I had never really kayaked before, and were put to shame by our group (including a 60-year-old woman being a total badass speeding her way down the river!) but we persevered to catch up and still really enjoyed paddling along and enjoying the scenery, including some formidable looking water buffalos and bemused farmers who watched us go by.
If you're tempted to take this trip, heed this warning: wear sun cream, and lot's of it! I wore ¾ leggings and the bottoms of my legs got so burned that I swear I'm still sporting the tan line even a year on!
Walking Sightseeing
One of our favourite ways to experience any new city was to simply walk and take in the sights. Chiang Mai is awesome because around every corner, you'll find a beautiful golden temple, a hidden gem of a cafe, or some other interesting sight to see.
Head out and let the roads lead you where they may – it's one of my favourite ways to travel!
This list is by no means an extensive list of the things to do, see, and eat in Chiang Mai – it's just my personal opinions and highlights! I hope you find this helpful should you ever find yourself heading to this wonderful Northern Thailand city, but be sure to do some extra research and see what other things you can find – and report back to me for my next trip there!