We may earn money or products from the companies mentioned in this post, and as an Amazon Associate I earn from qualifying purchases. Please see my full disclosure for more information.
I used to spend hundreds of skincare and beauty products every year – always picking up and trying new lotions and potions so I never really knew what worked for me. After finally clearing up my skin a couple of years ago, I decluttered my skincare and beauty routine once and more, and my skin has never been clearer. Here's how declutter your skincare routine.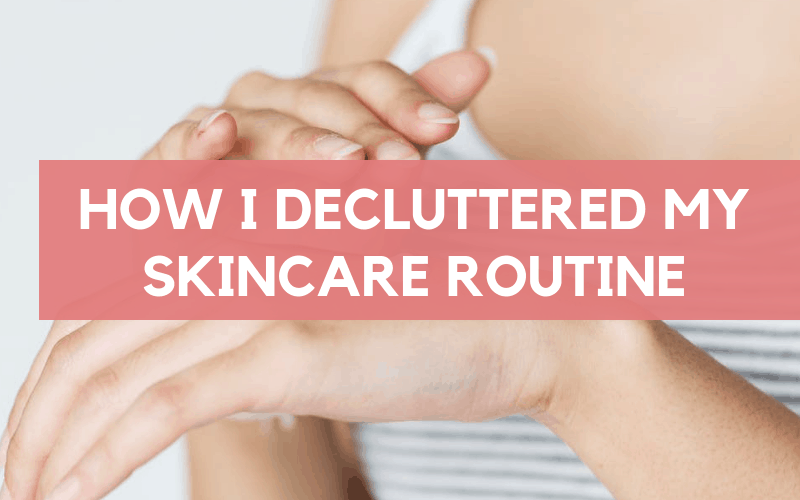 I've been living the minimalist lifestyle for years now, and section by section, I've decluttered almost every area of my life (let's just ignore the wardrobe that seems to add clothes of its own accord for now…).
Adopting a more minimalist attitude has completely changed my life. I save money easily, spend more time doing things that make me happy, and suffer from faaaar less FOMO.
If you haven't really looked into the minimalist lifestyle before, I highly recommend it (and no, it's not all about living on the bare essentials and saying no to every night out!)
This post was inspired thanks to a post I published recently detailing exactly how I finally cleared my skin after suffering from tiny bumps all over my forehead (and a real dip in self-esteem) for years. Part of that process was totally decluttering my skincare routine and beauty products and a year on, I'm still loyal to those same products I mentioned.
Below, I'm going to explain exactly how I decluttered my skincare and beauty regimes, and what products I use to keep my skin healthy and clear by knowing what works for me.
You might also like to check out this review of the top 15 affordable skincare products for a simple, effective routine.
How I Decluttered My Skincare Routine
In the past, I was one of those people who would buy a moisturiser, try it for a few weeks, and then pick up another product from a different brand just to 'try it out'.
I had the same habits for skincare products (multiple cleansers, make up removers, masks, and moisturisers) as I did for beauty products. I could never really decide on a primer or foundation that worked for me and switched up mascaras every couple of months just for the sake of it.
The result?
A super cluttered shelf with half-used products.
Not cost-effective, probably not exactly hygienic (keeping hold of products for too long), and not a great way of taking care of my skin.
So, how did I go from that to this?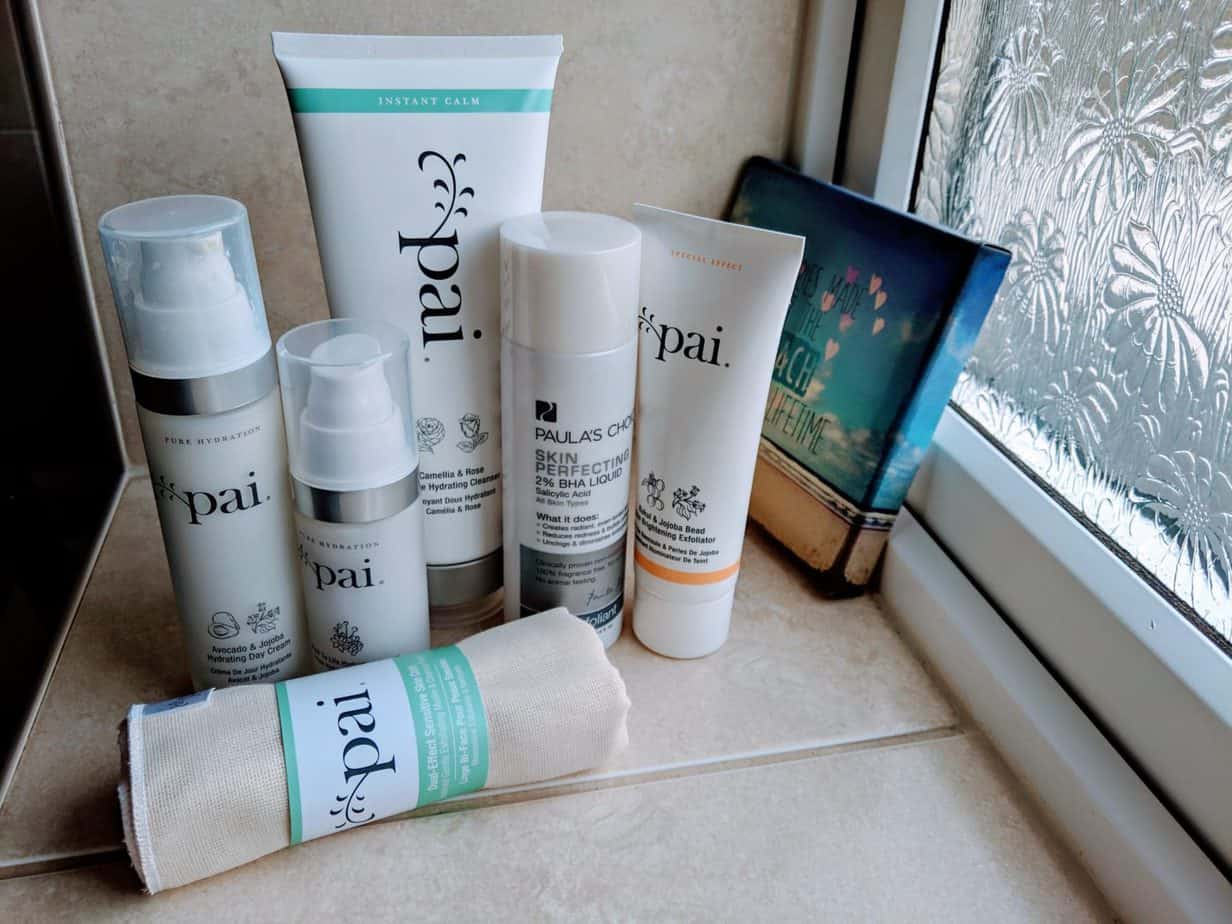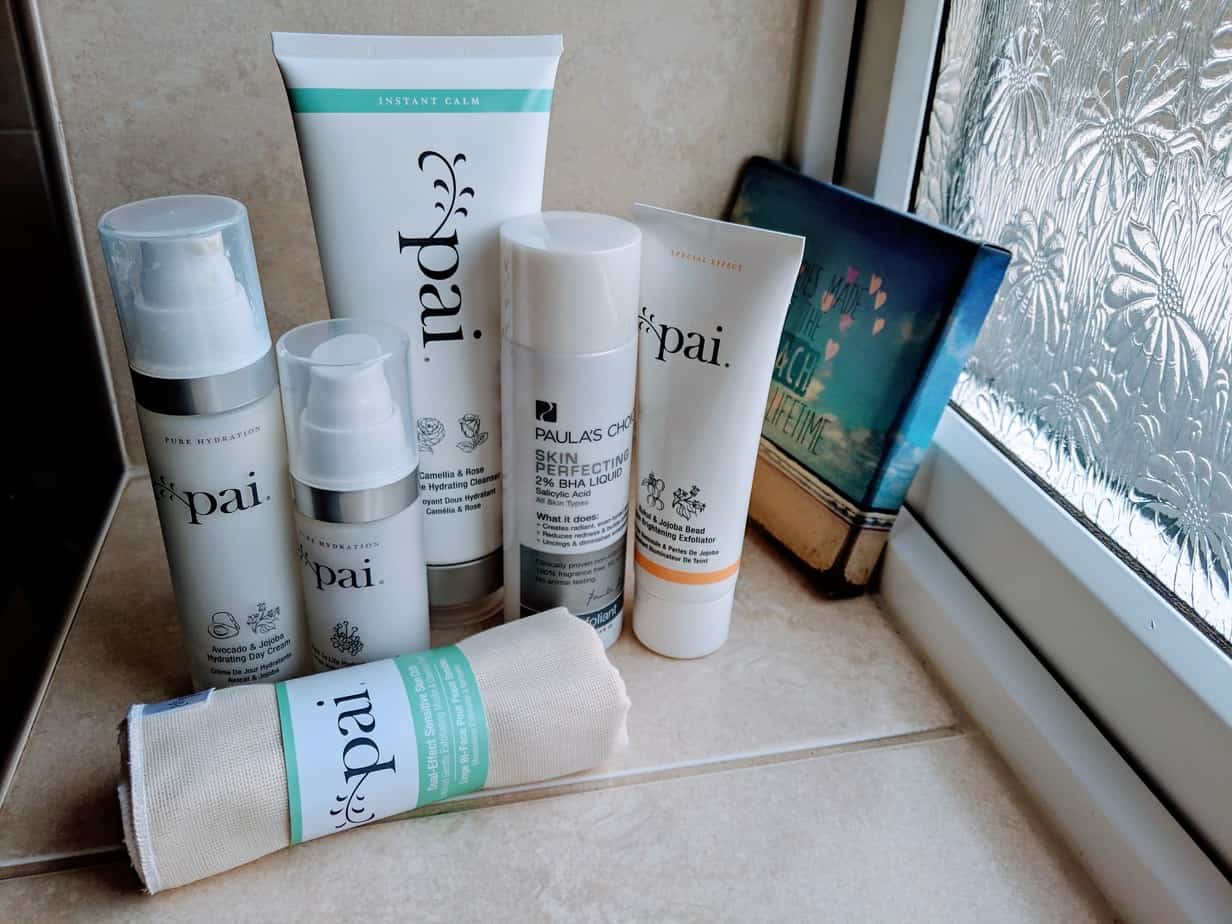 Above are the only products I ever use on my skin. I've stuck to that rule for almost a year now, and am so in love with the products I've chosen that I'm never tempted to 'test' out something new.
(Disclaimer: I did recently buy an organic facial sun cream from Green People now the sun is finally showing itself once more here in the UK – I've yet to start using it though. I also occasionally use the Kiehl's Rare Earth Pore Cleansing Mask, but in all honesty, I like the mask for #selfcare than for it being particularly good for my skincare.?)
Now, I'll be the first one to say it: decluttering my skincare products was not the cheapest process. For a while, I felt like I was betraying my 'frugal' personality online by buying expensive products.
In fact, it wasn't until I shared these feelings in my not-so frugal confessions post that a reader flipped my perspective completely: she pointed out that by sticking to the same few, high-quality products that made me happy, I was being frugal.
I was spending my money on things I valued and no longer added miscellaneous items to my collection without a second thought. I really love Pai Skincare not only because the products work for me, but because they're an ethical company with extremely high standards, and I feel good about my money going towards a company I completely support. (This post isn't sponsored by the way – I wish – I'm just happy to promote a company that I fully respect!).
So, even though the products I now use are expensive, I'm actually saving money by not splurging on products that a) don't even work for my skin and b) I'd end up throwing out before they were even finished.
All that being said, you don't necessarily need to start spending more money when decluttering your own skin care and beauty products. Just find what works for you, whether that's a budget range or premium products.
How I Started To Declutter My Skincare & Beauty Products:
1) Step One: I Cleared Everything Out
While I love the benefits of minimalism, I definitely have slight hoarder tendencies (I know, there's a contradiction if you ever saw one!).
I like hanging on to things 'just in case', or because I hate seeing perfectly good things go to waste.
However, when it comes to the things you're putting on your face, hoarding half-full products that you've had for years but never used isn't a good move.
So, I was brutal. I cleared everything out.
Moisturizers that I'd been clinging onto for two years? Gone. Those free eye makeup remover samples sitting at the back of my shelf? Out. Cheap face masks I'd worn once and hated? Goodbye.
Starting afresh was the only way I was going to clear the clutter and make it stay that way.
2) Step Two: Find What Works For You
I first got my Pai Skincare products as a gift from my sister.
She knew I had been struggling with my skin, and I asked her for a natural, vegan moisturiser (this was around the time I was transitioning to a plant-based diet so I wanted to expand that to my beauty regimes too).
She surprised me by getting me a moisturiser, an exfoliator, and a cleanser from Pai (I know, she's the best!).
After using the products my sister got me for Christmas for a couple of weeks, I knew this was the brand for me. They left my skin feeling so clean and fresh, not to mention blemish-free!
I then added Paula's Choice Skin Perfecting BHA 2% Liquid Exfoliator to my inventory and this product totally cleared up the little bumps on my forehead, and my skincare routine was complete. Once I'd found the things that worked, I was set.
3) Step Three: If You Need To, Test One Product At a Time
If something isn't working for you, don't suddenly switch out every product you have.
Consider what you need to add to your routine: a moisturiser? A serum? An exfoliator? Do you already have all of these, but something is drying your skin out or making it oily?
Bringing awareness into your life is a huge part of the minimalist lifestyle for me, and that even counts when it comes to your skin care.
Assess what's working, and add one product (or remove it) to your routine at a time to avoid building up an unnecessary stock of products that may or may not work for you.
4) Step Four: Stick With It
Even when I added the miracle product (to me, at least) that is Paula's Choice BHA, it didn't work overnight.
I applied to product religiously every morning and night and then cut that down to only in the evenings when my skin finally started to clear up.
It wasn't until about two weeks that I saw a major difference, and that was because I had been rigorous in my routine. Make up off every night, double cleansing in the evenings, cleansing every morning, BHA in the evenings, moisturiser in the mornings. And repeat.
Following these steps are what helped me to 'Marie Kondo' my skincare products and then, my make up products until now I have a select inventory of things that I know I can trust now to cause me to break out!
Below is a complete list of my skincare and beauty favourites!
Skincare Favourites:
Pai Skincare Organic Camellia and Rose Gentle Hydrating Cleanser
Pai Back to Life Hydration Serum
Pai Kukui and Jojoba Bead Skin Brightening Exfoliator
Pai Avocado and Jojoba Hydrating Day Cream
Paula's Choice Skin Perfecting BHA 2% Liquid Exfoliator
Kiehl's Rare Earth Deep Pore Cleansing Face Mask
Hopefully, this gives you a bit of an idea (and a bit of inspiration) how to clear the clutter when it comes to your skincare products. After all, your skin is the biggest organ of the body, so it makes sense that you'd want to take care of it!