We may earn money or products from the companies mentioned in this post, and as an Amazon Associate I earn from qualifying purchases. Please see my full disclosure for more information.
I've been travelling continuously for more than six months now, so I like to think I've built up a good base of knowledge when it comes to the best tools to make travel easier.
(Check out how I make money while travelling the world for more info!)
Today, we're talking Airbnb. Last year, I used the site for the first time and was terrified at the thought of staying in the room of not a hotel, but just a random stranger! Now, it's the first site I use to find quality accommodation in any new city. In other words, I've been truly converted to the service – so much so that I'm dedicated a whole post to it!
I always want to be 100% transparent with my readers so, disclaimer: this is not a sponsored post, but I am using my referral link to Airbnb. This link means that you'll receive $45 off your first trip and that I'll receive $15 in travel credit from Airbnb when you book your first trip using my link.
Whilst obviously you using my referral link would help me out big time, I would never dedicate an entire blog post to a company or service that I thought was anything less than 100% worth using.
So let's dive in: I'm going to talk you through why Airbnb is my number one booking option for accommodation, and give you a few tips to getting the best value stay!
Read Next: Minimalist Travel: How I Travel with Just a Carry-On
---
As is pretty obvious from this blog, a big reason I can afford to travel so much is that I'm a very frugal person. I don't need 5 Star (or 4…or 3…) Hotels every night, I don't need huge, expensive meals, and I don't need lots of new clothes (I may want them, but that's where will-power comes in ?)!
That being said, Pete and I are still very selective when it comes to accommodation. I'll never sacrifice my safety or put myself through a horrendous nights' sleep just for the sake of saving a few dollars.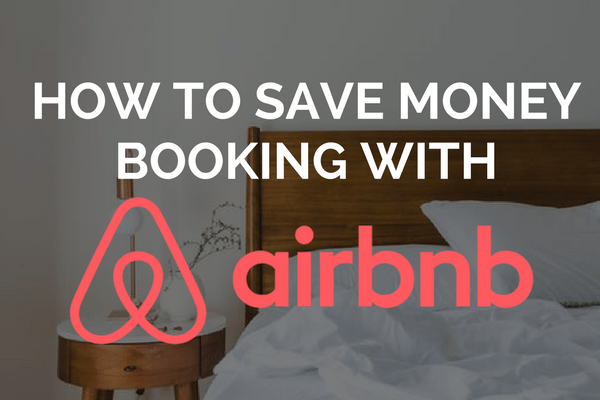 My top priorities when booking accommodation are:
Even when you're working on the road, travelling on a budget is important to keep within your means! We always research the average price of accommodation in each area we stay in, and tend to opt for the cheaper end of options on offer.
That being said, I'm not willing to sacrifice on basic human needs or my safety for the sake of a few dollars. We very rarely go for the cheapest option we find, because these places are often far cheaper than the norm for a reason (bugs, bad neighbourhood, no hot water – just a few nightmare options I can think of!).
We prioritise accommodation with good ratings, in a great location, and that looks clean and welcoming from the photos included as much as we prioritise price.
Over these 7 months, I have been truly converted to believe that Airbnb is the best option for booking accommodation, whether you're going on holiday or travelling long-term like me. I wanted to write this post because I think a lot of people still lean towards hotels and standard booking agents.
Nowadays, we almost exclusively use Airbnb and will turn to Booking.com if Airbnb isn't available or very popular in certain locations.
Why? Well, I'll tell ya!
Profiles
You're able to see your potential host's profile before booking with Airbnb. A typical hosts profile will include a photo of them, a description/bio, how long they've been on Airbnb, and will also feature all reviews they've ever received – for the property you're looking at as well as for any others they may own.
I find this feature really useful because it's instantly clear who is renting out a spare room or apartment because they happen to have space, and who runs Airbnb like a business. Some people do now use Airbnb essentially as another booking agent, posting the rooms in their guesthouses up as 'spare rooms'.
While I don't think there is anything inherently wrong with this, we have always had better stays with people who live nearby and only have a few rooms to rent. These stays always feel more authentic, with the hosts much more willing to help you out with finding your way around the city.

Reviews
Airbnb has a review exchange system, where you can leave your host a review after staying with them, but you will also receive a review from them to be added to your profile. Neither party sees either review until both have submitted their review or the time period to review your stay has elapsed.
This is a great thing for two reasons:
It encourages everyone to leave a review
Sometimes booking agents can be a little skewed because the only people leaving reviews are the type of people who write reviews – not always a large percentage of visitors. On the other hand, if you see that your host has written a review about you (which you can't actually see until you've written yours!), there's an incentive to share your experience.

It makes Airbnb a more honest place
Having a bad review on your profile makes it less likely for a future host to accept you staying with them – whilst of course, a bad stay with a host will lead to a bad review for them and less future guests. The two-way system, therefore, ensures hosts and visitors are more respectful of each other, which creates a much nicer environment to be in, in my opinion.

Local People
By booking with Airbnb, you're putting your money in the pockets of local people who live in the area you're visiting. Admittedly, some people are already taking advantage of the site and listing every individual room of their guest house or hotel on it, but you can generally spot these a mile off.
This point feels like a no-brainer, but it's an important one to remember: when you're visiting a new place, who would you rather support: an international hotel chain, or an individual or family with roots in the location you're visiting?

Prices
Like Booking.com and a number of other booking agents, Airbnb has a huge variation when it comes to prices. I've looked longingly at times at a luxury villa available for $1,000 per night, but have also booked brilliant accommodation for as cheap as $13 a night.
With Airbnb, I think you get a much better deal for your money. For $13/night in Chiang Mai, Thailand, we had our own private studio apartment in a really central location. For $20/night in Kyoto, Japan, we had the same deal. With a hotel, you'd pay more for the same location and size of the room.
What you pay is entirely down to your budget – but as someone living on the lower end of price ranges, don't be worried that a low price is too good to be true! To book your first stay with Airbnb, please head over to the site using my link to get your $45 discount! Check out my tips to getting a great deal on Airbnb below.

---
Tips for booking on Airbnb:
While booking with Airbnb itself is great, there are always going to be a few rotten apples signing up to the service listing rooms you definitely don't want to stay in.
I haven't experienced a nightmare accommodation stay via Airbnb yet, and that's because there are things I check before booking. These include:

Photos
Photos are so important for getting a good idea of what you're paying for when you book. When looking at the photos of potential rooms, look for:
More than one photo
Photos of the surroundings (bathroom, living room, kitchen, perhaps the road outside), not just the bed
Relevancy – some people put a picture of a pretty flower or a swimming pool to entice you, but make sure the room itself is just as nice!

Description
Make sure there is actually a description of the room/apartment/house – this shows an enthusiastic and engaged host who actually cares about who books the place!
It's also useful to check if the description fits the photos and list of the room's amenities. If the copy doesn't read quite right or doesn't fit the room, it may be a copy and paste job by someone hosting a huge monopoly of rooms on the site.
Reviews
After photos, reviews are the first thing I look at. On Airbnb, most people leave a review – not just the people with something bad to say as can often be the case! Check out the places most recent reviews and see what kind of experience the last few guests had. If they're all 1* reviews, be wary.

Host Profile
The host's profile is another good place to check when deciding on your accommodation. The best hosts always have, in my experience, a fun profile that gives a little insight into who they are as a person and why they're on Airbnb.
However, if everything else looks good, don't let your host's profile put you off too much, especially if it's just a little short in the description. Photos and reviews take priority!
Sign up and book your first trip with Airbnb today – if you're a traveller that values a great bargain for your money, I promise you will love the experience.
---
Other Essential Travel Resources:
The only site I ever use to find cheap flights anywhere in the world. SkyScanner is a comparison site, so it compares hundreds of airlines to find the best price for your travel dates, and will also include options for direct, 1 stop or multiple stop flights (multiple stopovers generally means cheaper but much longer flights!)
Another great feature of SkyScanner is the ability to see flight prices over an entire month – so if you're flexible in your dates you can book a few days earlier or later and potentially save hundreds on your flights. Compare the best deals on flights for your holiday here.
Not all locations have Airbnb – particularly more remote places. In this case, Booking.com is my second choice for booking quality, budget-friendly accommodation. Be sure to create an account to get access to their Secret Deals and Genius prices – we've saved up to 10% on a hotel this way.
TripHobo is an awesome comprehensive booking agent for travellers not confident in booking all your flights, accommodation and tours independently. If you'd rather organise everything in one place, TripHobo lists a range of options for everything from hotels to activities and tours, and can be a great option if you want to pack a lot of things into a short amount of time!