We may earn money or products from the companies mentioned in this post, and as an Amazon Associate I earn from qualifying purchases. Please see my full disclosure for more information.
Looking for ways for your children to earn some extra pocket money? Interested in what types of jobs are age-appropriate for a 10-year-old?
This article contains some of the best jobs, tasks, and volunteer opportunities for your children to earn some money for themselves.
Many 10 year olds are eager to earn their own money and gain some independence. At age 10, they'll be beginning to think of themselves as closer to teenagers than children – you may start to notice them acting more mature and capable of handling more complex feelings.
As such, many 10 year olds are keen for more independence – and finding ways to earn some money for themselves is a key part of that.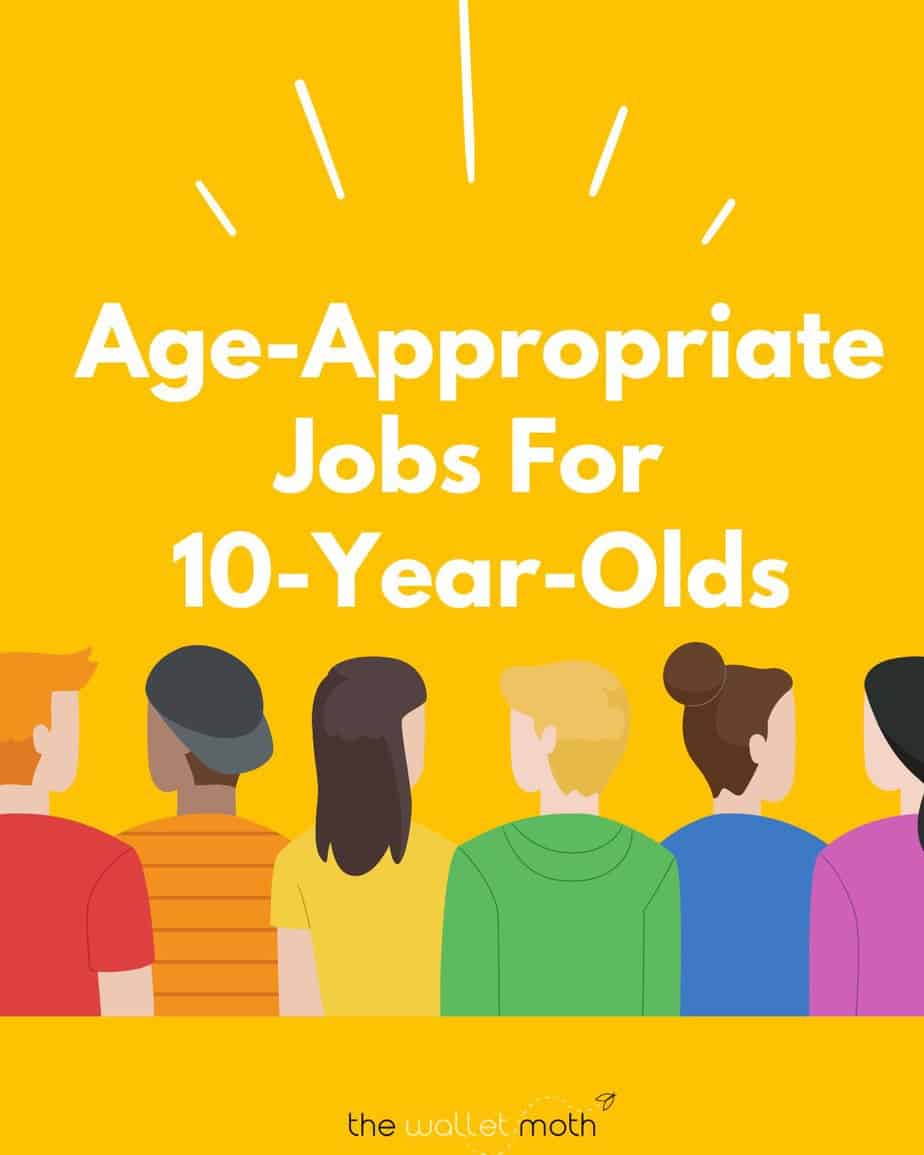 One popular option for young kids is to give them chores but portray them more as 'jobs' that they can earn pocket money for doing. We've listed some of these popular chores below.
There are also slightly more traditional jobs – from doing a paper route or plant sitting for neighbors, to even an online side hustle (with parental supervision!). 
Let's dive into some popular household and other jobs for 10 year olds now.
(Is your child closer to 11? We've listed out some great jobs for 11 year olds, too!).
Common household jobs for 10 year olds:
As we said above, some of the best jobs for 10 year olds are standard household chores (that you probably wouldn't mind a bit of help with anyway!) that will give your pre-teen a sense of independence by working to earn their pocket money.
These could include:
Folding laundry
Doing the dishes
Loading the dishwasher
Sorting and tidying toys/play areas
Setting the table for dinner or helping prepare food (under your supervision)
Washing the cars
Sweeping, mopping, and vacuuming floors
Dusting areas of the house
Tidying their own room
Sorting through unused items and selling them at a garage sale, on Etsy, or on eBay (with your help)
Weeding
Watering flowers and plants outside
Feeding any pets you have
Beyond these great jobs for 10 year olds to earn some pocket money and a greater level of independence around the home, there are some more traditional jobs you could think about helping them get started with.
It's important to first understand what the US child labor laws are, though, to ensure you're staying above board.
Understanding Child Labor Laws
Child labor laws exist to protect children from exploitation and ensure their education and well-being. These laws vary by state and country, but they generally set minimum age requirements for employment and limit the number of hours children can work.
In the United States, the federal Fair Labor Standards Act (FLSA) sets the minimum age for most non-agricultural work at 14.  This excludes family-owned businesses, however.
What's more, minors are entitled to start their own small business – but at age 10, you as the parent would most likely be involved on most levels, anyway.
Violating child labor laws can result in fines and legal consequences for employers, and can put children at risk for exploitation and harm. 
For this reason, more traditional jobs are going to be harder for 10 year olds to do – but the below options could all be age-appropriate for your child.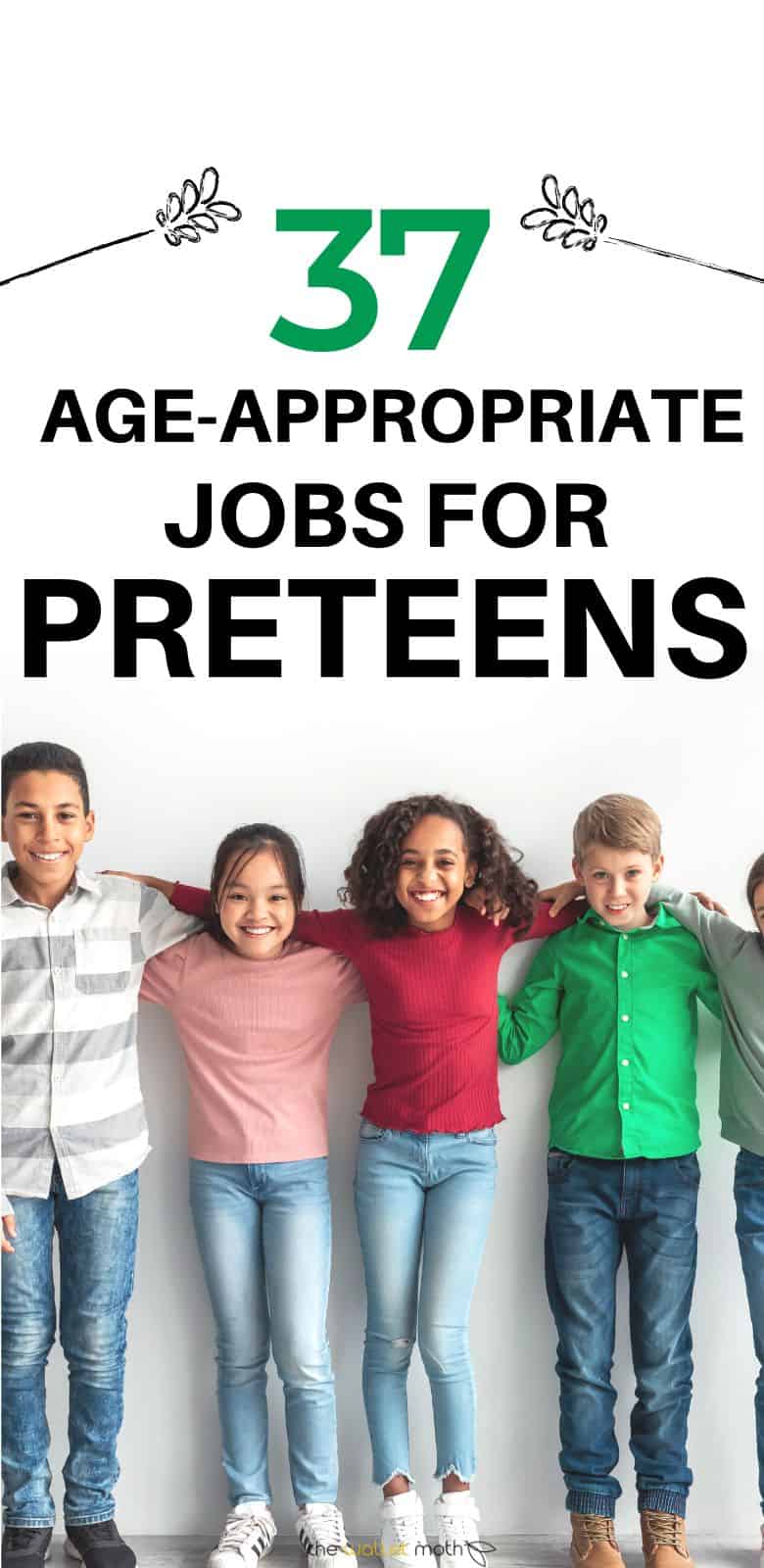 Types of Jobs for 10 Year Olds
When it comes to finding jobs for 10 year olds, there are various options available. Depending on your child's interests and skills, they can choose from traditional jobs, online jobs, summer jobs, or even start their own business.
We've included a brief list below – click the link for each job listed to jump to a more detailed explanation.
Traditional Jobs
Traditional jobs are those that have been around for a long time and are still popular among kids. These jobs include:
These jobs may require hard work, but they are simple tasks that kids can easily handle. They offer a great opportunity for kids to earn some extra money while learning valuable life skills.
Online Jobs
Online jobs are becoming increasingly popular among kids. These jobs include:
These jobs are easy and fun ways for kids to earn money. They require minimal effort and can be done from the comfort of their own home. It's wise to ensure you are supervising your child's time online if they want to go down this route.
Summer Jobs
Summer jobs are a good way for kids to keep busy during the summer months. These jobs include:
These jobs may require a lot of work, but they offer an excellent opportunity for kids to learn new skills and gain work experience.
For many of these roles, your child may be told they need to be older to qualify – but they might at least be able to shadow someone in the role.
Starting Their Own Business
Starting your own business can be a good thing for kids who are entrepreneurial and creative. Some ideas for kids' businesses include:
Starting a business requires a lot of work, but it can be a perfect job for kids who are up for the challenge. There are plenty of jobs available for kids who are willing to put in the effort and time.
More Ideas for Jobs for 10 Year Olds
14. Babysitting
While it may seem early, some 10-year-olds might be ready to take on babysitting jobs, particularly if it involves looking after younger siblings or familiar children in the neighborhood under close supervision.
This can be an excellent opportunity for them to learn responsibility, empathy, and caregiving skills.
Before your child takes on a babysitting role, it's crucial to ensure they are mature enough to handle it. It might be helpful to have them complete a babysitting course or first aid training to prepare for potential emergencies, and make sure an adult is not too far away if needed.
15. Lawn Mowing
Lawn mowing can be a great job for a 10-year-old, especially during the spring and summer months.
You should supervise their work until you're confident they can handle it independently.
If the thought of your 10 year old handling a lawn mower puts fear into you, general lawn care is a safer alternative without any machinery!
16. Running a Lemonade Stand
Running a lemonade stand is a classic job for young children that not only allows them to earn a little money but also imparts valuable lessons in entrepreneurship.

As a parent, you can guide your child through the process – from making the lemonade to setting up the stand, pricing the lemonade, and interacting with customers.
17. Paper Route
A paper route is a classic job option for 10-year-olds looking to earn some money and gain valuable experience.
To start a paper route, find out if there are any local newspapers in your area that are looking for delivery people.
It's best to choose a route close to home for the convenience and safety of your child. As a parent, you may need to drive your child on their route in case of snow or heavy rain, ensuring their well-being while on the job.
18. Dog Walking
As a 10-year-old looking for a job, dog walking can be an excellent choice to earn some money while staying active and caring for animals. 
To get started with dog walking, you can reach out to neighbors, friends, and family members who own dogs and inquire if they need someone to walk their pets.
You may also check local online job boards and postings, such as Care.com, to find dog walking opportunities in your area.
Note, if your 10 year old decides that want to start dog walking, that probably means you will need to start dog walking with them!
19. Animal Shelter Volunteering
Volunteering at an animal shelter is a wonderful opportunity for 10-year-olds to gain valuable experience and develop a sense of responsibility.
At certain animal shelters, you can volunteer in specific areas depending on age requirements. For example, in Cat World, the minimum age is 9.
This means that as a 10-year-old, you can help take care of cats, provide them with enrichment, and maintain a clean and comfortable environment for them.
Likewise, you can also consider volunteering in places like Bunny House or Parrot Garden, as the minimum age requirement is 8 for both.
20. Online Surveys
One great job for 10-year-olds is participating in online surveys. Many companies are willing to pay for consumer opinions, and online surveys are an effective way for them to gather this data.
For kids, this can be an easy way to make some extra money while having fun.
A few survey sites cater to a younger audience, such as Swagbucks and Toluna. These platforms often feature age-appropriate surveys, ensuring a better fit for kids seeking online jobs.
Keep in mind that these platforms have different age requirements, so it's essential to choose a site that accommodates 10-year-olds. Parental consent may also be needed in some cases.
21. Video Games
If your 10-year-old is interested in the gaming industry, there are various job opportunities they can explore.
One option for tech-savvy kids who love video games is providing tech support for other young gamers. They can assist friends or family members with troubleshooting game-related issues or offer guidance to local gaming clubs for kids in their age group.
In the world of online gaming, aspiring young influencers can also try their hand at streaming on platforms like Twitch. This allows them to share their gaming experiences with others and possibly build a following.
22. Testing Websites
While formal website testing jobs may not be appropriate or available for 10-year-olds due to the need for specialized skills and age restrictions, children can still gain exposure to this line of work.
They can provide valuable feedback on the design and usability of educational websites or apps targeted at their age group.
Parents and caregivers can facilitate this process by having their child navigate a website or use an app and provide feedback on their experience.
They can talk about what they liked or didn't like, any difficulties they faced, and what improvements they would suggest. 
23. Watching Videos
While it might sound too good to be true, there are platforms that reward users for watching videos.
However, it's worth noting that such opportunities are often part of larger "get paid to" or survey platforms that may have age restrictions.
For a 10-year-old, a more appropriate and realistic way to earn from this activity could be by reviewing or giving feedback on videos meant for their age group.
Alternatively, they could watch educational videos and then share what they've learned with others.
24. YouTube Channel
Starting a YouTube channel is a great opportunity for your 10-year-old to explore their creativity and become an influencer.
This platform allows them to create various types of content based on their interests and skills, helping them develop their communication and presentation abilities.
Although it takes time and effort to build a successful YouTube channel, the experience can not only bring financial benefits but also help your child develop essential skills in content creation, communication, and entrepreneurship.
It's a remarkable job for a 10-year-old that could potentially transform into a long-term passion and career.
25. Sell On Etsy
Does your 10 year old have a creative spirit? Perhaps you'd like to get involved with them and think of something you could make together and sell on Etsy? This could be anything from:
Knitted goods
Pottery
Art prints
Custom-made clothes
Candles
Soap
26. Create and Sell T-Shirts
Another fun business idea your 10 year old might love is to design and sell their own t-shirts. This could be especially great if they have a few slogans or designs in mind to use.
Keep in mind that this job will require some upfront investment to get the t-shirts made and printed, so parental supervision is required!
27. Lifeguarding
While formal lifeguard positions typically require individuals to be at least 15-16 years old and hold certifications, a 10-year-old with strong swimming skills could assist in a junior capacity.
This could involve alerting the lifeguard on duty of any potential dangers or helping younger children feel comfortable in the water, always under close adult supervision.
28. Camp Counselor
Though most camp counselors are teenagers, younger children could take on junior roles, often called "counselors in training."
These positions can provide valuable experience in leadership and working with others. 
The roles may involve assisting counselors with organizing games or arts and crafts, and always under the guidance of older staff members.
29. Ice Cream Truck Helper
While driving an ice cream truck is not an option for a 10-year-old, they can certainly assist with tasks like taking orders or serving ice cream under adult supervision.
This can be an excellent opportunity to learn customer service skills and experience the responsibility of a job.
30. Farmer's Market Helper
10-year-olds can help at a farmer's market stand, assisting with tasks such as setting up, packaging goods, or interacting with customers.
This is a fantastic opportunity for them to learn about local produce, customer service, and basic business skills, all while under the supervision of an adult – especially if you have a trusted friend or family member involved in farmer's markets already!
31. Pet Sitting
Pet sitting can be a great job for your 10-year-old. With the right amount of responsibility and a love for animals, they can learn valuable life skills while earning some money.
As a pet sitter, your child will visit a neighbor's home once or twice a day to feed their pets, clean litter boxes, let dogs outside, and maybe even check the mail.
32. Lawn Care
Beyond just mowing, lawn care can encompass raking leaves, watering plants, or pulling weeds.
Under supervision, a 10-year-old can help neighbors with these tasks, learning about hard work and responsibility, as well as basic botany.
33. Car Washing
Car washing is a fun job that 10 year olds can offer their services to family, friends, and neighbors.
It's a physical job that can teach them about diligence, attention to detail, and customer service. Safety should always be prioritized, with adult supervision when necessary.
34. Baking and Selling Cookies
With guidance from an adult, a 10-year-old can bake cookies and sell them in their neighborhood or at local events.
This task teaches them basic cooking skills, math (through measuring ingredients), business principles, and customer interaction. Ensure they understand food hygiene and handling money responsibly.
35. Plant Sitter
Plant sitting involves taking care of plants, usually when the plant owners are away or unable to maintain them themselves.
To find plant sitting jobs, your 10 year old could start by offering your services to family, friends, or neighbors.
36. Tutoring
Is there a subject at school that your child really excels at? Or perhaps they're gifted at a sport or musical instrument? Your child could earn some extra money offering tutoring to children a year or two younger.
Be careful that this does not get in the way of their own studies, however.
37. Writing Books
If your 10 year old is showing an interest in books and creative writing, you could encourage them to write their own book.
Even if you don't sell it officially, you could offer them a certain amount of pocket money for so many pages written, or offer to help them sell their books to neighbors and family for a creative way to earn some money.
Why should a 10 year old get a job?
There are numerous great benefits to giving children even as young as 10 years old a 'job' – even if it's not a job in the traditional sense. Some of the benefits include:
Increased confidence
Giving your child a greater level of independence as they become adolescents
Teaching your child the concept of earning money rather than simply being given it
Demonstrating a good work ethic
Helping your child learn essential life skills
How to pay your child for jobs they've done
If you want to pay your child for chores they've completed or for other jobs (and don't like the idea of giving them cash), you could use an age-appropriate account such as Go Henry.
The Go Henry app allows you to set up paid tasks, and once they have completed each task (confirmed by you), you can send the money directly to their own debit card.
FAQs
What can 10 year olds do as a job?
At the age of 10, children can engage in light jobs that suit their interests and skill set. These jobs can range from household chores, such as cleaning and gardening, to more entrepreneurial tasks like lemonade stands, craft sales, or even pet sitting. Keep in mind that these should not interfere with their schooling, rest, and playtime.
How can 10 years old make money?
Ten-year-olds can make money by doing small jobs for friends, family, and neighbors. Tasks can include washing cars, mowing lawns, or helping with gardening. They can also make money by selling crafts, baked goods, or secondhand items they no longer need. Offering pet-sitting or plant-watering services can also be a good way to earn.
Can a 10 year old get a job online?
While there are restrictions on the type of work children can do online due to their age and safety considerations, there are still opportunities for them to earn money. They can help older family members or neighbors set up and manage their digital devices or online accounts. However, these activities should always be supervised by an adult to ensure safety
How much money can a 10 year old make?
The earning potential for a 10-year-old varies widely depending on the type of job, the amount of work, and the location. However, it's important to remember that at this age, the primary goal should be to teach work ethics and responsibility rather than earning a significant income. A small compensation or reward can be enough motivation and recognition for their effort.
What are some summer jobs (for 10 year olds) near me?
Summer jobs for 10-year-olds might include setting up a lemonade stand, helping in a family business, gardening for neighbors, or car washing. Other opportunities can include pet sitting or dog walking, teaching peers a skill, or organizing a garage sale. Remember, the aim is for them to learn responsibility and the value of hard work.
What are some jobs for kids under 13?
Children under 13 can take on light work, such as helping with household chores, gardening, pet sitting, or running a lemonade stand. They might also consider offering tutoring services to their peers, teaching them a hobby they're good at, like playing an instrument, or selling homemade crafts or baked goods. Always ensure these jobs are age-appropriate, safe, and do not interfere with the child's primary duties: school and play.
Is it legal for 10 year olds to work?
Child labor laws vary by country and state. In many places, formal employment under the age of 14 or 16 is generally prohibited. However, light, informal jobs such as helping with household chores, doing yard work for neighbors, or running a small entrepreneurial venture like a lemonade stand are usually acceptable. It's important to check local laws and guidelines to ensure compliance.
How can parents support their children's job ventures?
Parents can support their children by teaching them the basics of any job they take up, including time management, customer service, and money management. They can provide guidance and supervision, help set realistic goals, and ensure their safety. It's also crucial for parents to stress the importance of balance between work, school, and leisure activities.