We may earn money or products from the companies mentioned in this post, and as an Amazon Associate I earn from qualifying purchases. Please see my full disclosure for more information.
Autumn has arrived! (Or Fall for my US readers – but don't you think Autumn just sounds so much prettier?) I love this time of year, and I'm a teensy bit gutted to be missing out on all the goodies this season brings – although that's the one and only time you're gonna catch me complaining about missing out on the colder weather because I'm in Thailand!
In this post, I've scoured (and drooled, a lil bit) all over the internet for the BEST budget-friendly pumpkin recipes for you to try out this month. Pumpkins are super cheap (especially if you buy them post-Halloween!), and like most winter vegetables, are absolutely delicious.
Check out these amazing pumpkin recipes and let me know which one you're planning on making first! (I've got my eye on number one soon as I have access to an oven..!)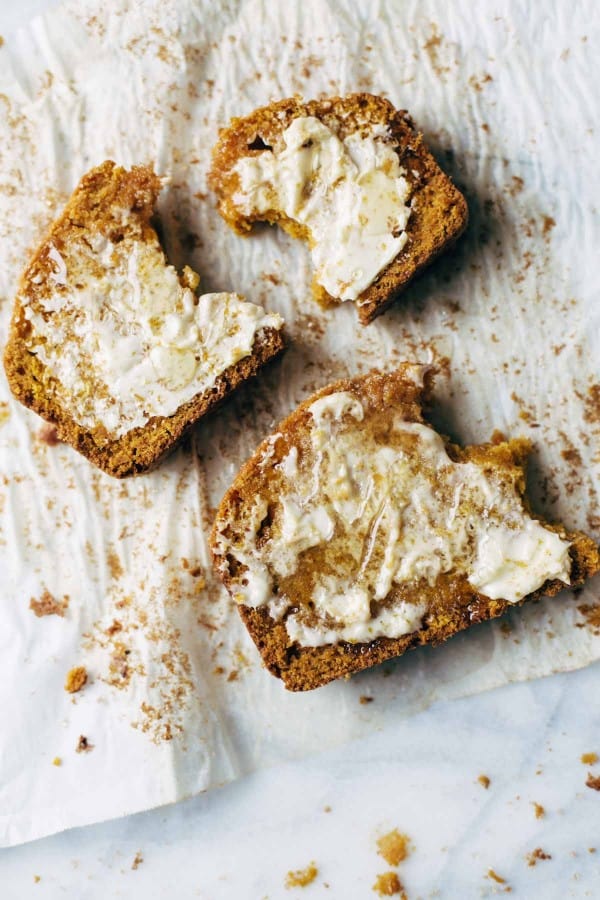 1. Pumpkin Bread
How insanely good does this Super Moist Pumpkin Bread from Pinch of Yum look?
The way that butter is just melting into the bread, too – ugh, heaven.
I can see myself making an entire batch of this and eating it in the same day – but we all need a few extra pounds for the winter months to keep the cold away anyway, right?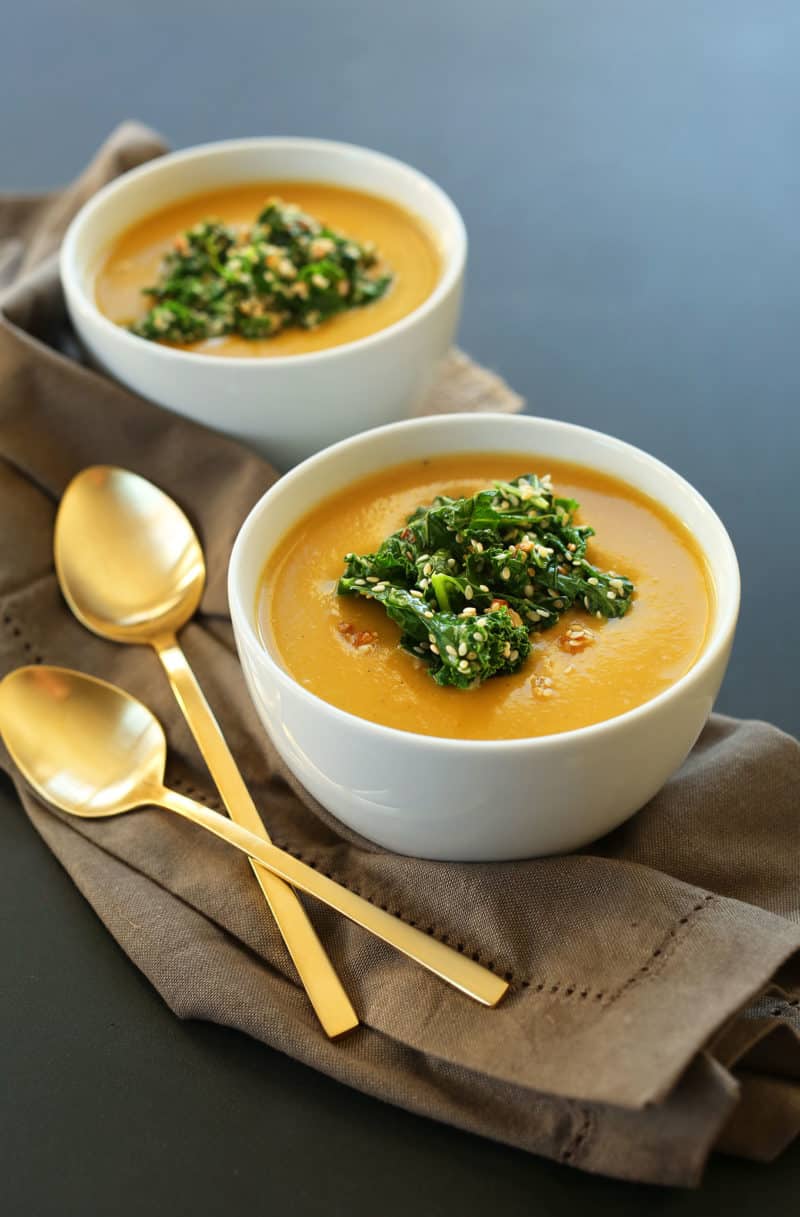 2. Soup
Honestly, until this year, I've never been a huge fan of soup. I always felt it was too much liquid and not enough to actually fill me up! After chowing down on bowls of vegetable broth, thick ramen soup and countless other soups and curries, I've been truly converted.
This Simple Pumpkin Soup from Minimalist Baker looks easy to make, perfect for batch cooking, and the ideal light dinner for a cold, windy evening!
3. Chilli
Bulking up a classic chilli with pumpkin, butternut squash or any other winter root vegetable is a great way to make your portion sizes last for longer while still keeping your meals budget-friendly!
4. Pie
This old-fashioned pumpkin pie from Simply Recipes looks delicious – especially with that addition of whipped cream!
Try making this for dessert or as a tea-time snack one evening.
5. Savoury Pumpkin & Feta Pie
I love the fact that pumpkin is so versatile that you can make equally delicious sweet and savoury versions of it.
Personally, this pumpkin, feta and pine nut filo layer pie from Delicious Magazine is right up my street – just look at all that oozy feta cheese! This looks like the perfect recipe for a light dinner served with a side salad or steamed veggies – or just an extra big slice on its own if you'd rather!
6. Meatballs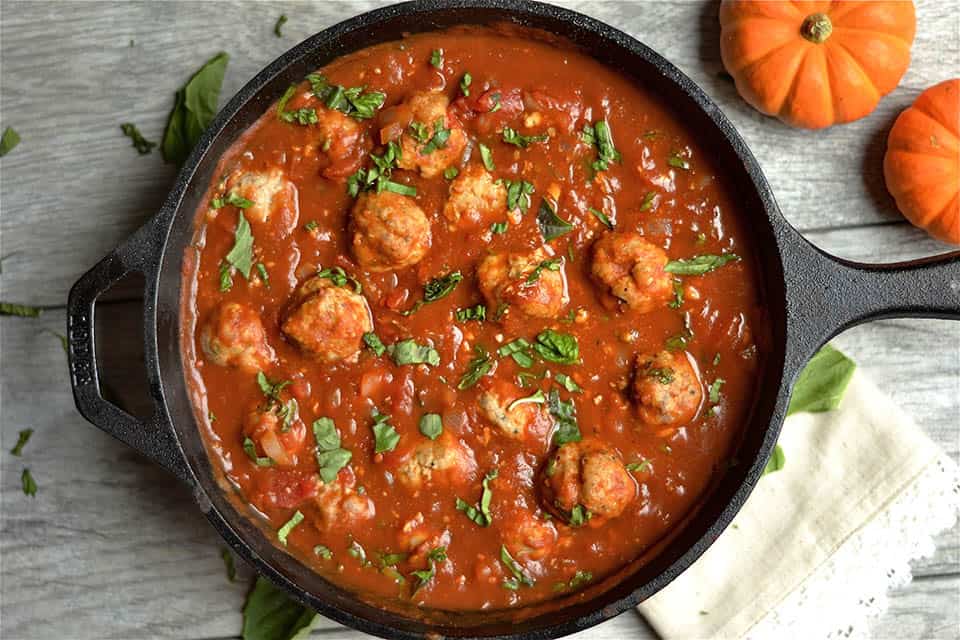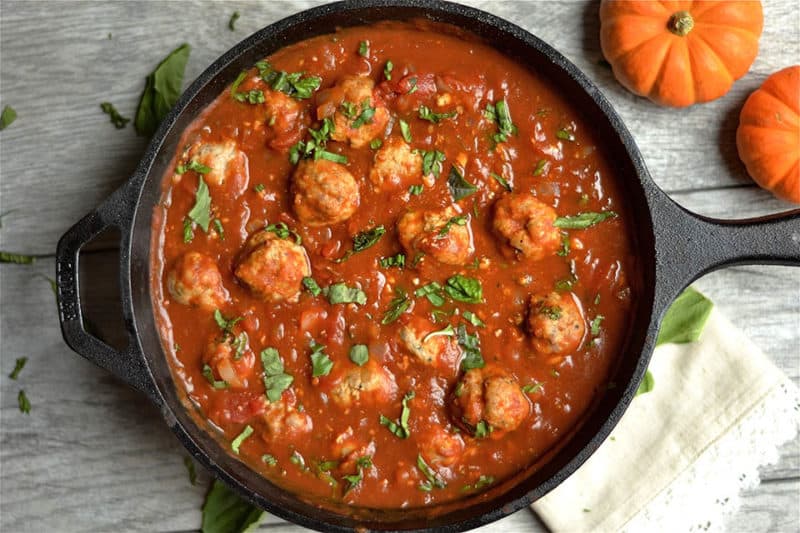 There are very few questions where meatballs aren't the right answer, and these pumpkin tomato and basil meatballs from Wholesomelicious are no different!
Pumpkin is a great ingredient to bulk up dishes without overpowering the flavours – and this is just a great example of this!
To serve? It's gotta be a big plate of pasta and a sprinkling of cheese for the ultimate comfort-food feast!
9. Choc Chip Pumpkin Cookies
Not a savoury person? Check out these mouth-watering pumpkin chocolate chip cookies. Perfectly chewy without that cakey, cloying texture – these are a must try for the colder Autumn months!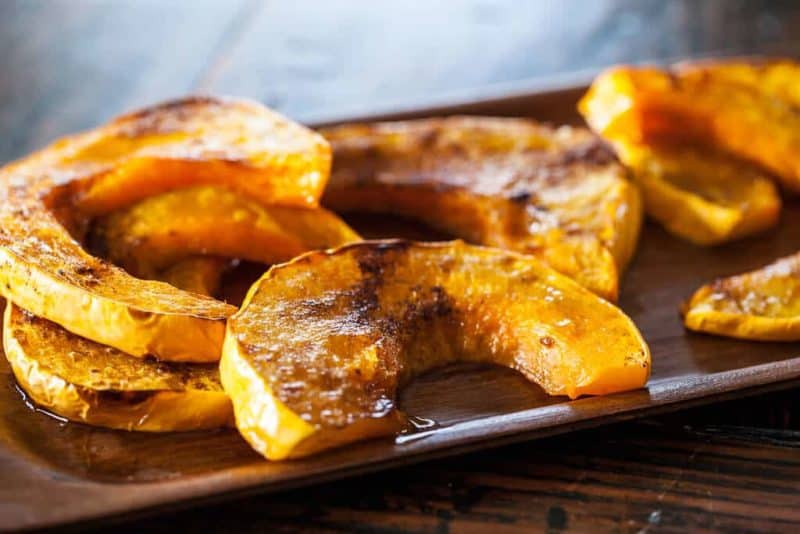 10. Roasted Pumpkin
The Steamy Kitchen's roasted pumpkin recipe keeps things pretty simple – but how good does that pumpkin look?
This super simple but super delicious recipe is a must-try if you've got some pumpkin to spare!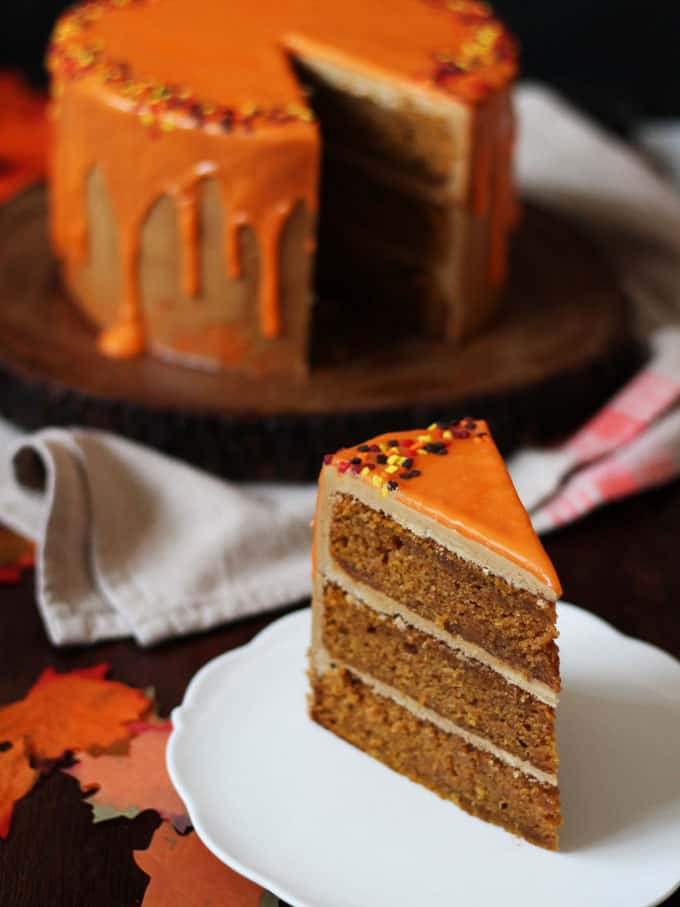 10. Pumpkin Spice Latte Cake
How good does Taming Twins' pumpkin spice latte cake look? I can imagine this going down so well at a Halloween party – just check out that icing detail!
Some people aren't a huge fan of pumpkin spice and the hype behind it – but come on, when a cake looks this delicious how could you not be a fan?
12. Pumpkin Fries (topped with Chilli or Parmesan!)
These pumpkin fries from Wholefully look divine. Cassie tops hers with parmesan but honestly, I think you could go crazy and add whatever your favourite toppings are – cheesy cheddar, chilli flakes, or even a healthy serving of chili con carne!
More recipes to try!
13. Pumpkin Brownies
14. Pumpkin Cupcakes
15. Baked Pumpkin (filled with spinach, feta, pine nuts & lots of pepper!)
16. Mashed pumpkin (as a delicious potato replacement)
17. Baked Pumpkin Donut Holes
18. Beef and Pumpkin Stew
19. Pumpkin Risotto
20. Pumpkin Puree Sauce (with spaghetti!)
What are your favourite pumpkin recipes? Share them in the comments!