We may earn money or products from the companies mentioned in this post, and as an Amazon Associate I earn from qualifying purchases. Please see my full disclosure for more information.
If you're allergic to hair dye or simply looking for a natural alternative to chemical-based dyes, this post contains a list of DIY natural hair dye options you could try in your hair instead.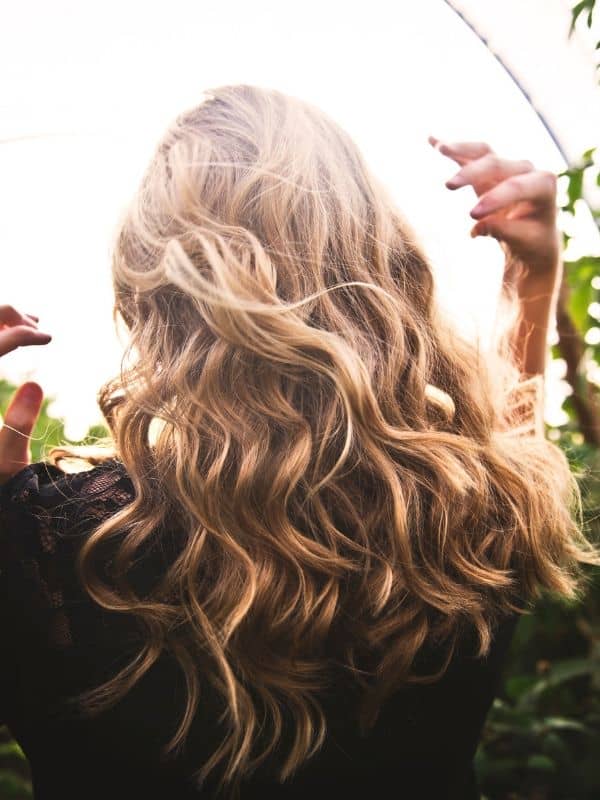 I've been allergic to hair dye since I was about 16.
Before that, I'd had highlights (remember those blonde stripes that used to be fashionable? Shudder.), and I'd even gone in the total other direction and dyed my hair entirely black (are you even a 90s kid if you didn't have an emo-phase?!).
Then, one day, I had a patch-test before I had my hair dyed and my skin freaked out.
My entire scalp started itching, and the patch behind my ear starting burning – even after washing the patch-test off immediately, the skin behind both my ears came up in a horrendous, painful red rash, and my ears swelled up and starting leaking this clear fluid.
Gross, I know.
It was so bad I had to go to the Doctors to get a treatment to soothe the red, scabby rash the skin on my neck and ears had turned into. If I've ever dared to do another patch-test since then, I get the same results. I hate to think what would have happened if I'd by-passed the skin test and dyed my hair – always get a patch test!
So, since I was a teenager I've had to deal with the same hair colour. In the general scheme of things, it's no big deal. Sure, I'd love to see what I look like ash-blonde or with coppery highlights, but it is what it is.
For a lot of people, a good natural hair dye alternative is henna, which is a plant-based temporary dye. However, I've also had an allergic reaction to a henna tattoo before, so that's out!
If you're in the same boat as me – or maybe you're just reluctant to put chemical-based dyes on your head – the good news is that there are natural hair dyes that can be a fun way to experiment with changing your hair colour.
Why Use A Natural Hair Dye?
Of course, being allergic to hair dye is a good reason to look for natural alternatives!
However, you might be looking to switch to a more natural alternative for other reasons:
Natural hair dyes have far fewer chemicals. Chemical hair dyes use so many ingredients that most of us can't even pronounce, let alone predict what they actually are. Those chemicals are lingering in your hair, scalp, and on your skin – and a lot of people are understandably uncomfortable with that.
More environmentally friendly. Natural hair dyes like the ones listed below are a far more eco-conscious way to have fun with your hairstyle – they may be more temporary, but even the smallest ways you reduce your impact on the environment can make a big difference.
Cheaper! Most of the natural hair dyes listed below will cost you less than $2 – versus paying $100+ to have your hair dyed at the hairdresser, it's kind of an obvious choice when you're trying to be more frugal with your money!
Now, of course, natural dyes probably aren't as effective as chemical-based dyes. Additionally, your results will vary depending on your hair colour. So don't expect these natural hair dyes to blow your mind. They're a fun (and cheap) way to mix things up with your hair if you don't have any other options!
6 Natural Hair Dye Solutions With No Chemicals:
1. Coffee
Coffee is a great natural way to darken your hair and add extra dimension to your locks.
Simply brew a strong cup of black coffee, and once it's cooled mix in a few tablespoon of conditioner.
Apply the mix to your hair and allow it to sit for about an hour, and then rinse with apple cider vinegar to look the colour in.
When I tried this, I could definitely see a difference, but it didn't last for long so it's temporary measure. However, it did have the added benefit of making my hair smell absolutely amazing (if you like coffee!).
2. Lemon Juice
In contrast, lemon juice is a good natural way to lighten your hair. If you're a brunette, don't expect to apply lemon juice and suddenly transform into a platinum blonde – lemon juice will create something closer to what your hair looks like when it's been lightened in the sun after a summer holiday.
Simply spray fresh lemon juice into your hair (again – smells amazing!) and leave it to sit there for a few hours. Sitting in the sun will enhance the look.
3. Tea
Tea, like coffee, can be used to darken your hair. You'll want to follow the same steps as the coffee recipe – brew a strong cup of black tea (use 2 – 3 bags), and then stir in some conditioner before applying to your hair.
Leave it for at least an hour before rinsing.
Feeling experimental? (Well, you wouldn't be on a natural hair dye post if you weren't!) Try using chamomile tea to lighten your hair, or rooibos tea for a reddish tint.
4. Beetroot
Anyone who has cooked with beetroot before knows that the root vegetable will staining anything and anyone it comes into contact with, so it should be no surprise that it can also be a great hair dye for a reddish tint.
Blend beet juice with coconut oil, then apply liberally to your hair before wrapping it. Leave for an hour or so before washing out.
5. Walnut Shells
The hulls of walnuts produce an incredibly potent stain that you can use to dye your hair a darker shade.
Be warned – this stuff will dye everything it touches – so take care to wear clothes you don't mind getting dye on them, and use a pot you don't care about instead of your bathtub to avoid it getting ruined.
This post is fantastic for showing exactly what you need to dye your hair with black walnuts.
6. Herbs
There are a number of herbs that you can use to add a tint to your hair. You'll need to brew these herbs in water for about 30 minutes before cooling, straining, and then applying to your hair before leaving for around an hour.
Blondes: Saffron, marigold, calendula, sunflower petals, cassia powder.
Redheads: calendula, rosehips, henna (if not allergic), hibiscus

Brunettes: Sage, cloves, rosemary, blackberry shoots
I hope these natural hair dye alternatives have given you some inspiration for ways to mix up your hairstyle with no chemicals!