We may earn money or products from the companies mentioned in this post, and as an Amazon Associate I earn from qualifying purchases. Please see my full disclosure for more information.
The new year is a perfect time to set yourself some new financial goals, take stock of your current lifestyle, and start making new habits. Whether you want to start being more mindful about your spending, save up for a new house, or finally pay off a loan that's been sitting over your head, there's no better time to really take your life by the reigns and start working towards your financial goals than the new year.
Below are 25 fantastic financial goals that will help you make some genuinely lasting changes and create better money habits this new year. Have a read through and see what goals really resonate with you, and your lifestyle right now – identifying your goals and creating a plan to work towards them are really the first steps to achieving your goals.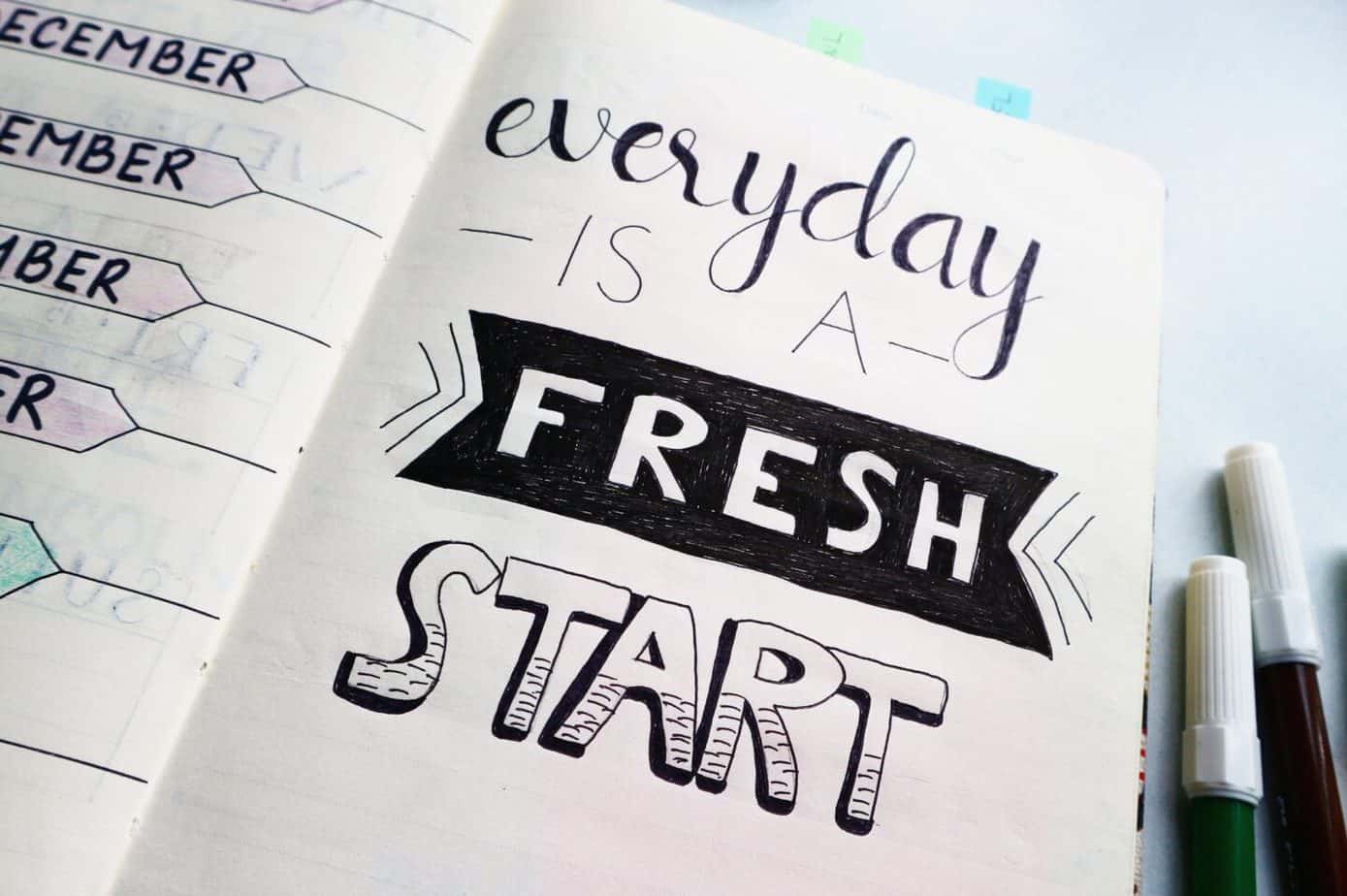 Set out a monthly budget and stick to it
This is a fairly simple goal, but it can be totally revolutionary to how you approach your money if you have never really budgeted before (I'm looking at you, people living paycheck to paycheck!).
My Personal Finance Planner has a number of budget and expenses templates designed to help you accurately calculate your expenses each month and set an appropriate budget – leaving you more cash to allocate to your savings.
Pay yourself first
Change your perspective about how you save money – rather than accounting for bills and expenses first, put money into your savings account as the first thing you do when you're paid.
Calculate your total personal net worth
If you have no idea how much your assets are actually worth right now, this is an important financial goal to tick off.
Calculate all your savings, assets such as your pension, car, house etc, and off-set those assets against any debts you have. Knowing your personal net worth is a valuable piece of information when it comes to mastering your finances.
Start accurately tracking your spending
More than just setting a budget for your spending, start to track it each month. You could get an app that syncs up with your bank accounts like Yolt or Mint, or you could create your own spreadsheet (I also have a few printable options in my shop).
Pay off X amount of your debt this year (25%, 50%, 100%?!)
For many people, paying off burdensome debt is a high priority as a financial goal, and rightly so. Work out a payment plan that is realistic and achievable for you each month.
A great idea is to write down a few no-cost treats you'll do for yourself once you hit a certain milestone as an extra motivator.
Eliminate any high-cost debts this year (i.e. high-interest loans, credit cards etc)
If you have high-interest debts hanging over your head, this should be one of your top financial goals. Make high-interest loans, credit card debt etc a priority, and again, create a realistic payment plan that you know you can stick to in order to really smash this goal this year.
Reduce your variable expenses by 10%
Variable expenses are any expenses that aren't essential (i.e essential expenses are things like rent/mortgage payments, bills, broadband, child care etc versus variable expenses like entertainment, eating out, leisure activities etc).
If you know you're guilty of slightly mindless spending sometimes, calculating your total spending on variable expenses and aiming to cut that aspect of your spending down by a certain amount each month can be a goal that has a big impact on your spending.
Avoid adding any more debt for the entire year
A difficult goal for some, but one worth at least bringing some awareness to. Can you avoid going any deeper into debt this year? Try to start with paying off your credit card on time each month to avoid late fees, and include that paying yourself first goal in order to start building up a steady savings fund.
Save up an emergency fund of three months income
An emergency fund is your security blanket in the event of a big, unexpected expenses coming up – such as a car breaking down, losing your job, having to pay for home repairs etc. Advice on exactly how much you should have in your emergency fund varies, and really depends on your individual circumstances, but having around 3 – 6 months income saved is a good starting place.
Create a savings pot for vacations, and more 'luxury' treats for your family
You should be able to treat yourself without fear you'll be spiralling into debt. Having a savings fund reserved exclusively for those treats provides a safety net for you to allow your family to have some fun without damaging your financial progress this year.
Automate your savings and investments
If your savings and investments currently just involve you haphazardly placing random amounts into different accounts throughout the year, a good goal could be to automate your savings so that the same amount goes into your savings account every month.
Start contributing to your pension or a retirement fund
Millennials are predicted to be at risk of having to work well into their 70s before they can afford to retire currently, which is a frankly terrifying statistic. Planning for your old age when you're in your 20s can be a difficult thing to wrap your head around – it still seems so far away! – but contributing to your retirement fund now might be something you're very thankful for later in life.
Invest a portion of your money
Do you currently have all your savings sitting in low-interest bank accounts? This year, a savvy financial goal may be to look into investing some of your savings. I like this guide to investing for beginners to get started.
Advance your career
Could you ask for a promotion this year? How about finding a new job that gives you more responsibilities, and a higher income? Don't make the mistake of stagnating in one place for too long – set yourself a goal to really advance your career to where you want to be this year.
Diversify your income
Alternatively, you could look at ways you can diversify your income this year. That could include things like starting a 'side hustle' such as freelancing on the side, creating a digital product to sell, or perhaps looking into new business opportunities outside your current job.
Create a long-term financial plan for your life
Do you know where you want to be financially 5 years from now? How about 10? If you're currently renting and struggling to save each month, for example, do you have plans to save for a house deposit in the next 5 years? A good financial goal can be to simply gain a better insight into your own financial plans long-term.
Make your own lunches instead of buying them out
Food is one area that is really easy to save money on each week. Make a resolution to meal prep your lunches each week instead of buying lunch out – you'll not only be eating healthier meals (provided you don't just cook a pre-made pizza every day!), you'll save money, too.
Learn 10 new budget-friendly recipes you love to make
A lot of people struggle to budget their food bills because they simply don't know how you cook nutritious, tasty, budget-friendly food. Make one of your financial goals to learn a certain number of new budget-friendly recipes that you can draw on.
Do your food shopping seasonally
Shopping seasonally is a great way to save money, support local businesses, and reduce your carbon footprint. You'll get to diversify your meals according to the season, and save money by buying fruit and veg grown locally, rather than imported from the other side of the world.
Replace your soda/fizzy drink habit with water
If you have a bit of a penchant for a can of fizzy drink a day or drink almost exclusively coffee or flavoured drinks, those small everyday spends can really add up.
Try to cut down your meat intake
Eating a nutritious plant-based diet is not only better for the planet, but it can also be seriously beneficial for your wallet. Check out this guide to eating plant-based on a budget for more.
Commit to being a more eco-friendly consumer
Being frugal and being more eco-friendly go hand-in-hand – this article on saving money while still being environmentally friendly is a great starting point.
Do a clothes swap instead of buying new clothes
Clothes swaps are easy to find, either in your local area or online – these are a fantastic way to connect with likeminded people and gain some great new items for your wardrobe without having to buy new things.
Go thrift shopping for second-hand items
Thrift shopping may take a little more time, but it's a great way to save money on clothes rather than buying new items. If you've never been before, this could be a fun financial goal to tick off your list.