We may earn money or products from the companies mentioned in this post, and as an Amazon Associate I earn from qualifying purchases. Please see my full disclosure for more information.
Elon Musk, the visionary entrepreneur behind groundbreaking companies like Tesla and SpaceX, continues to capture the world's attention with his extraordinary achievements and mind-boggling wealth. 
In this article, we delve into the updated net worth of Elon Musk, which currently stands at a staggering $256.2 billion, and calculate his income per second to shed light on the immense scale of his earnings.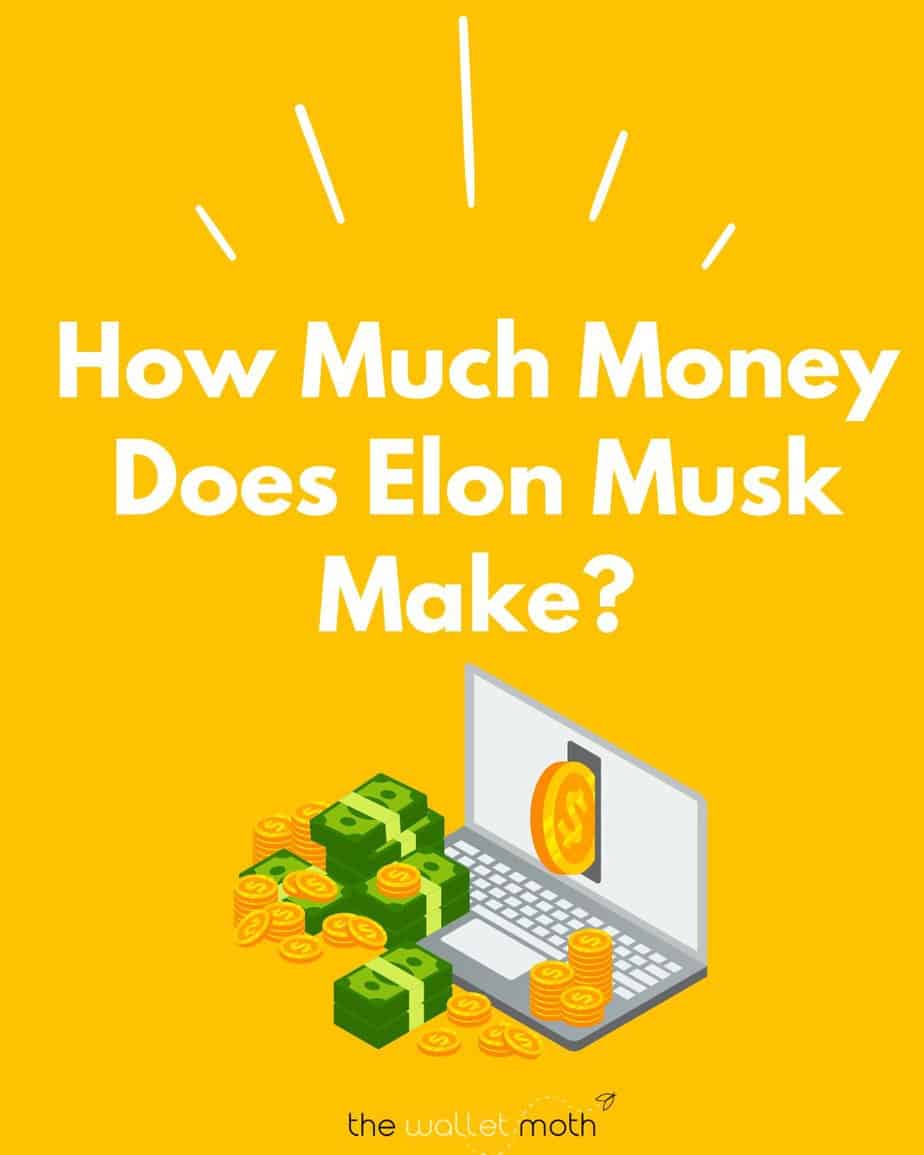 Who Is Elon Musk?
Elon Musk is a well-known entrepreneur and business magnate who has made significant contributions to the technology and automotive industries.
He is the CEO and lead designer of SpaceX, the CEO and product architect of Tesla, Inc.
Musk is widely recognized for his ambitious vision, innovative thinking, and relentless pursuit of pushing boundaries to advance humanity.
Most recently, Elon Musk acquired Twitter in 2022 for a whopping $44 billion. The move has proved somewhat controversial. Here's a good rundown of what's happened since Musk took over Twitter.
What Is Elon Musk's Net Worth?
As of the latest figures in July 2023, Elon Musk's net worth stands at a remarkable $232 billion USD. According to the Bloomberg Billionaire Index, this makes Musk the richest man in the world at this time.
His wealth is primarily derived from his ownership stakes in his companies, Tesla and SpaceX, along with other investments and ventures. Musk owns about 13% of shares in Tesla, 42% of shares SpaceX, and 79% of stocks in Twitter.
Putting it into perspective
Let's put that staggering net worth into perspective. If you were earning $1 million a year, it would take you 232 years to garner a net worth of $232 billion.
That means you would have had to start working in the 1700s!
Read also: How Much Money is 1 Billion Pennies?
How Much Does Elon Musk Earn Annually?
Elon Musk first became a billionaire (a huge accomplishment in itself!) in 2011. So, in the 12 years since, he has grown his net worth by a staggering 231 billion USD. Wow.
Now, typically speaking, it's unlikely that Musk earns any kind of annual salary. Being a shareholder in multiple companies worth multi-billion dollars, his payout will be delivered differently than what an employee paid bi-weekly or monthly would get paid.
However, we can divide his net worth by the years it took him to go from billionaire to his net worth as it stands today. 
That makes Elon Musk's annual earnings stand at an average of $23.1 billion.
(In reality, even the richest man in the world did not have such a linear journey. Elon Musk's net worth actually skyrocketed from around $25 billion to $200 billion over the course of a single year, and in 2021, his net worth was estimated to be over $310 billion.
Last year, he became the first and only person in history to lose $200 billion from their net worth.
How Much Money Does Elon Musk Earn A Second?
Elon Musk makes an average of $727.82 earned every single second when we calculate his average estimated earnings since he first became a billionaire back in 2011.
Dividing Musk's net worth by the total seconds in 12 years (approximately 378,432,000 seconds) gives us an awe-inspiring average of $727.82 earned every second.
This astonishing figure showcases the incredible pace at which Musk's wealth has grown over the years, solidifying his position among the world's wealthiest individuals.
Is It Possible To Know How Much Elon Musk Earns Per Second?
In reality, it's not possible to know how much Elon Musk earns per second because the exact value of his private assets is not public knowledge. We can only estimate a guess based on the share of stocks he holds in her companies.
Bloomberg tends to have the most accurate count of the richest people in the world, giving us a fairly reliable estimate of Elon Musk's net worth.
However, the nature of being a shareholder instead of earning an annual salary means his earnings likely fluctuate on a frequent basis, making it impossible to give a truly accurate figure for his earnings per second.
How much Money Does Elon Musk make a second: decade average
Elon Musk's net worth has experienced extraordinary growth, rising from $2.6 billion in January 2013 to a remarkable $232 billion today.
Over the course of a decade, Musk has amassed a colossal $229.4 billion in wealth.
On average, this translates to an astounding $22.94 billion earned per year, which further breaks down to approximately $62,904,109.59 per day, $2,620,171.90 per hour, $43,669.53 per minute, and a mind-boggling $727.82 per second.
Is Elon Musk The Richest Man In The World?
At the time of writing (22nd July 2023), Elon Musk has the highest net worth out of anyone else in the world – making him the richest man on earth right now with an estimated net worth of $232 billion.
Bernard Arnault (LVMH), Jeff Bezos (Amazon), Bill Gates (Microsoft), and Larry Ellison (Oracle) take up the remaining spots in the top five richest people in the world.
It's interesting to note that aside from Arnault, the remaining top four richest individuals are in the technology industry. Here are some potential side hustles in this industry.
FAQs
How Much Does Elon Musk Make A Day?
Based on his net worth, Elon Musk's daily earnings can be estimated to be around 884.93 million per day.
What Does Elon Musk Do?
Elon Musk is the CEO of Telsa Inc, and private space company Space X. He also owns Twitter and grew much of his initial wealth by investing early in several tech companies such as PayPal (find out how PayPal makes money). Here is a more in-depth bio into the enigmatic entrepreneur.