We may earn money or products from the companies mentioned in this post, and as an Amazon Associate I earn from qualifying purchases. Please see my full disclosure for more information.
Ever thought about how much 1 million pennies are worth?
It might sound like a fun trivia question, but knowing the answer can also provide a unique perspective on understanding large numbers, which is quite crucial in financial literacy.
In this article, we'll convert pennies into various forms of U.S. currency to give you a real sense of the value of 1 million pennies.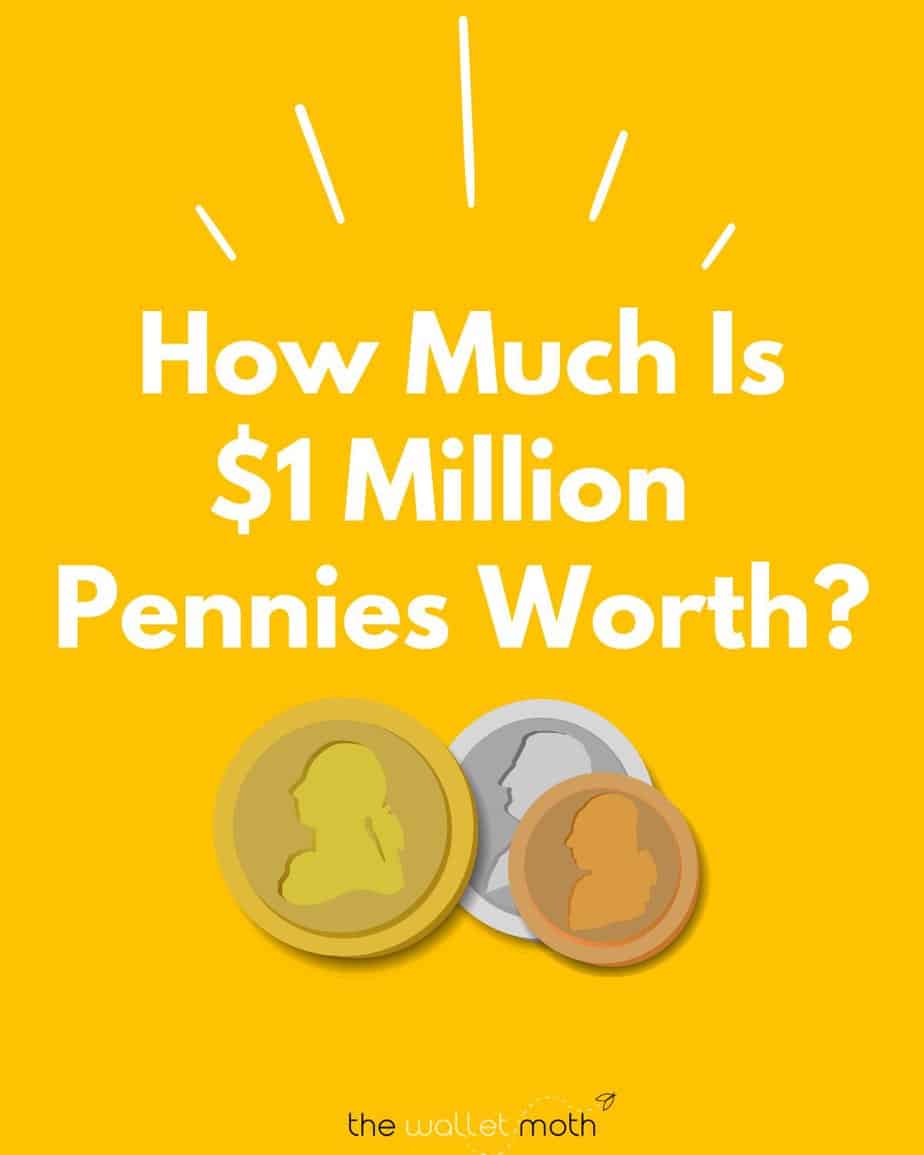 Unpacking the Value of a Penny
In the United States, a penny is the most basic unit of currency and is worth one cent.
The humble penny might not seem like much, but when you start to accumulate them, their value can surprise you!
Conversion to Dollars
To convert pennies to dollars, you need to understand that each dollar is made up of 100 cents, or in other words, 100 pennies.
To find the dollar equivalent of 1 million pennies, we simply divide 1 million by 100.
So, drum roll, please… 1 million pennies is equal to $10,000!
That's right. Those pennies can add up to a pretty substantial amount.
The Weight of 1 Million Pennies
But what if we measure these pennies in terms of weight?
The U.S. Mint reports that one penny weighs 2.5 grams. So if you wanted to haul your 1 million pennies to the bank, you'd be lugging around 2,500,000 grams or about 2,755.78 pounds—that's heavier than an average car!
How Much Space Would 1 Million Pennies Take up?
Wondering how much space you'd need to store your 1 million pennies?
A single penny has a diameter of 0.75 inches and a thickness of 0.0598 inches. If you stacked your 1 million pennies, the stack would be approximately 5,980 feet tall—that's taller than most skyscrapers!
Fun Things You Could Buy with 1 million pennies
A vintage Vespa scooter fleet: Why buy just one when you could assemble a charming little fleet of vintage Vespa scooters for your friends and family to enjoy a ride around the city?

A year's supply of bubble wrap: Enjoy the delightfully satisfying pop of bubble wrap all year long. No stress will stand a chance!

An adult-sized treehouse: Because who said treehouses are only for kids? Channel your inner child and create the ultimate adults-only retreat right in your backyard.

A private ukulele concert: Hire a ukulele maestro to serenade you and your friends on a beach. Sun, sand, sea, and songs – the perfect formula for fun!

Personalized M&M's for an entire town: Have a small message, a fun quote, or just your face printed on thousands of M&M's and spread the joy.

10,000 rubber ducks: Why? Well, why not? Organize your own duck race, use them for a prank, or donate them to kids – the possibilities are endless (and hilarious).

A life-sized cardboard cutout of your favorite celebrity for every room in your house: So you can have breakfast with Brad Pitt and dinner with Dolly Parton. It's like a star-studded event, but at home.

A zorbing ball: Roll around in your backyard or take it to the hills. It's the perfect combination of exercise, adrenaline rush, and pure silliness.

Customized fortune cookies: Write your own fortunes and hand them out to strangers. They might be confused, they might laugh, but they'll definitely remember it.

An ice cream party for your entire neighborhood: Rent a couple of ice cream trucks for a day and let everyone in your neighborhood indulge in sweet, creamy goodness on a hot summer day.
Conclusion
So, 1 million pennies is quite substantial, equating to $10,000, over a ton in weight, and nearly 6,000 feet in height when stacked.
This fun exercise isn't just about counting pennies; it's about understanding the real value of numbers, which is an essential part of financial literacy.
Remember, whether it's pennies or dollars, every cent counts when you're saving, investing, and managing your money.