We may earn money or products from the companies mentioned in this post, and as an Amazon Associate I earn from qualifying purchases. Please see my full disclosure for more information.
Whenever I talk about the areas in our lives that we most commonly leak a little too much money than we'd like, food bills inevitably come up. It can feel like a lot of effort to think up cheap lunch ideas for work and budget-friendly meals for every day of the week when there is so much convenience in ready meals and take outs available at the touch of a button.
However, when you're trying to save money in your budget, addressing the way you food shop each week is one of the simplest and most effective places to start.
These days, it's easy to feel like there are more restaurants than there are people, and the temptation to ditch your boring old sandwiches for lunch in favour of a take-out is bigger than ever.
However, I'm here today to tell you that making your own lunches for work from home does not need to mean boring meals.
If you buy your lunches out every workday, that's about $5 a day on food. That's – wait for it – $1300 at least spent on lunch every single year.
Imagine what you could do with that money!
The following are my ultimate cheap lunch ideas that will not only help you save literally hundreds each month, but are also absolutely delicious.
Best of all, every meal below is super healthy, too.
All of these recipes are plant-based because that's the diet that makes me feel my best. I love eating a whole foods diet because the food is great for my body, keeps me full for longer, and tastes amazing.
Give some of these a try in your weekly meal plan and start saving your cash this week!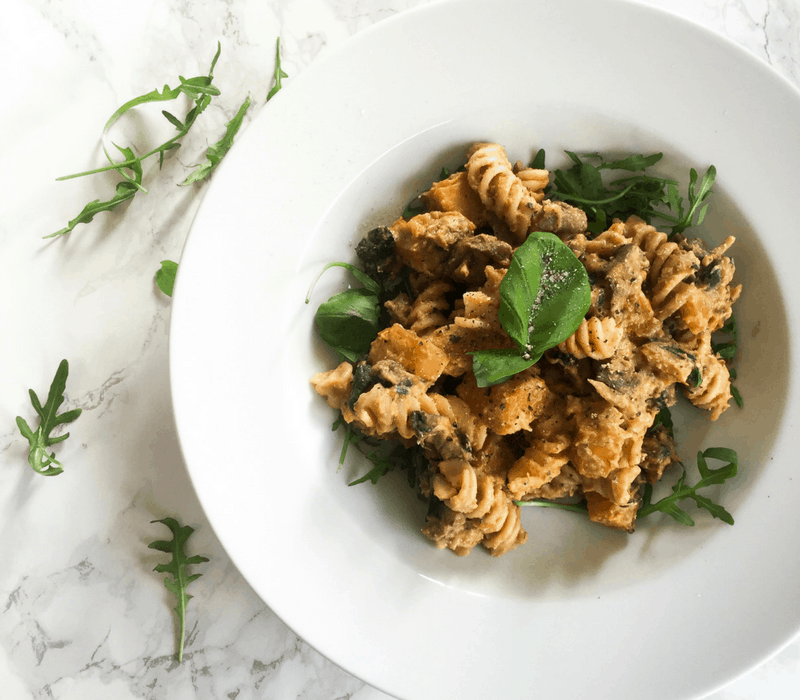 I love making this butternut squash pasta recipe for dinner and saving the leftovers for my lunch the next day. The sauce is deliciously creamy without being too heavy on your stomach (the magic of blended cashew nuts!), and it's easy to customise by adding in more vegetables and toppings on to the pasta and sauce (I love mine with mushrooms, spinach, and toasted pine nuts!).
This is one of my favourite cheap lunch ideas for work because it costs literally pennies to make and is packed full of vegetables for a super healthy meal to fuel you through the day.
When I visited Japan in 2017, I was blown away by the quality of the food I was given at every single meal.
The food there is like an art – the standards are beyond any other country I've ever experienced. One of my favourite elements was the side of miso soup served with every meal.
Deep in flavour and wonderfully comforting, I love making this miso soup recipe to warm me on colder days. It's super simple to make, so cook up a big batch to keep you going for a few days! While perfect as a side dish, this is easy to bulk up for the main meal by adding silken tofu and noodles – yum.
3)
Roast Vegetable & Chickpea Salad with a Homemade Pesto Dressing
We've been having a lot of BBQ's recently, and now that I no longer eat meat, these events are all about the side dishes for me. I made this roasted veggie, chickpea and pesto warm salad a few weeks ago and it went down so well with everyone – meat eaters included!
I definitely recommend this as a side dish for big summer events, or just as a simple lunch paired with a green salad for a super easy, cheap meal that is perfect in the summer.
4)
Black Bean Burrito Bowl
I could eat burrito bowls every single meal of the day. Rarely does a week go by these days without me cooking one of these delicious lunches for a healthy, nutritious, and damn-right delicious meal.
I tend to freestyle my burrito bowls with rice or chopped baked potatoes, black or pinto beans, sauteed fajita vegetables, all topped with a home-made pico de gallo and guacamole. This recipe from Vegan Richa does a great job of explaining each element.
Definitely a more time-demanding recipe, but it is totally worth it if you prep of few bigger batches at the start of the week!
Check out these delicious meal-prep recipes perfect for summer for more cheap lunch ideas for work!
I had to throw a sandwich in this list in case you're really craving a more traditional lunch!
The mashed chickpeas in this recipe have a wonderfully creamy texture, which pairs perfectly with the crunchy salad of bell peppers and celery.
Not my go-to kind of lunch on a daily basis, but a great cheap and healthy option if you're really craving a comforting sandwhich!
6)
Sri Lankan Lentil Dahl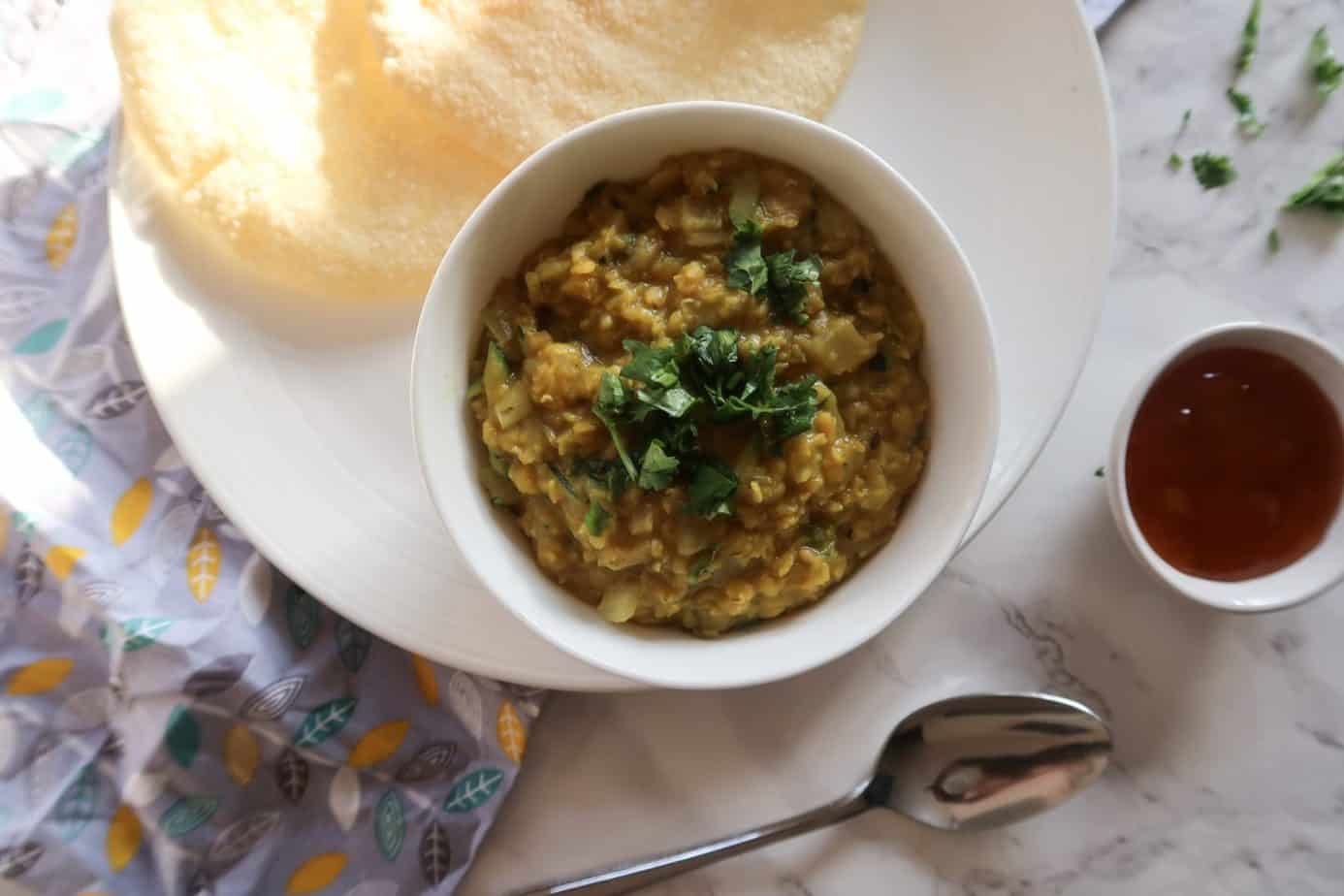 This Sri Lankan-inspired dahl has become an absolute staple meal in my weekly meal prep. It is divine.
I love cooking this to pair with a veggie curry and rice for dinner one night, and then have the leftovers for lunch the next day – curries always taste better the next day!
Pair this with some mango chutney and a few poppadoms for the most delicious light lunch.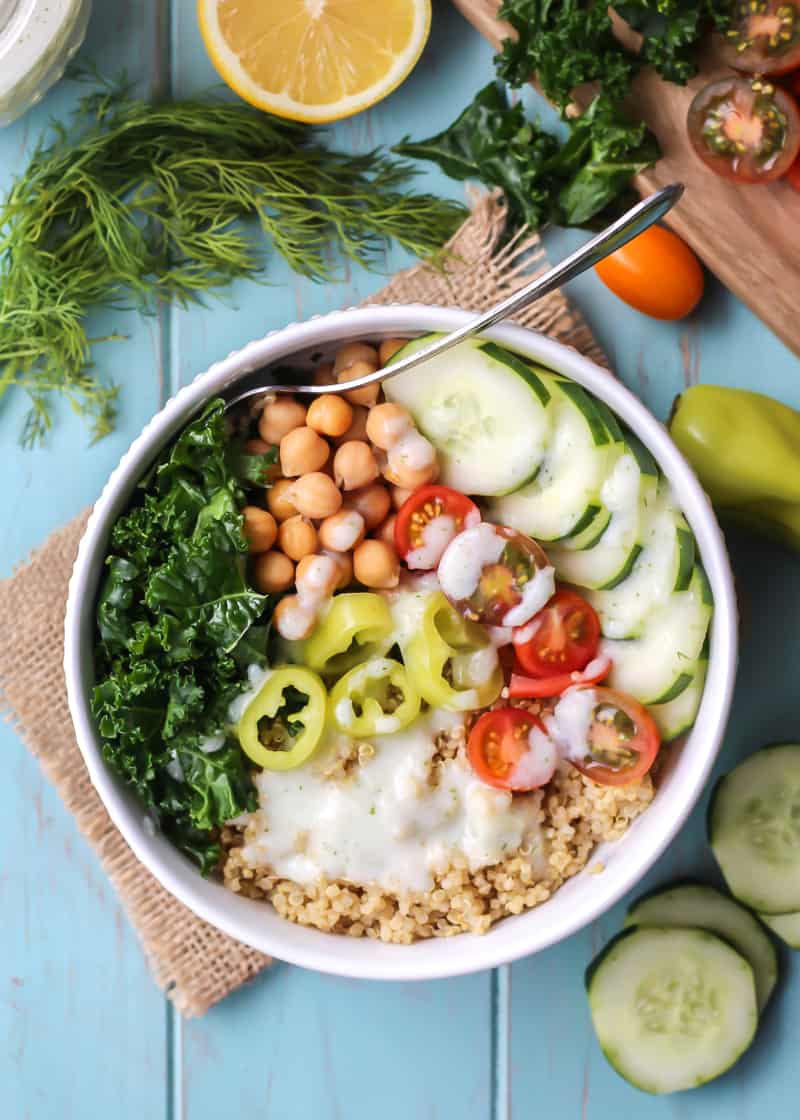 I love power bowls – also known as Buddha bowls sometimes – because they let you throw in random delicious ingredients from your fridge and call it a meal!
If you've got a few leftover meals in your fridge, add them to a power bowl to customise your own delicious, original meal.
This greek power bowl includes quinoa, chickpeas, fresh tomatoes and cucumber and the most amazing vegan tzatziki dip!
8) Roasted Butternut Squash and Tomato Soup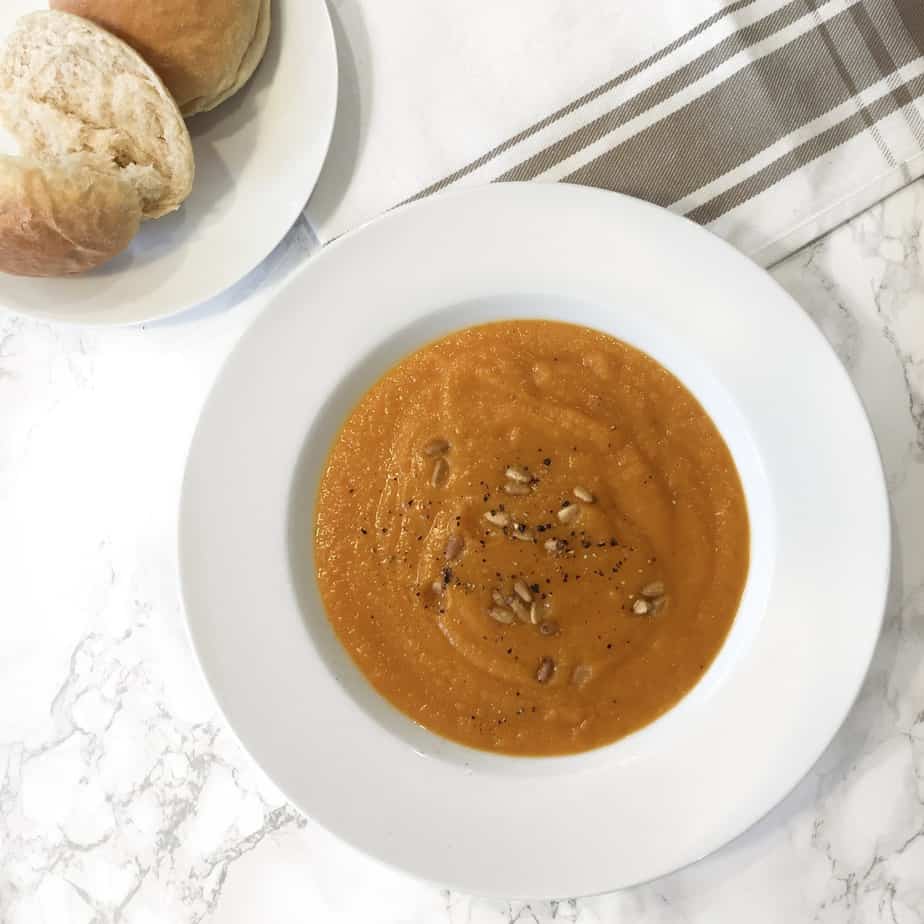 This is the perfect winter warmer for a comforting, filling lunch that won't leave you feeling bloated and sluggish for the rest of the day.
I freestyled this recipe and finally got my butternut squash and tomato soup recipe to pure perfection, and it's now a firm favourite amongst my family in the colder weather.
I love to top mine with toasted pine nuts and freshly cracked black pepper – and of course, a big crusty roll for dipping..! All you need to do is chop a butternut squash in half, roast with some tomatoes and garlic, then blend with vegetable stock and season.
This is another meal that I frequently cook for dinner and take the leftovers for lunch the following day. The best part is that the flavours really deepen and blend together overnight, making the lunch leftovers all the more delicious!
I love to eat this with a toasted pita bread and a spoonful of hummus on the side.
Is a salad really a salad if it's packed with yummy chunks of sweet potato? I don't know, but if someone calls it a salad, I'm going to take it!
This is a super simple salad perfect for a light, cheap and healthy work lunch.
Hope you loved these recipes, let me know which one you're going to try this week for a cheaper way to do your work lunches!