We may earn money or products from the companies mentioned in this post, and as an Amazon Associate I earn from qualifying purchases. Please see my full disclosure for more information.
Create a natural skincare routine that works for your skin, your budget, and your lifestyle.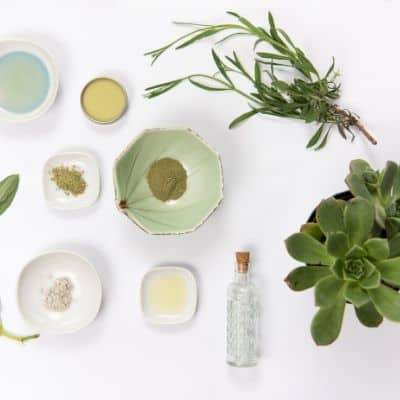 Making the switch to a natural skincare routine that actually works for your skin type doesn't need to be a painful (or expensive) process. If you're constantly wondering what products you actually need for a proper skincare routine and the best natural, vegan, and cruelty-free skincare products on the market, this post is for you.
My obession with skincare is no secret on this website. As a self-confessed frugal fanatic, one of the only things that I spare no expense on is my skin care products.
You know why?
Because they work. I honestly believe that what you put on your skin is just as important as what you eat and drink, and quality, natural skincare products are the one solution to clear, healthy skin.
A spur-of-the-moment article I wrote about finally clearing my forehead acne after two frustrating, confidence-knocking years is now one of my most popular posts on this entire site.
I put that down to two reasons: 1) because I'm 100% authentic in that post. I struggled with subclinical acne and bumps on my forehead for years, and was so excited to finally find a solution, that I poured my heart and soul into creating that post to help others. 2) there are a lot of people out there equally passionate about skincare, and searching for solutions to their skin problems, whether that's full-blown acne, or the same textured forehead problem I had.
This article is a follow up to that post, therefore, because I've been getting a lot of the same questions. Namely, how do you actually create a skincare routine? What products do you need? And how do you create a natural skincare routine (cruelty-free, vegan, eco-friendly products only) that actually works?
Below is my experience and my top recommendations.
You might also be interested in: 15 Best Affordable Skincare Products Reviewed
Do natural skincare products actually work?
These days, there is a much bigger focus on what we, as consumers, can do to help our planet and all the beings that live on it. That means the market for natural, vegan, cruelty-free skincare and beauty products is growing and improving every single day.
In my experience, the natural skincare products are always better quality and more effective for nourishing my skin. Plus, you can use them knowing you're not putting any nasty chemicals into your skin or using your money to help fund animal cruelty or environmentally damaging companies.
The one caveat is that natural skincare products can be more expensive. For me, I'm willing to pay a little more for quality, but that's a judgement call each individual will have to make.
What should a natural skincare routine look like?
After many, many hours of research (more than I'd like to admit, honestly!), below is the natural skincare routine that works for me.
Creating A Simple, Natural Skincare Routine
Morning
Cleanser
I wash my face with my cleanser every morning, and every night before bed. Over-washing your face can throw off the PH balance and microbiome of your skin, which could actually worsen your acne or breakouts.
I swear by Pai's Camellia and Rose Cleanser which is absolutely amazing, but have also been enjoying the Kind Natured Hydrating Micellar Cleansing Gel recently. I think the Pai cleanser keeps my skin more hydrated, but both are good natural options.
Moisturizer
If you can only invest in two skincare products, it should be a cleanser, and a moisturizer (in my opinion).
A day cream should absorb quickly and feel light on the skin, reduce redness and irritation, boost hydration, Added bonuses are if it includes SPF and Vitamin E, although you could choose to get an SPF separately. I love the Pai Chamomila and Rosehip Calming Day Cream as it really ticks every box for me.
SPF (Sun Cream)
So, look. I live in the UK, where summer feels like it's a week long before we're plunged back into overcast skies and rainy weather. Sun Cream just isn't seen as an essential item as much as it is in other areas of the world.
That being said, my lack of a consistent SPF in my skincare routine does make me feel guilty, because many will argue it is the most essential part of any skincare routine for decreasing your risk of skin cancer, and delays aging and wrinkles. The Vegan Word has a round-up of the best vegan sunscreen that might be useful.


Night
My night-time skincare routine is a little more in-depth. This is the time wear I slather on lotions and potions to allow them to absorb into the skin while I sleep.
Cleanser
Same as above. The first thing I'll do is wash my hands, then cleanse my face.
Liquid Exfoliator
Paula's Choice BHA 2% Liquid Exfoliant is the miracle stuff that transformed my skin. It totally eradicted my forehead bumps, leaves my skin clearer and with an even texture, and is my go-to product any time I have a breakout.
In my day-to-day natural skincare routine, I use my liquid exfoliant maybe 2 – 3 times per week.
Eye Cream
I never used an eye cream until I watched Patricia Bright's YouTube video "18 Things Grown Women Need To Have" and well…she convinced me. Even in your 20s, you should be looking after that delicate skin around your eyes for later in life.
So, I invested in this Eye and Deep Line Super Serum from Beauty Kitchen, a brand that uses only 100% naturally derived ingredients for sustainable beauty. Honestly, I have no idea if its doing anything for my eyes yet, but I love the way this serum feels – so silky smooth and hydrating. Just patting a small amount of this serum onto the skin around my eyes makes me feel like I'm really pampering myself every night.
Moisturizer
For my night-time moisturizer, I alternative between the Pai Rosehip Biodegenerate Oil, which is extremely hydrating and lasts a long time but can occasionally make my skin feel a little greasy, and the Pai Back To Life Hydration Serum which is fantastic…but a little on the pricey side.
Face Masks
Every now and then, giving your skin a real pamper with a face mask is a must. I love using face masks if I've spent the day outside and my skin feels dry and chapped, but equally they can just be a nice treat.
What does your natural skincare routine look like? Do you have an essential product you couldn't be without?