We may earn money or products from the companies mentioned in this post, and as an Amazon Associate I earn from qualifying purchases. Please see my full disclosure for more information.
Follow these steps on how to make your first $100 as a freelance writer, solidifying your career as a writer.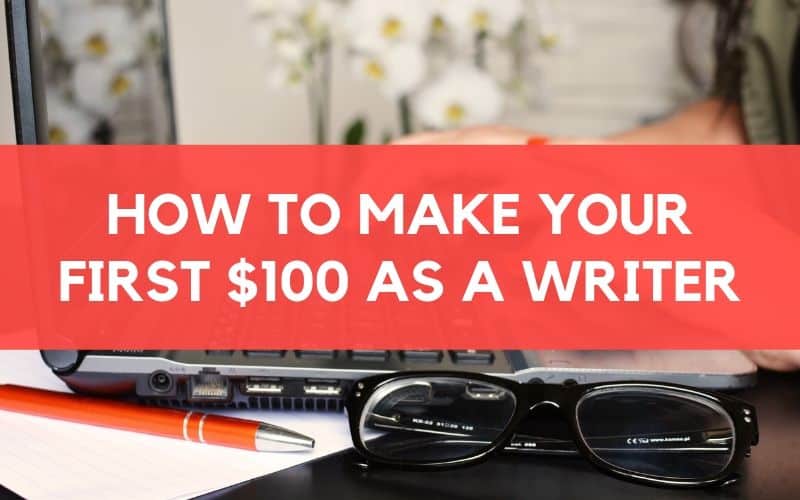 For so many freelance writers, getting paid to write and making that first $100 is an enormous milestone.
It's a sign that we're growing, that our work is being acknowledged as high-quality and legitimate: it's a point in which we allow ourselves to think maybe, this whole thing is going to work out.
Making my first $100 as a new freelance writer was huge for me, but it was definitely one of the hardest points of my journey.
Once I reached that mark, the next few milestones ($200, $500, $1000…) all seemed to snowball a lot faster than that first one.
Once I finally got paid to write once and added more work to my portfolio, it became easier to find my place as a 'real' writer.
If you've just started out, or are thinking about becoming a freelance writer, finding the jobs that will get you to your first $100 may seem impossible at this stage.
Just know that I was once in your position, and now I very rarely take on any jobs that pay under$100. If I did it, you can do it too.
So, if you've been spinning in one place wondering how the hell to get started and actually get paid to write – this one is for you.
How to make your first $100 as a freelance writer:
1) Find Your Expertise
If you've been spending a lot of time reading articles similar to this one, you'll probably have come across the advice that you need to find a 'niche' to specialize in as a freelance writer.
I can't emphasize the importance of this enough!
Now, I actually have multiple niches that I specialize in. So you don't need to pick ONE topic that you'll be an expert on and nothing else.
If you can find 2 – 3 areas that you have genuine expertise in for now, however, you'll be well on your way to finding more authentic and high paying jobs.
You are far more likely to get paid to write when you are portraying yourself as an expert in a few particular fields, than if you are willing to take on anything and everything (although, you shouldn't worry about this quite so much in the very early days of getting started!).
Struggling to find topics you can specialize in? Try this:
List 5 things that really excited you. For example:
Travel
Food
Business Tips
Watching films
Pets
Now, list 5 things that you've done in the past:
Worked in recruitment
Studied politics
Backpacked in Asia
Built a successful blog
Worked in retail
Is there a lot of crossover in your list? From my examples, you can see that travel both excites me and is something that I've done before. It follows, then, that I have a lot of travel advice and information to offer – and travel-related writing is something that I do actually specialize in.
Likewise, reading about building businesses and growth is something that really excites me. As someone who also has first-hand experience of working in recruitment, this is another niche that I could choose to specialize in.
Find the links on your own list – there will always be at least one or two links that will show you what you could really become an expert in with time.
2) Start Looking in the Right Places
If you've been applying to jobs endlessly and haven't been hearing anything back, it could be for one of two reasons:
a) Your pitches aren't up to scratch (this will help you!)
b) You're not looking in the right places
Not all freelance writing jobs are equal, and some job boards are full of low-paying jobs that are not worth your time. Alternatively, you might not even be aware that there are job boards with freelance opportunities on them!
Here are a few of my favourite places to find freelance writing jobs online:
– ProBlogger: A really high-quality job board that is constantly updated with freelance writing jobs from around the world. Get in quick though, the competition is high!
– BloggingPro: Another great job board that collates freelance opportunities from all over the web (including Craigslist!)
– Indeed: Popular job board with both freelance and full-time job opportunities. I've had success simply searching for 'freelance writer' jobs without inserting a location into the search.
– Upwork: Where I landed my very first paying job. Definitely over-crowded with low paying jobs, but not to be dismissed if you have the time to sort through the bad jobs to find genuine clients.
– FlexJobs: A lot of remote working opportunities for freelancers of all kinds.
– LinkedIn: One of my favorite places to find high-quality paying jobs.
3) Build Great Working Relationships
I made my first $100 as a freelance writer by securing long-term work with one of my clients.
Focusing on these kinds of relationships should be your absolute priority as a new freelance writer, rather than taking on as many one-off projects as you can.
Constantly pitching for new jobs can get quite disheartening, and definitely isn't the most reliable way to secure income as a freelancer.
Instead, I focused on providing my best work to my first clients, built a really strong relationship, and eventually those initial one-off projects turned into long-term clients.