We may earn money or products from the companies mentioned in this post, and as an Amazon Associate I earn from qualifying purchases. Please see my full disclosure for more information.
Chickpeas, also known as garbanzo beans, are a part of the legume family and are one of the most versatile foods to cook with.
Chickpea recipes appear in a wide variety of cuisines and have such a mild taste that they can blend perfectly into any dish, and are a reliable source of protein, fibre, and carbohydrate.
Blend them with water, lemon juice, garlic, and a little tahini, and you've got hummus.
Roast them, and you've got deliciously crunchy croutons that pack a protein punch and are perfect sprinkled on top of soup or a salad.
The options are limitless – and the good news is that chickpeas are very budget-friendly.
You can typically get a 400g tin of chickpeas for 55p (~ $0.70), or buy a 500g dried bag of them for around £1.40 (~$1.79) which will give you even more bang for your buck if you're willing to put in the time to soak and cook them before using.
Ever since I stopped eating meat and dairy, chickpeas have become an absolute staple in my diet, from eating hummus and falafel pittas at lunch to throwing them into curries and stews for winter-friendly dinners.
Below, I've put together the ultimate list of chickpea recipes that are cheap, easy, healthy (for the most part!), and most importantly, taste great…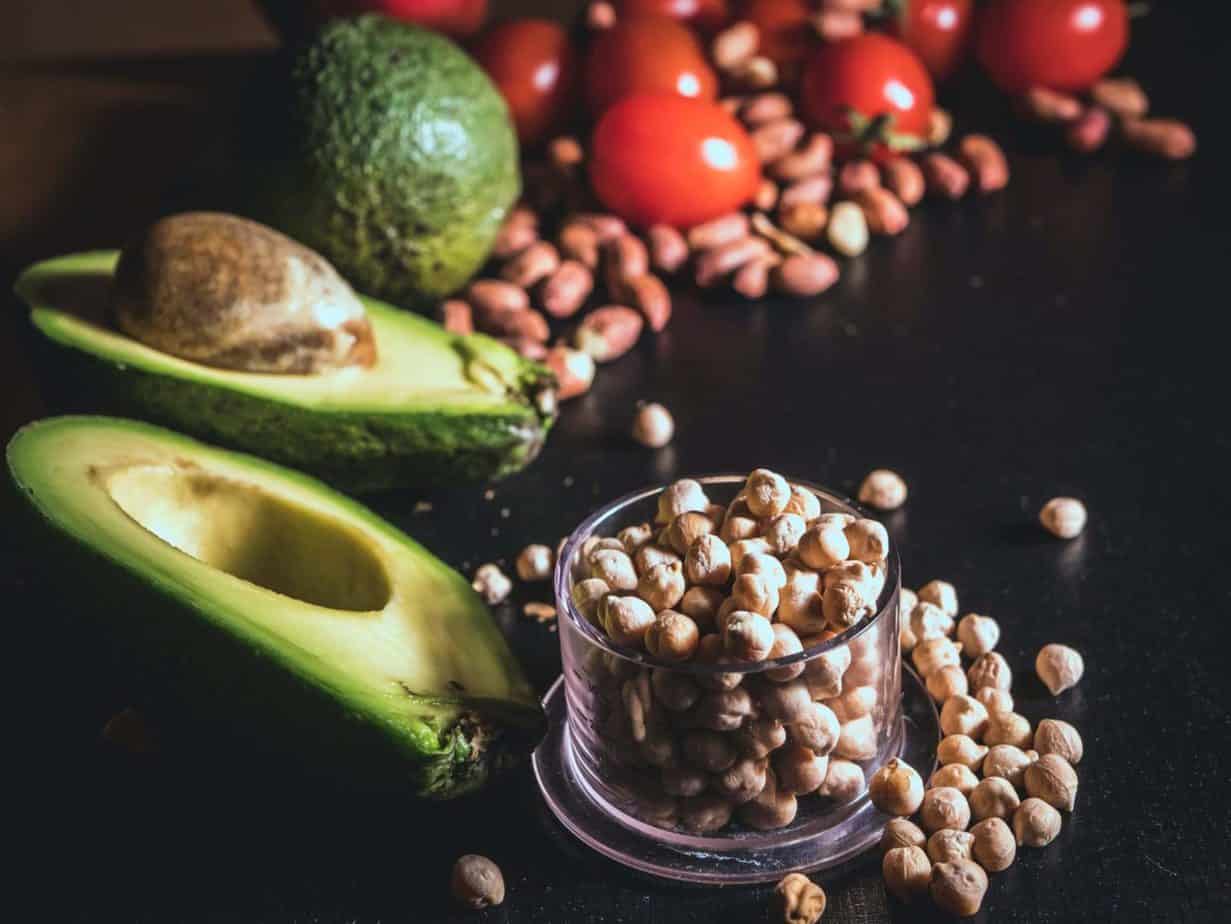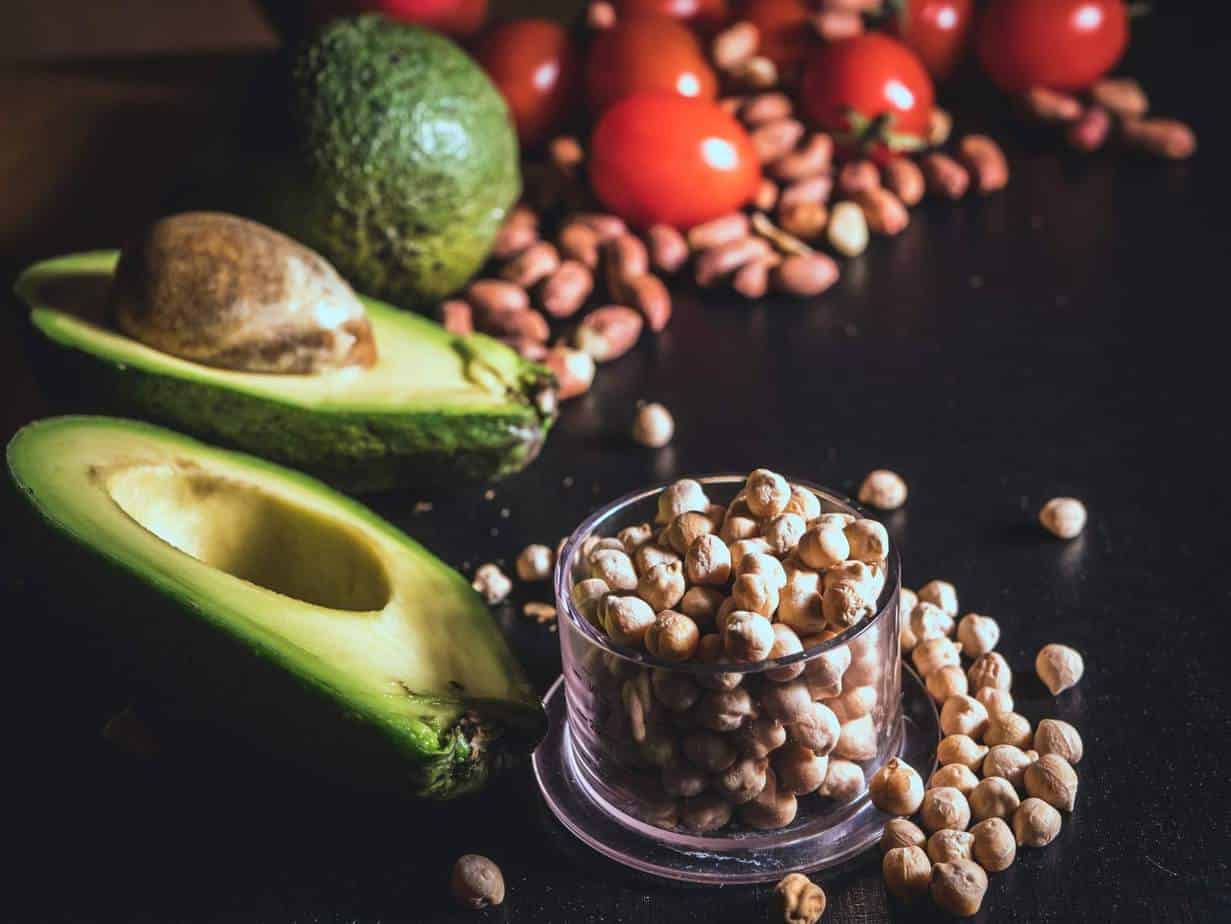 Read Next: 10 Mouth-Watering Meal Prep Recipes To Try This Month
Chickpea Recipes To Try Making:
Savoury Vegan Chickpea Recipes
1. Falafel
My favourite way to have falafel is in a toasted pitta stuffed with parsley, creamy hummus and a squeeze of lemon juice. I love this recipe from Gimme Delicious because she bakes the falafel rather than fries them for a much healthier way to make them yourself.
2. Chana Masala
Chana masala is my favourite curry ever. It's my go-to dish at my favourite Punjabi takeout and a quick, easy, and nutritious meal that I'll often make a batch of for my dinners throughout the week.
My favourite thing about cooking curries is that they're so versatile and, if I'm honest, I rarely follow any one recipe to a tee. This easy chana masala won't steer you wrong, though!
3. Lebanese Moussaka
I used to think of moussaka as a dish made with minced lamb, potatoes, and a creamy sauce. Needless to say, it wasn't exactly something I thought about much after I stopped eating meat!
However, earlier this year I experienced a lebanese moussaka – a completely different dish.
Lebanese moussaka is a smoky, paprika-spiced tomato stew with aubergine (eggplant for my US readers) and chickpeas – and it is utterly delicious.
This is a rich stew that feels utterly indulgent, but it won't leave you feeling uncomfortably stuffed when you're finished. I love having this dish with a mezze of other Lebanese foods for a really special meal.
Check out this recipe from Slow Burning Passion to make it yourself.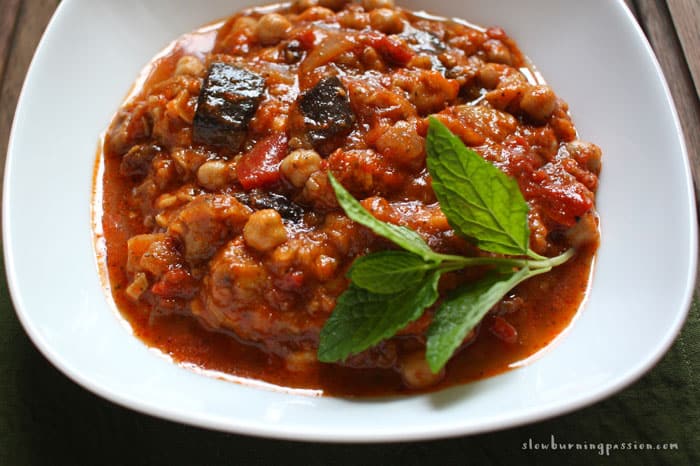 4. Bean Salad
Chickpea dishes don't have to be complicated, and thanks to tinned chickpeas, you can knock up a delicious summery salad within minutes.
My favourite go-to salad is to roasted peppers, red onion, courgette, and tomatoes. Then, I blend basil, garlic, lemon juice, pine nuts and olive oil to make a vegan-friendly pesto, and mix it into the roasted veg and chickpeas. So simple, but so good!
5. Chickpea Buddha Bowls
Crunchy chickpeas, roasted sweet potato, comforting kale and an amazing tahini dressing…is there anything Minimalist Baker can't do?
This Sweet Potato Chickpea Buddha Bowl is super versatile and super delicious.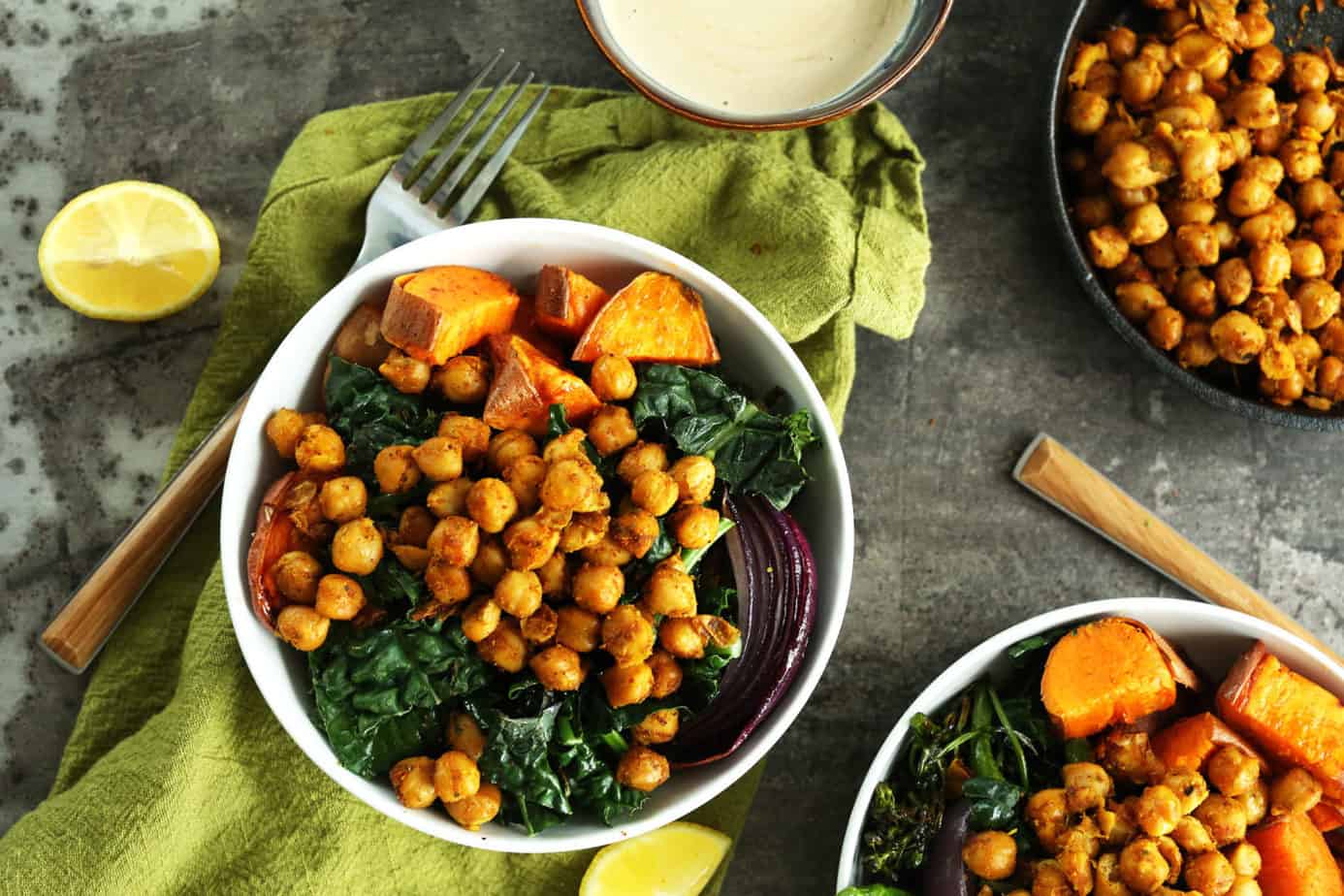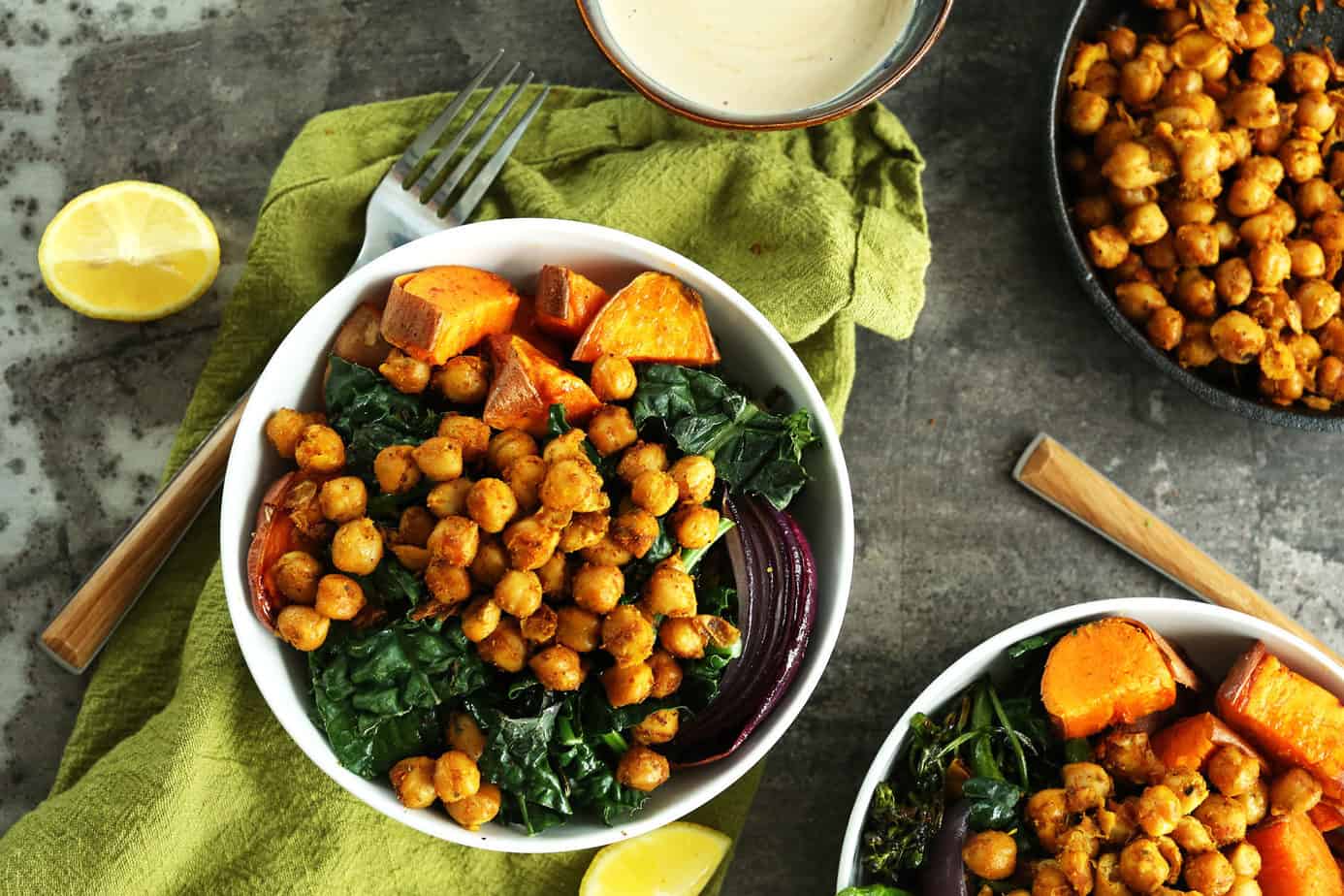 6. Veggie Sausage and Chickpea Stew
This hearty veggie sausage stew is the perfect winter dinner. Swap out cannellini beans for chickpeas or any other bean of your choice, and serve with lots of crusty bread!
7. Crushed Chickpea Sandwiches
Sometimes, a sandwich is the only thing that's going to really hit the spot.
This crushed chickpea sunflower salad sandwich is creamy, packed with nutrients, and makes for the perfect satisfying lunch or light dinner.
Another winner from Minimalist Baker (in case you couldn't tell that I'm a fan!)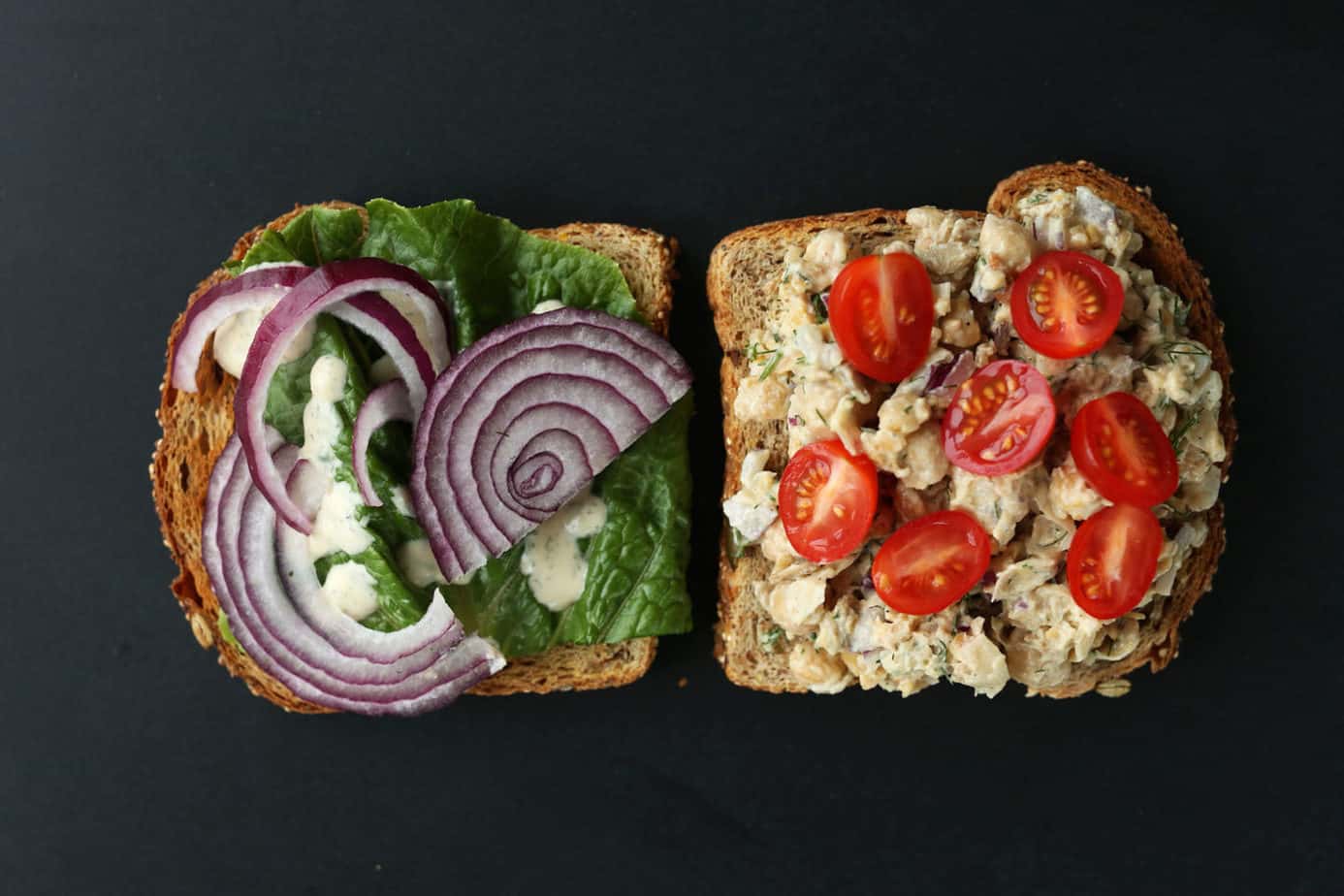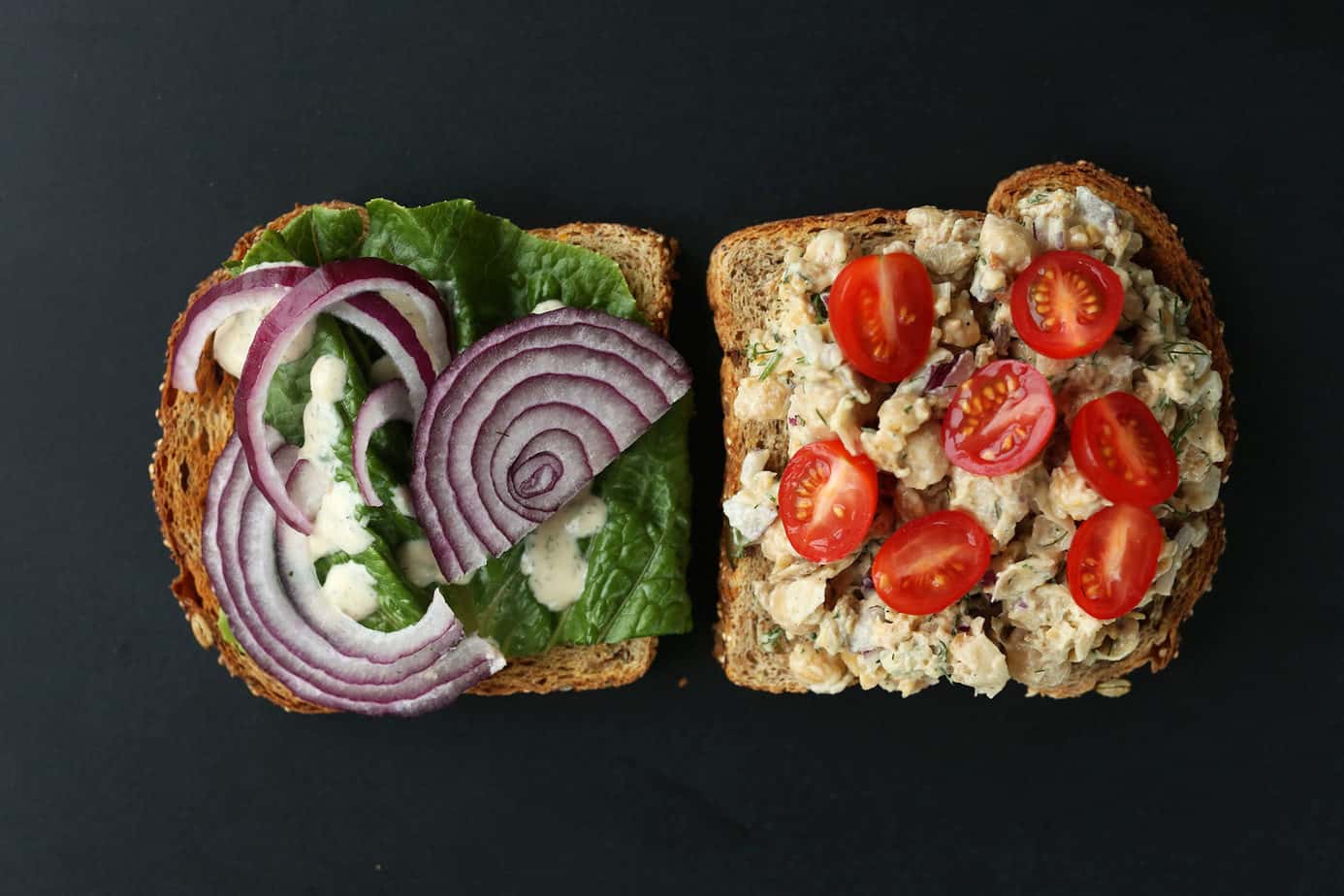 8. Bean Stew
This potato chickpea stew uses smoky paprika and diced tomatoes to create a beautiful, warming stew that I could eat over and over again.
I love the use of potatoes to bulk out the dish, while the chickpeas add a good dose of fibre and protein!
9. Chickpea and Potato Pastries
Sweet potato, regular potato, chickpeas, coconut milk, and a dozen curry spices all wrapped up in a crunchy pastry roll…what's not to love?
(If you're vegan and don't have the patience to make your own pastry, Jus-Rol ready-made pastry is all vegan!)
Try this curried chickpea and vegetable pastry recipe to make them yourself.
10. Chickpea Noodle Soup
Placebo or not, there's nothing better than a steaming hot bowl of noodle soup when you're feeling under the weather.
This vegan chickpea noodle soup replaces the chicken with chickpeas, and in my opinion, makes a far better accompaniment!
11. Red Lentil and Chickpea Stew/Curry
This lentil chickpea yellow curry is so simple to make and requires just 6 ingredients.
Red lentils are another staple packed with protein and fibre for a balanced plant-based diet, and they pair wonderfully with chickpeas for curries and stews.
I love that this recipe from Contentedness Cooking tops the curry with crunchy cashew nuts for extra flavour.
12. Chickpea Croutons
Spicy, crunchy chickpeas perfect for sprinkling on top of your salads or buddha bowls, or even for snacking on alone. These chickpea croutons from Simple Vegan Blog are a serious game changer.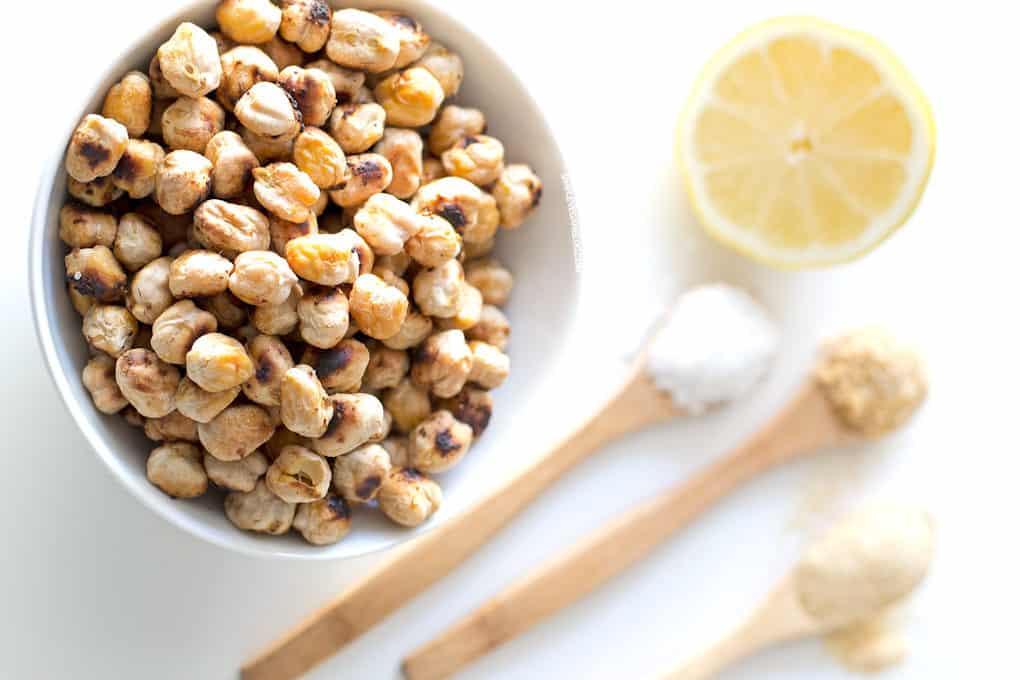 13. Chickpea Burgers
It's been over a year since I've eaten any meat and at this point, I can't imagine enjoying any kind of burger more than a bean burger. That's a sentence I never thought I'd write!
This chickpea burger from Lazy Cat Kitchen is perfect for any night of the week.
14. Pesto Pasta with Chickpeas and Artichokes
Pesto and chickpeas are a match made in heaven – throw in pasta and artichokes and you've reached dinner perfection.
Don't just take my word for it though – try this recipe for Artichoke Pesto Pasta from Bites of Wellness for a real weeknight treat.
15. Chickpea and Potato Curry
If I'm not cooking a chana masala, you can bet the other curry I'll be cooking is one with chickpeas and potatoes.
This recipe for Aloo Chole is a go-to, for good reason.
16. Chickpea Shakshuka
I was blown away the first time I tried shakshuka – there's something so comforting about the rich tomato sauce cooked with eggs perfect for dipping crusty bread into.
As you can imagine, I was delighted to find that shakshuka is very easy to vegan-ize with chickpea eggs. Yep, you read that right.
Try this awesome chickpea shakshuka recipe from Zena 'n Zaatar.
17. Chickpea Scramble
I recently stayed in Nottingham with some friends, all of whom happen to be vegan too. They cooked me the best vegan version of a cooked breakfast ever, featuring this delicious chickpea scramble spiced with turmeric, onion, and garlic.
A must-have addition to a big, hearty breakfast at the weekend.
Sweet Vegan Chickpea Recipes
Chickpeas are so versatile that they can also be used in a number of sweet recipes. Did you know that aquafaba (the liquid that the chickpeas sit in when tinned) can be whipped to create a vegan-alternative to egg whites?
18. No-Bake Chickpea Cookie Dough
This vegan chickpea cookie dough from Joyful Eats looks insane – I'm actually almost scared to try making it myself because I know I'll be tempted to eat the whole thing in one go!
A great healthy alternative to normal cookie dough recipes though, and a great idea for a treat night!
19. Chickpea Truffles
Maple syrup. Cashew butter. Dark chocolate. Need I say more? This chocolate chickpea truffle recipe needs no words.
20. Chickpea Fudge
This chickpea cookie dough fudge from Emilie Eats looks amazing, and even better, there's no baking involved.
I can imagine this recipe going down really well in the holiday season or as a contribution to a buffet.
21. Chickpea Brownies
Who can say no to a brownie? These chickpea brownies are a fail-safe treat to please the whole family, and the addition of chickpeas makes them perfectly soft and fudgy.
22. Chickpea Cookies
Try this flourless chickpea peanut butter cookies from The Endless Meal – they look so good!
23. Chocolate Chip Chickpea Cheesecake
A dairy-free cheesecake isn't something I thought possible, but nowadays, there are a wide number of recipes utilising chickpeas and cashews to make the most delicious vegan-friendly cheesecakes.
This chocolate chip chickpea cheesecake from Namely Marly is no exception.
24. Chickpea Blondies
Try making these fudgy chickpea blondies with cinnamon for a super indulgent treat.
25. Chickpea Protein Bars
Try Hummusapien's chickpea protein bars for the perfect post-gym treat.
26. Vegan Banana Bread
This awesome vegan banana bread recipe uses chickpea aqua faba (the water from a tin of chickpeas) as an egg-substitute! So yummy!