We may earn money or products from the companies mentioned in this post, and as an Amazon Associate I earn from qualifying purchases. Please see my full disclosure for more information.
This post may contain affiliate links. Please read my disclosure for more information.
Cheap Food Tuesday: Every week I breakdown the exact cost of one of the meals I've cooked for either breakfast, lunch or dinner. This is to prove once and for all that eating delicious, nutritious, well-balanced meals doesn't need to break the bank with your food choices – in fact, the opposite!
SPECIAL OFFER: MEAL PLANNER BUNDLE
For the next 15 minutes ONLY, you can purchase the ultimate meal planner bundle for 50% OFF!

This 20-page eBook includes meal planning tips, meal plans, recipe ideas, & so much more. Simply click the button below and enter your unique discount code PLANNER50 for this one-time offer!
By planning my meals each week and using whole food such as vegetables, eggs, and ethically-sourced meat, I create delicious meals that fit my health and fitness goals, on a completely achievable budget – if you haven't set your budget yet, check out my simple tips here.
---
This week's Cheap Food Tuesday meal breakdown:
Chicken Red Pesto Pasta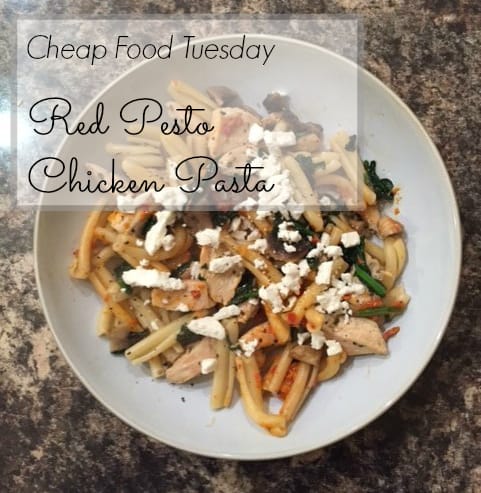 I love a big bowl of pasta after a hard workout, and this chicken pasta topped with red pesto and feta cheese perfectly hits the spot, providing a healthy dose of protein, carbohydrates and fats for a perfectly balanced, nutritious meal that costs less than a £1 to put together.
Breakdown:
Chicken
Tesco Chicken Breast


Price:

£5.79/kg
Meal cost: 100g = 0.57p
Red Pesto


Sainsburys Roasted Red Pepper Pesto




Price:

£0.58/100g
Meal Cost: 15g (1tbsp) = 0.08p
Casarecce pasta (although any will work!)


Tesco Caserecce Pasta




Price:

£1.18/kg
Meal Cost: 75g = 0.08p
Mushrooms
Sainsburys Basic Mushrooms


Price:

£2.13/kg
Meal cost: 30g = ~3p
Spinach
Sainsbury's Young Leaf Spinach


Price

:

 £5.19/kg
Meal Cost: Small handful (10g~) = 5p
Feta Cheese
Sainsburys Grek Feta


Price:

£6.75/kg
Meal Cost: 20g = 12p
Total Meal Cost: ~0.78p
---
This meal is not only cheap – it takes less than 20 minutes to prepare and cook, so makes the perfect weekday dinner!
---
Tip: This pasta dish is super versatile – add in tofu for a vegetarian option, top with cheddar instead of feta for a more mellow flavour, and use any pasta you've got in the cupboard – in my opinion, pesto works well with any type!
Related Posts:
– Spinach & Mushroom Omelette Cost Breakdown
– Chicken Burrito Bowl Cost Breakdown
– Healthy, Nutritious Food Sources That Won't Break Your Budget