We may earn money or products from the companies mentioned in this post, and as an Amazon Associate I earn from qualifying purchases. Please see my full disclosure for more information.
This post may contain affiliate links. Please read my disclosure for more information.
Cheap Food Tuesday: Every week I breakdown the exact cost of one of the meals I've cooked for either breakfast, lunch or dinner. This is to prove once and for all that eating delicious, nutritious, well-balanced meals doesn't need to break the bank with your food choices – in fact, the opposite!
SPECIAL OFFER: MEAL PLANNER BUNDLE
For the next 15 minutes ONLY, you can purchase the ultimate meal planner bundle for 50% OFF!

This 20-page eBook includes meal planning tips, meal plans, recipe ideas, & so much more. Simply click the button below and enter your unique discount code PLANNER50 for this one-time offer!
By planning my meals each week and using whole foods and versatile ingredients, I create delicious meals that fit my health and fitness goals, on a completely achievable budget – if you haven't set your budget yet, first check out my simple tips to better budgeting here.
---
This week's Cheap Food Tuesday meal breakdown:
Chicken Curry with Red Peppers and Coconut Milk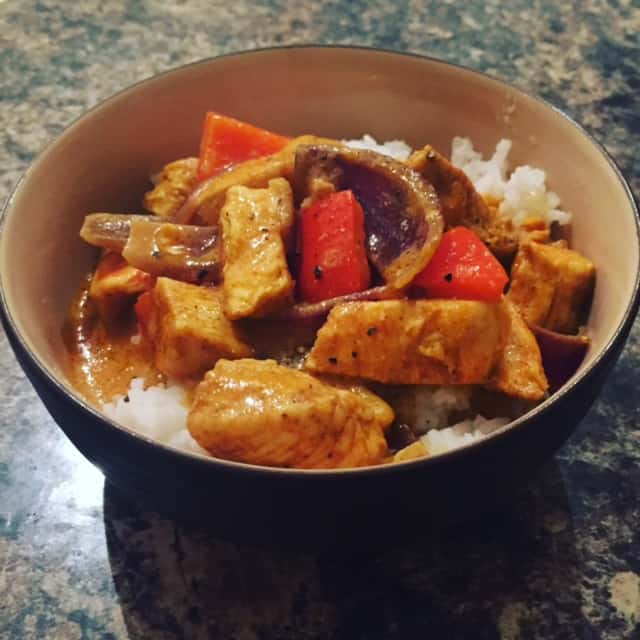 Believe it or not, this exquisite looking meal was thrown together by me looking at what we had in the fridge, and googling 'Chicken curry coconut milk'! Ah, the wonders of the internet.
I got the recipes from a website called Ricardo Cuisine which I've not come across before, but the results were pretty great!
Cost Breakdown
Chicken
Tesco chicken breast
£5.79/kg
Meal cost: 100g = 57p
Red Bell Pepper
Tesco Red Bell Pepper
50p
Meal cost: 16p
Red Onion
Sainsbury's Red Onion
0.79p/kg
Meal cost: ~30g = 2p
Coconut Milk
Dunn's River Coconut Milk
0.99

Meal Cost: ⅓ can = 33p
Honey
Rowse Runny Honey
£8.00/kg
Meal cost: 15g = 12p
Spices
Curry Powder (2 tsp)
Chilli Powder (2 tsp)
Turmeric (2tsp)

Meal cost: ~ approx 3p
Rice
Basmati rice
£1.49/Kg
Meal cost: 50g rice = 7p
---
Total meal cost: £1.30
---
For anyone wondering if I really just used 1 third of a pepper, onion and a can of coconut milk – no, we used it all!
The meal made three portions, so I divided the ingredients used so that the cost reflects the price of one meal. However, this once again is an easy recipe to make for multiple people or meals, and curries often even improve after being stored as leftovers!
Tip: Add potatoes or sweet potatoes to bulk this meal up, and for a twist, you could also serve it with naan bread in place of rice.
Related Posts:
---
Are there any meals you'd like to see a cost breakdown of? Let me know in the comments!