We may earn money or products from the companies mentioned in this post, and as an Amazon Associate I earn from qualifying purchases. Please see my full disclosure for more information.
This post may contain affiliate links. Please read my disclosure for more information.
Cheap Food Tuesday: Chicken Burrito Bowl!
SPECIAL OFFER: MEAL PLANNER BUNDLE
For the next 15 minutes ONLY, you can purchase the ultimate meal planner bundle for 50% OFF!

This 20-page eBook includes meal planning tips, meal plans, recipe ideas, & so much more. Simply click the button below and enter your unique discount code PLANNER50 for this one-time offer!
Every week I breakdown the exact cost of one of the meals I've cooked for either breakfast, lunch or dinner. This is to prove once and for all that eating delicious, nutritious, well-balanced meals doesn't need to break the bank with your food choices – in fact, the opposite!
By planning my meals each week and using whole food such as vegetables, eggs, and ethically-sourced meat, I create delicious meals that fit my health and fitness goals, on a completely achievable budget – if you haven't set your budget yet, check out my simple tips here.
This weeks Cheap Food Tuesday Meal: Chicken Burrito Bowl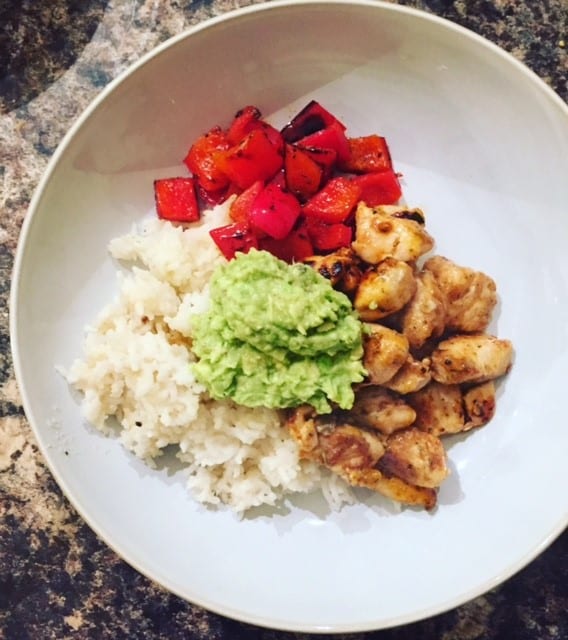 ---
Chicken
Tesco chicken breast – £5.79/kg
Meal cost: 150g = 86p
Rice
Basmati rice – £1.49/Kg
Meal cost: 50g rice = 7p
Stock cube (rice cooked in veg stock)
Kallo organic stock cube £1.20 for 6 cubes
Meal cost: 1 cube = 20p
Pepper
Tesco Red Bell Pepper – one bell pepper = 50p
Meal cost: ⅓ pepper = 16p
Red onion
Tesco Loose Red Onion – 0.79/kg
Meal cost: 20g = 0.014p
Fajita spices
Avocado
1 Avocado = 90p
Meal Cost: 1/2 Avocado: 45p
Total: ~£1.75
---
This Chicken Burrito Bowl is a delicious, balanced meal and is an absolute staple of my diet – I love Mexican food, so it's definitely not a meal deserved for my cheap food Tuesday series!
This is another classic example of how easily meals can be prepped and cooked beforehand and enjoyed for several days. Just store your chicken, veg, and rice separately and assemble your dish in the morning before taking it to work!
Tip:
– Swap the cheese out for some smashed avocado for a tasty top to your bowl, and incorporate some healthy fats into your meal while you're at it!
Related: