We may earn money or products from the companies mentioned in this post, and as an Amazon Associate I earn from qualifying purchases. Please see my full disclosure for more information.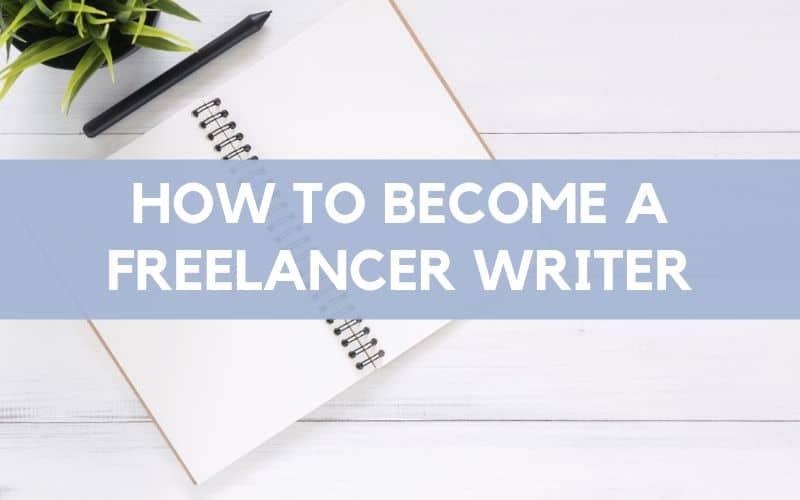 If you're reading this, I'm going to take a wild leap and guess that you're somewhat interested in becoming a freelance writer (how'd I guess, right?).
That decision can feel like a scary goal that feels almost impenetrable – where do you even start? What is managing your own freelance business all about?
Ever since I've been a freelance writer, I've seen hundreds of people lost and wondering exactly how to make their own dream a reality.
Being a freelance writer is a great job. It's a fantastic way to earn extra cash on the side of a full-time job, but it's just as possible to turn this into a career.
This guide aims to help you learn how to become a freelance writer from scratch.
Honestly, there is a lot of misinformation out there. Some people insist you need a degree to become a freelance writer. Others recommend you start writing for content mills for the experience (hint – you never want to do this!).
It's no wonder so many people feel stuck when trying to start their freelance writing career.
Here's the truth: anyone can be a freelance writer. You can be a freelance writer on the side of your full-time job if you're a stay at home mom or a student, or you can make freelance writing a full-blown business that helps you travel the world if you wanted to.
The opportunities are limitless.
The ways to find freelance writing jobs are endless.
I quit my job at the beginning of 2017 to become a freelance writer. Now, I earn a full-time income from my freelance writing business which I can run from anywhere in the world.
Here's how.
From Unhappy Office Worker to Travelling Freelance Writer
My freelance writing business started alongside my full-time job because I was miserable going to a 9 to 5 every single day.
I hated having no time to do the things I loved while being forced to spend 8 hours a day at a desk, even if I could do my tasks in half the time.
I wanted the freedom to choose my own working hours.
My clients.
My rates.
So, I looked into finding out how to become a freelance writer.
I knew, instantly, that this was a path that I wanted to take.
Starting out, I did a lot of things right. This is surprising since I didn't have a clue how to start a freelance business.
However, I also made a lot of mistakes.
Leaping from the world of cushy office job where you don't have to worry about taxes, sourcing your own clients and setting your own rates into the complete unknown is pretty terrifying.
There are a lot of obstacles to overcome and a lot of new lessons that you need to learn quickly.
I built up my business to a full-time income over the course of a year, and I learned a lot in that time. I was walking through an entirely new world and figuring things out as I went.
Although at times I was earning poorly and worried that this path wasn't going to work out, I persisted.
I worked hard – really hard – and I was consistent.
I landed my first client, and then another, and another.
Now, I have a thriving freelance writing business that allows me to travel the world and I'm a thousand times happier.
It is possible for you, and with the right guidance, anyone can build their business to a sustainable level within months.
Here are the steps you need to follow.
How To Become A Freelance Writer:
1) Know What A Freelance Writer Actually Does!
Your first should be to research what exactly a freelance writer does (you can wear one very specific hat, or lots of different ones!), and be sure that you want to do that with your life.
After I graduated University, I had no idea that copywriting was a real job prospect.
Once I discovered that there are people out there that get paid to write, I knew this was my path. Is it yours?
Freelance writers can go down a lot of different avenues. Some of those avenues include:
Copywriting (writing content for marketing and advertising purposes)
Content Writing (creating content for businesses with the purpose of entertaining and engaging customers)
Web Copy and Blog Writing
Ghostwriting (Writing anonymously for a brand or influencer – this could be anything from blog posts to books)
Ebook Writing
Creative Writing
Print Writing (Producing copy for print magazines, leaflets etc)
There are many more types of work you could do as a freelance writer, and it's impossible to specialise in all of them. Your best bet is to read up on what you would be doing in each role, and choose one or two to really specialise in.
The more specialist you are, the more in demand you'll be with businesses in those industries.
2) Have the Right Skills
Once you've decided for sure that you want to be a freelance writer and not a different kind of location independent worker, you need to develop the right skills to make this happen.
While anyone can be a freelance writer, you're not going to land projects if you have no skills to offer. That's a fact that applies to any career path in the world.
A few skills you should try to develop to become a freelance writer include:
Writing
Duh! You need to be a good writer in order to make it as a freelance writer. The best way to be a better writer? Write!
Start writing today, right now. You could start a blog on a topic that interests you (it doesn't have to be about writing), or you could just open a word document and start writing stories, essays, articles on something that catches your interest, anything.
Like any skill, being a good writer takes practice and time, so make sure you write as frequently as possible. Even if you're not even showing anyone your writing let alone earning money from it yet, this first step is the best way to start developing the main skill you need to offer future clients.
Check out my top 10 tips for instantly becoming a better writer.
Time Management
Being a freelancer has many amazing benefits: you get to work from anywhere, you can choose your clients and set your own rates, and you get to do a job you really love. However, it also means you have to be your own boss with everything. You are responsible for making sure you get paid enough each month, for dealing with taxes, managing multiple deadlines and more.
Believe me when I say being a freelance writer is no easy job.
You need to be amazing at time management to ensure you meet every deadline and keep your clients happy, while also ensuring the rest of your jobs on your to-do list get sorted in time.
Using a project management site such as Trello can come in really handy for managing your time effectively as a freelancer.
Confidence
As a fairly introverted person, it took me a long time to realise that I needed to portray a confident, capable image online in order to win contracts.
That means using social media to interact with other freelancers and potential clients, and really putting yourself out into the online freelancing industry.
It can be terrifying. But fake it til you make it.
Apply for big jobs even if you're not sure you're qualified yet. Get involved in industry news stories and debates. One day you'll realise you're not even faking it anymore.
Discipline
You need to be a very driven, disciplined person if you're going to successfully become a freelance writer.
When you're your own boss, you don't get to take sick days or days off when you feel like it – not if you have a client relying on you. Not being disciplined can result in lost clients, and that can very quickly ruin your reputation in the industry.
Become accustomed to doing things even when you don't feel like it. Sitting indoors on beautiful summer's days. Being disciplined with your work commitments is essential if you're going to make it, especially when you're working like crazy at first.
Grammar & Spelling
Clients are always going to expect impeccable grammar and spelling at all times. However, we're all human, and we're all fallible, and over-looking the odd typo or grammar is to be expected.
Download a free editing app such as Grammarly to go over your work for you – I find it invaluable when I'm working on long projects where I might miss a few things.
3) Build Your Portfolio
The number one thing prospective clients are going to want is a portfolio to look at samples of your writing.
After all, you wouldn't hire a stranger without knowing they're capable of completing your project, would you?
The roadblock so many aspiring freelance writers hit at this point, though, is that they need jobs to build their portfolio and they need a portfolio to land jobs. The ultimate paradox.
However, you'll be pleased to know there are ways around this.
When I first started freelancing, I had very little evidence of my writing to show potential clients because I had been working for an agency who owned all of the work I had produced.
So, I quickly built up a portfolio by doing two things:
a) Blogging
I started blogging as a way to improve my writing, but it quickly became a great sample of my writing to show to clients I was applying to work with.
I have landed more freelance writing jobs thanks to my blog than anything else. More than that, it's a platform I am so passionate about.
I've written up a full guide to starting your own blog here, including tips for what to write about and how to pick the right domain name for you.
Blogging makes me far more credible as a writer. It has connected me with companies and influencers around the world, and even contributes to my income.
Starting my blog was definitely the best decision I could have made for myself as a freelance writer.
It made me so much more driven and focused, and gave me a great portfolio that showcased some of my best writing online for any potential clients to see.
b) Take on Free Projects
Agreeing to do work for free can feel like you're going backwards when trying to make it as a freelance writer.
However, it's actually a really effective way to get genuine companies on to your portfolio.
When I decided I wanted to become a freelancer, I reached out to my family and friends and offered to do some free copywriting in exchange for being able to feature that work in my portfolio.
Several friends who owned businesses themselves were only too happy to have me re-write the copy on their websites. This meant I quickly added genuine businesses to my portfolio and instantly boosted my credibility as a writer to prospective employers.
As well as the above, you could also build up your portfolio even with no experience by doing the following:
c) Publish Articles on Medium
Medium is a great platform that allows you to upload articles directly to the site, so you can simply add a link to these pieces in your portfolio.
There also a chance your article gets seen by thousands of people which is an instant bonus!
d) Guest Post
Some bloggers allow people to guest post on their sites. This is a great way of showing prospective employers that you have had your writing published online by a credible website in the past.
Think about a topic you have specialist knowledge of, whether that's writing, or even a hobby you like to do. Then, research blogs about these topics and find out if they allow guest posts on their site.
Some bloggers do prefer you to have your own blog first, so be sure to check their guest post guidelines before submitting a pitch!
e) Create Hypothetical Pieces
Finally, you could create hypothetical portfolio samples of big brands. For example, you could look at the Coca-Cola website and in a document, you could totally re-do all the copy on the website.
If you've got some web design or image editing skills, it could be a good idea to re-create the look of the website to show your hypothetical piece off in its full glory.
4) Start Pitching to Jobs
Once you've added a few pieces to your portfolio, the next step is to actually start pitching for jobs! Yes, 4 steps down the line and we're actually ready to start applying!
When I first started freelance writing I used Upwork and ProBlogger to find jobs.
Upwork is a good site to use because of the sheer number of job opportunities posted on there. It does mean you have to search through a lot of jobs offering really low pay to find the gems in the rubble.
While this can feel like a bit of an effort, some of my longest and best-paying clients have been on Upwork. It's also a good place to start if you don't have that much experience and so are willing to accept a slightly lower rate in return for getting your foot on the ladder!
On the other hand, ProBlogger tends to have a higher standard of jobs posted on the platform on a daily basis.
Once you find a job you'd like to apply for, it's good to try to get in early. If the job has been posted for over a week, it's unlikely your application will even be read amongst the hundreds the client would have received in the days beforehand.
Secondly, you want to make your pitch really stand out.
For me, that means relating the brand and requirements back to my own life. For example, if I'm pitching a travel brand, I'll talk about the fact that I've been non-stop travelling for the past year. Or if it's for a Health & Fitness brand, I'll talk about my own personal passion for Health and Fitness and then refer the client to samples of my previous work that support that fact.
To successfully pitch a client, you want to make your pitch personal. You also want to clearly show that you have the experience necessary to be the right person for that job.
5) Get Online
You can't just stop at pitching for jobs, sending prospective clients links to your portfolio, and that's it.
To really be successful as a freelance writer, you need to get online and get your name out there. You should do both of these things:
Start a Blog or Freelance Website You could start blogging and add a 'Hire Me' page to your blog advertising your services as a freelance writer. Alternatively, you could create a website that is mainly about your freelance writing business, and less about the blogging side of things. Either way, having a link to send potential clients to is a massive plus.
Get on Social Media Whether you like it or not, we now live in a world where having a presence on social media is imperative if you want to work in the online space. Get a Twitter and a LinkedIn at the minimum – if you already have personal ones that you use frequently, create new accounts to use solely in your capacity as a freelance writer. Then, use those accounts to network with prospective clients and other freelancers. Making those connections can be an amazing way to land future jobs that you would never learn about before.
One of the first things I did was to create a professional website to offer my freelance services and showcase my portfolio.
This acts as a great platform to direct any prospective employers, and also has links to all my social media accounts which I network on as often as I can.
6) Build Slowly
I quit my job when I had landed a long-term client that was going to pay me on a regular basis.
Then, I slowly built my business over the next few months. Every time I took on a new client, I'd wait a few weeks to measure the number of hours I had added to my work schedule. Then I could calculate how many more hours/clients I could take on.
Building my business slowly as opposed to taking on 10 clients all at once allowed me to put those time management and discipline skills into practice without overwhelming myself. It ensured I could always provide my highest quality of service to my clients.
7) Always Keep Learning
Even though I've been a copywriter for 3 years now, I'm always taking courses, and connecting with more experienced freelance writers to see how I can improve my own freelance writing skills and services.
As a new freelance writer, this is even more important.
Always aim to improve your writing skills. Always learn how to manage your blog, how to run a freelance business, and find the best tools to help you be the best freelance writer you can be.