We may earn money or products from the companies mentioned in this post, and as an Amazon Associate I earn from qualifying purchases. Please see my full disclosure for more information.
This post may contain affiliate links. Please read my disclosure for more information.
Before I left for Asia, I'd published a few posts under the name 'Cheap Food Tuesday', with the aim of showing how easy it is to cook delicious, healthy meals that cost next to nothing to prepare.
I was doing a pretty good job – you can check out a few of the posts here:
You see, I love food and I love cooking for myself. Although I'm loving remote life, I do miss having a kitchen. When we find somewhere we want to stay for a longer period, that's the first item I'm looking for in accommodation! In the meantime, we've been chowing down on some tasty street food.
The best thing about street food? We're spending maybe one pound per meal, max.
Here's a little photo gallery of some of the best budget eats we've had so far in South East Asia:
Coconut Ice Cream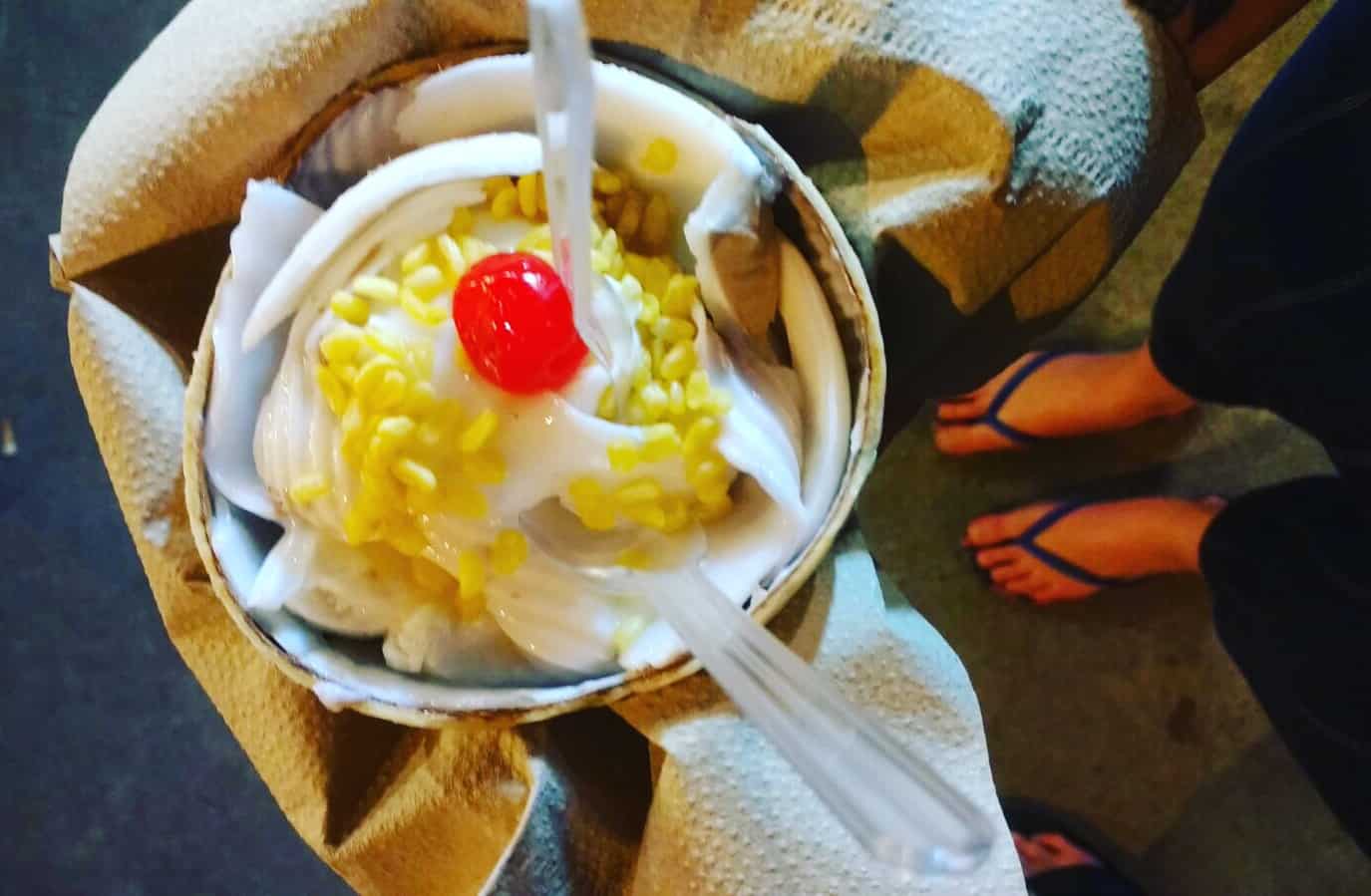 We bought this coconut ice cream topped with coconut shavings, a cherry and these delicious crunchy yellow bits (if anyone knows what they are, I'd be grateful!), all served in a coconut shell for 40 Baht (~£1). The perfect late-night street food treat!
2. Mango Sticky Rice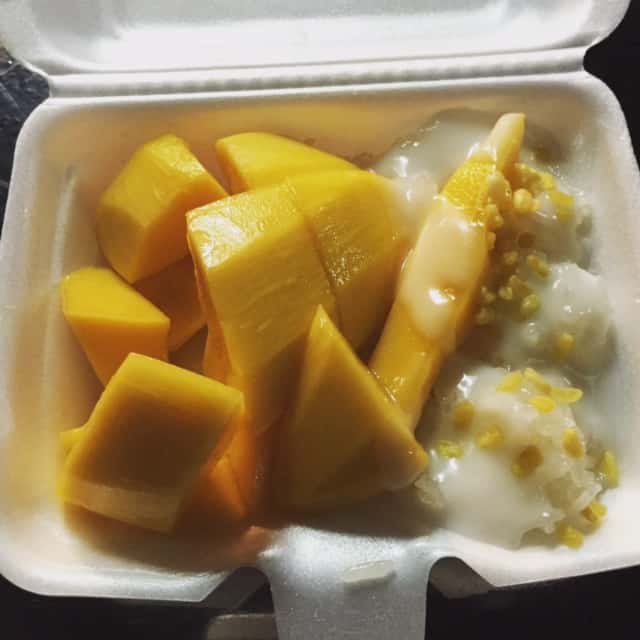 Mango sticky rice is a popular Thai dessert and it is delicious! The mangoes here are so soft and juicy, perfect served with sticky rice and topped with a sweet condensed milk sauce. So good!
3. Grilled white fish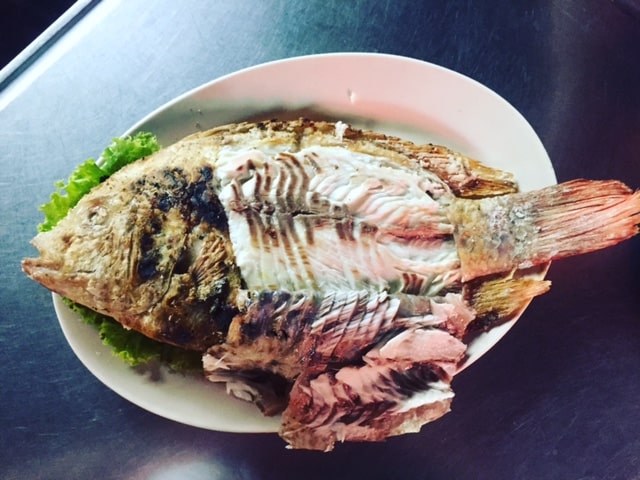 This was one of those meals where we saw (and smelled) some tasty fish being grilled on a BBQ on the side of the road and thought, yep, that's dinner. A whole fish served with rice and sauces for less than £5? Bargain.
4. Banana Chocolate Roti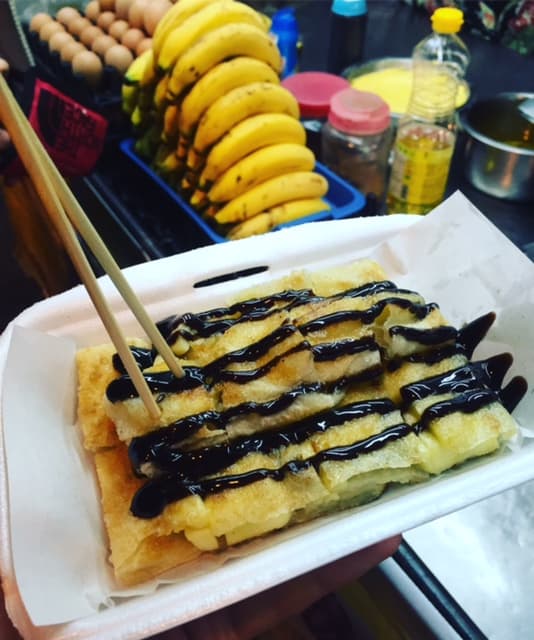 Not much to be said about this – pure fatty, carby, chocolatey goodness.
5. 1/2 Chicken on a Stick
One of our final nights in Chiang Mai. A roadside dinner of 1/2 chicken on a stick as the sun sets in the background. The moments I live for now…
6. Young Coconut Chicken Curry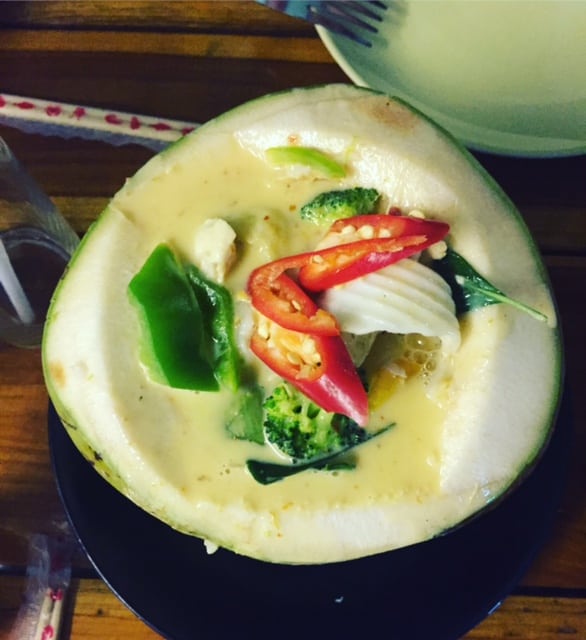 Curry in a coconut – a gimmick? Sure. Tasty? Hell yes. This curry cost just £2 with rice from the most delicious little restaurant that served free bottled water and watermelon with every meal. Not street food, but too good not to share nonetheless!
7. Mango!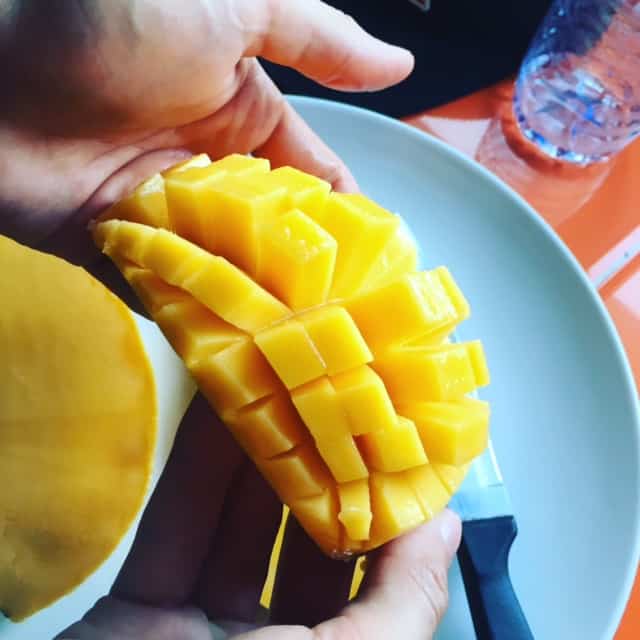 Maybe just sharing a photo of a mango is cheating a little, but would you look at that beauty? The mangoes here are so cheap, and are hands-down the most delicious fruit I have ever tasted. More, please.
8. 5-Spice Pork Belly in a Steamed Bun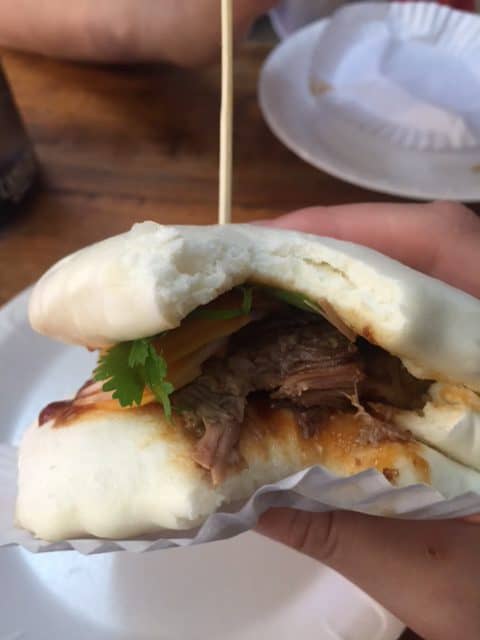 Purchased from a street food mall in Ho Chi Minh City, this pork bun was the perfect snack to keep me going on an afternoon of exploring.
9. Rolled Ice Cream (Raspberry and Mango Flavour)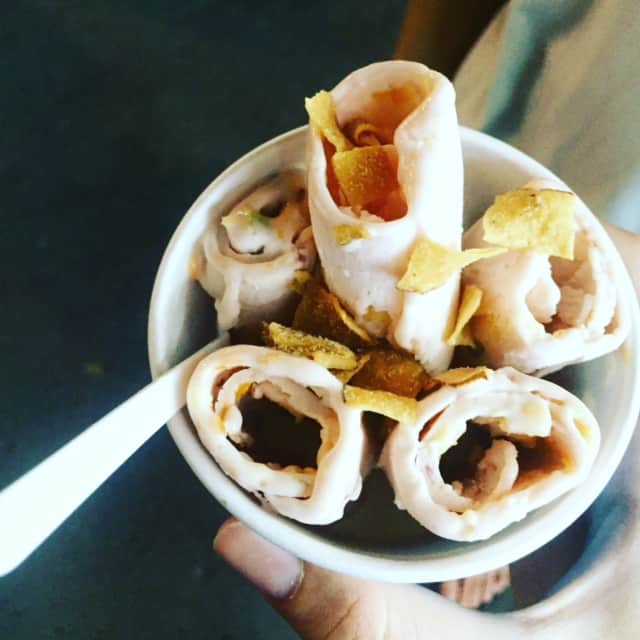 Watching the guys prepare this treat is half the fun – watch them bash your ingredients together on a cold stone, before rolling your ice cream into these neat little curls before topping with dried coconut. So much fun, and so delicious.
10. Vietnamese-style Pizza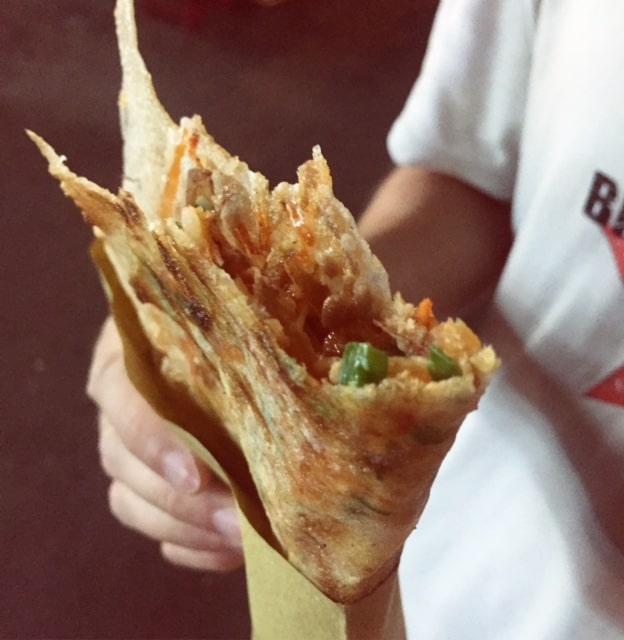 More like a savoury crepe than a Pizza, this snack is stuffed with pork, fish, spring onion and sauces for a flavoursome treat.
11. Savoury Vietnamese Pancakes
These little pancakes were made from rice flour and cooked with pork, shrimp or squid – we had about 3 each, so tasty!
---
Hope you enjoyed this part one of street food tours in Asia – is there anything you'd like to see more of?!