We may earn money or products from the companies mentioned in this post, and as an Amazon Associate I earn from qualifying purchases. Please see my full disclosure for more information.
Can you make money from home with 20Cogs? A full 20Cogs review.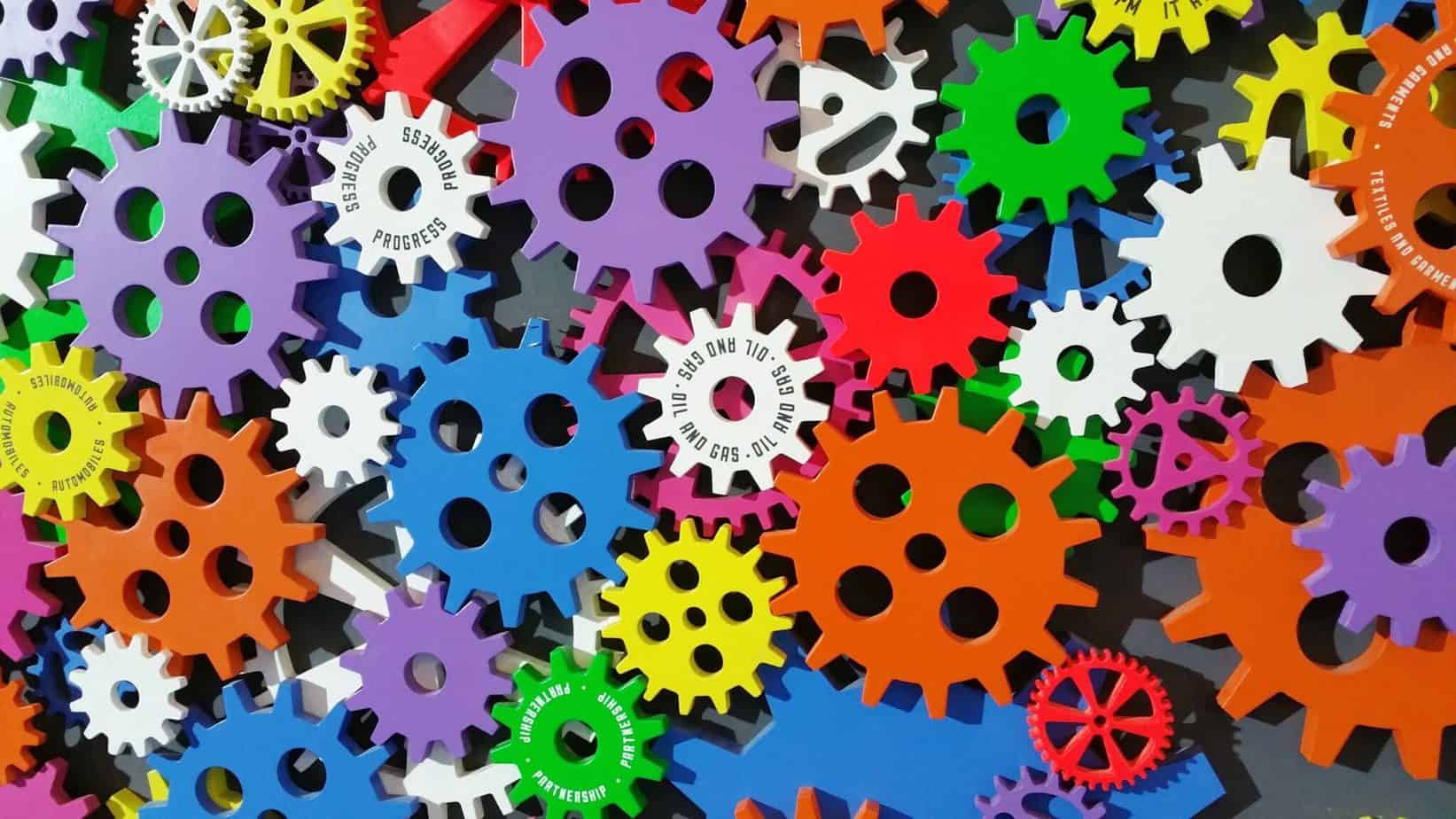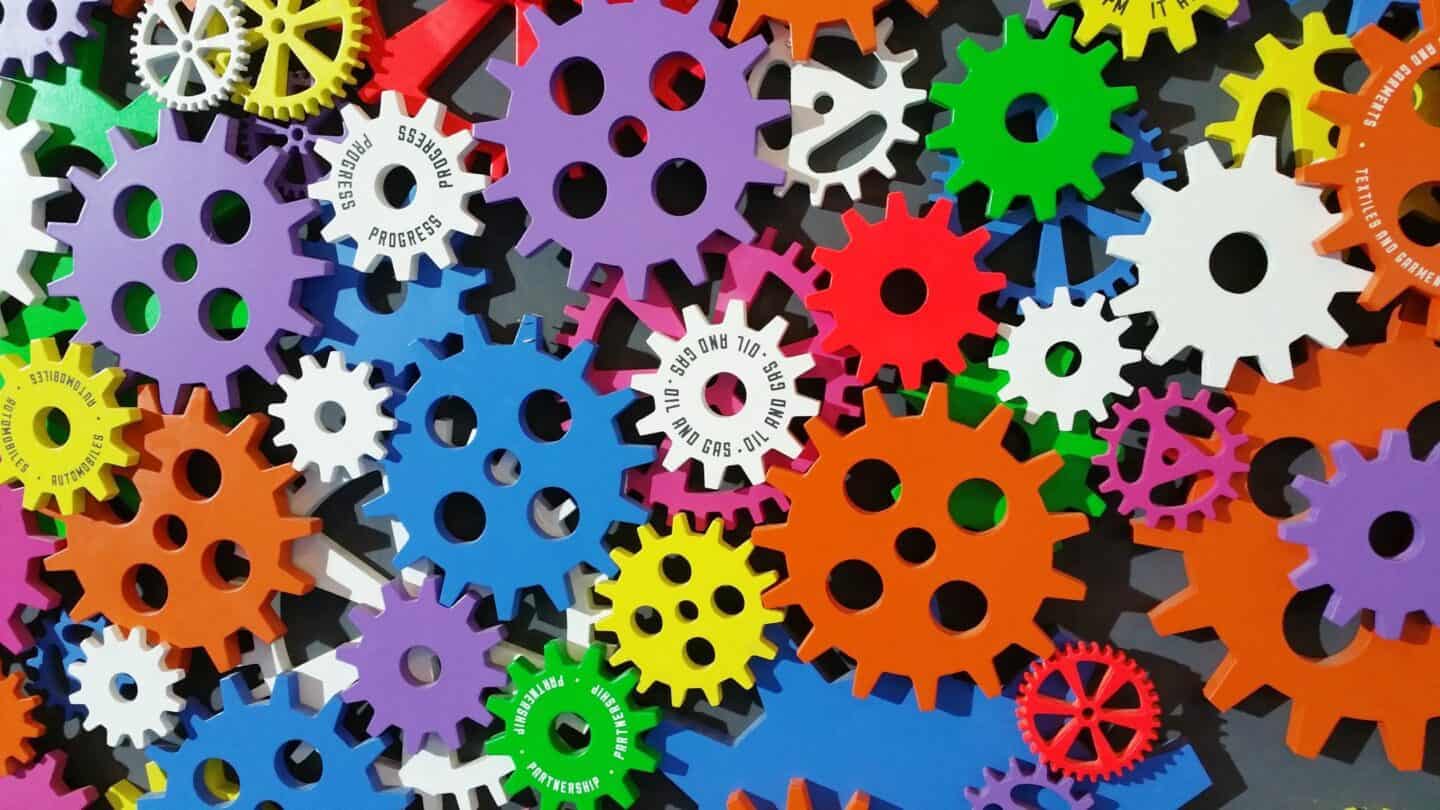 I'm always looking for fun new ways to make a little extra cash in the evenings, so when I stumbled across 20Cogs, I had to try it. Having spent a few weeks navigating 20 cogs and trying out the different cash incentives they offer, below I've written up a full 20Cogs review.
QUICK SUMMARY: The TLDR version of this 20Cogs review is that 20Cogs can definitely be a decent earner – and a great introduction into a number of freebies, useful personal finances tools, and offers – for anyone just starting with side hustles from home. If you've already tried a lot of popular freebies and offers, however, you might find that you're not actually able to claim several of the offers on the website.

Check out this post with over 30 ways to make money online for some more ideas.

What is 20cogs?
20Cogs gives you 20 offers (cogs) to complete, offering a cash incentive anywhere between £1 – £7 per offer. Only once you've completed all 20 offers and had them confirmed can you cash out. 
20Cogs is for UK residents only. Not based in the UK? I highly recommend checking out Swagbucks.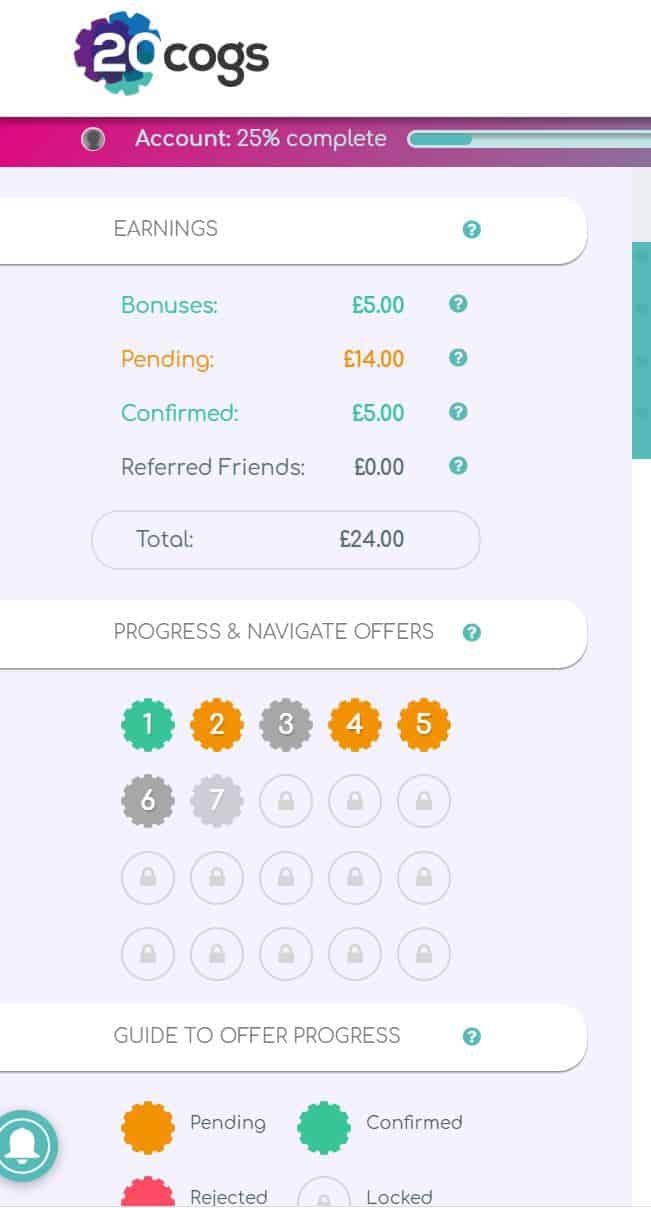 How does it work?
When you sign up to an offer through 20Cogs, the advertiser running the offer pays 20Cogs – essentially like an affiliate partnership – and 20Cogs then shares this money with you, which is why you need to wait until your offers have been confirmed before you can cash out.

Is 20Cogs A Scam?
Nope, 20Cogs is not a scam. They get an average 4.5 rating on Trust Pilot, with over 3,600 reviews (at the time of writing). Currently, they've paid out over £1.9million to their members since starting.
So you can rest assured that you're not signing up to anything dodgy with 20Cogs – it's a legitimate UK based rewards site will a number of great offers to make money from home. As you'll see in this 20Cogs review, however, whether it's a good fit for you really depends on, well, you.

What kind of offers are on 20cogs?
As I went through the site, I made a list of some of the offers 20Cogs had, plus how much you could earn, and in some cases, how much you had to pay first.
A few good offers include:
Earn £5 for downloading the free Yolt app on your phone (a really good money tracking app that I've actually recommended on this site for years!)
Get £6 for signing up to a free Amazon prime trial. Just remember to cancel your subscription before the trial ends so you don't get charged!
Earn £20 when you sign up and switch with Look After My Bills, an automatic energy switcher that finds the best energy deals for you once your current deal ends.
Earn £3 for signing up to GoHenry, a pre-paid card with unique parental controls, designed for young people between 6 and 18.

Are the offers worth it on 20 cogs?
As you can see from some of the offers listed above, 20Cogs actually has some really good deals – offering a cash incentive to sign up to different personal finance tools that are genuinely helpful to a lot of people regardless.
For this reason, I really rate 20Cogs. Even if it takes you months to actually cash out, you'll still get ideas for some really helpful tools for saving money that will actually come in handy in your day to day life without actually costing you anything.
However, some of the offers require you to pay a small amount to access a trial. For example, I earnt £7 for signing up to LottoSocial and making a 99p deposit in exchange for 10 lines in the EuroMillion jackpot.
For some, that might be an amazing deal if you already do the lottery a lot. For me, however, I was reluctant to spend 99p on something I would never use in my day to day life just for £6.
Likewise, another offer was from Free Stuff, where you could earn £1 for entering their £500 ASDA giveaway. Sounds like a good deal, but you had to give them your phone number and address, and the sign-up page had a lot of opt-ins that gave me the impression I could be getting an influx of emails and calls from third-party companies.

Making Money with 20 cogs
Making money with 20Cogs comes down to 2 key things:
Completing all 20Cogs, even if that means waiting a few months for the offers to change to more relevant options for you
Remembering to cancel your free trials so you don't get charged
I paid 99p for a 30-day trial to Readly, which gives you access to hundreds of magazines online, including Cosmopolitan, GQ, BBC Good Food, and Women's Health. While I probably wouldn't have signed up before, I'm excited to make the most out of my trial and read some new articles – plus, I'll earn £6 from 20Cogs provided I don't cancel my trial before the 30 days is up.
To play the game right, I've set a reminder on my calendar to notify me when I need to cancel my subscription so I'm not charged. I've also done this with other offers that will start charging me the full price.

Is 20Cogs Legit?
Yes, 20Cogs is legit and if you complete all 20 offers, you will be paid. Overall, you can make up to £200 from completing all 20 offers – I haven't quite reached this stage yet, but will update with the exact figure when I do! I would recommend taking a screenshot of each completed offer in case you need to chase up a cog that's still grey (i.e. marked as pending rather than complete).
The one "catch" is that you need to complete all offers before you can cash out.
I think the key thing with 20 cogs is to persevere and complete all 20 offers, even if you wait a while to do that. It's obviously not going to make you a huge amount of money, but it is a cool way to get some interesting free trials and try out some new apps/tools that you might find genuinely useful while also earning a little cash along the way.
I would consider creating a new, separate, email account for signing up to survey sites etc to avoid overwhelming your regular inbox with offers.
20 Cogs Referral scheme
Finally, a cool feature of 20Cogs is their generous referral scheme. For each friend you refer to 20Cogs who completes all 20 offers, you'll receive £30! 
---
I hope this 20Cogs review has given you a better insight into the rewards site and whether it's actually worth your time.
In my opinion, you have nothing to lose by signing up and trying out the offers – just be prudent about what email address you want to give to certain companies and make sure you set a reminder to cancel any paid trials you sign up for to avoid paying out more than you actually earn!