This post may contain affiliate links. Please see my full disclosure for more information.
People always ask me how I managed to wrangle a remote job. I mean, choosing your own hours, working where and when you want – it sounds like a dream, right? 
The thing is though, that as soon as I stepped into the world of freelancing, I've seen how many people live like this and more than that, how perfectly possible it is to make this your lifestyle if you really want it.
Remote jobs aren't unicorns – in fact, these days, more and more businesses are recognising that the more freedom employees have over their working hours and location, the happier and more productive they are.
For many people, it's not the lack of opportunities, but the fear of the unknown that holds them back from finding a remote job. People don't know what to do, how to start. So, I'm trying to fix that.
In this post, I've compiled a quick summary of 10 of the BEST remote jobs for anyone. If you're struggling to choose a direction, one of these are a sure-fire way to achieve your work-from-home (or the beach, or the mountains…or your bed!) dreams.
1. Copywriter
Seeing as you essentially only need a laptop and a connection to the internet to be a copywriter, it is a perfect job for working remotely. I've been copywriting for over 2 years now, and I can honestly say that getting paid to write is a dream come true.
If you are just starting out, you need to be good to make it as a freelance writer. I'm working on something pretty top-secret related to exactly this – so be sure to sign up to my e-mail list below to make sure you find out all about this project when it's ready!
2. Social Media Manager
10 years ago, who knew that spending your time on social media could actually be a lucrative job prospect? Experienced social media managers can make a high-income and, bonus, often work remotely for companies around the world.
If you're a blogger, the chances are you've also got some experience in creating content for social media, scheduling it, sharing it, and connecting with your audience online. To make it big as a social media manager, you do need more experience than that – but it's a great place to start and show potential employers that you know what you're doing!
3. Virtual Assistant
In my post on how to become a virtual assistant, I told you all about how I fell into this freelance role just as I left my full-time job, and I've been doing it ever since!
Being a virtual assistant is possible for anyone as it doesn't require a specialist skill like design or writing. It is a great form of steady income every month as there are always tasks to be done, and it keeps my workload interesting as there are always other things to do if I'm not in a writing mood!
I highly recommend checking out my guide to becoming a virtual assistant in the link above (including, in my opinion, the BEST virtual assistant course on the market!) if this is a freelance job that interests you!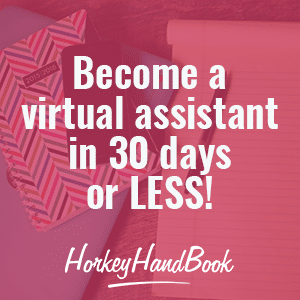 4. Blogger
What, you didn't know that bloggers can make money? And more than that, that bloggers can make a great income without the need for any other freelance jobs? That's right!
In the past 3 months, I've tripled my income from my blog already (not to a full-time income by any standards, but growth is growth!) – and it's all thanks to this course: Making Sense of Affiliate Marketing.
I go into way more detail in my make money as a full-time blogger post, but here's the gist: Michelle currently makes over $50,000 every single month from affiliate marketing on her blog (and a whopping $100,000+ every single month), and in this course, she's revealed all her secrets. It is legit. Within 2 days of applying the course materials to my blog, I made my first affiliate sale – and they've kept on climbing ever since.
If you're interested in working remotely as a blogger, you need this course, really.
5. Digital Marketer
Digital marketing is another lucrative freelance industry, with the most experienced names in the field making BIG bucks. Digital marketing is something that businesses both small and large need, however, so there are opportunities no matter what experience level you're starting out at.
6. Social Influencer
Like social media managers, being a social media influencer is a relatively new thing. If you have a topic you're passionate about, a great eye for aesthetics (the gram is all about aesthetics, of course!) and the drive to be consistent, authentic and grow your audience, becoming a social influencer is no easy remote job to make possible – but the rewards are limitless once you get there.
7. Run an Amazon FBA Store
Amazon FBA stores can be a great way of making extra money on the side – or scaling up a full-time business, like The Selling Family who make over 6 figures from their Amazon store every single year.
Check out this total guide to making money online with Amazon FBA for all the details!
8. Your Current Job
No, this isn't a typo. More and more employers are opening up to the idea of having employees based from home, or even on the other side of the world. The number of telecommuting workers has increased by 115% in just 10 years. If you really want to work remotely, consider asking your employer to consider a remote contract agreement.
This is what I did at the beginning of this year; check out how to negotiate a remote work contract with your current employer for all the advice you need.
9. Graphic Designer
Graphic design is another of those professions that simply requires a laptop and an internet connection. If you're creative, love art, design and aesthetics, graphic design could be a great remote job for you to consider.
Being a successful graphic designer these days does mean being proficient in things like PhotoShop, Dreamweaver and more – but there are also a huge number of amazing online courses out there to get your design skills on point. A few highly rated ones I've found include:
10. Programmer
These days it seems like there's an app for everything – until someone introduces another that makes like so much easier. The programmers behind successful apps can make an absolute killing. If you're interested in coding (or better still, already have experience in it!), consider getting into programming for a perfect high-earning remote job.
Bonus Tip: Are you already an expert in one of these best remote jobs? Consider teaching people the art of your trade with your own course on Teachable.
This can be a great way of supplementing your income, and helping other people achieve their dream career at the same time!