This post may contain affiliate links. Please see my full disclosure for more information.
This post may contain affiliate links. Please read my disclosure for more information.
Last week I wrote a post on the importance of blogging for your business; this week, I'm going to show you how to start your own blog from scratch in under 10 minutes.
No more excuses, no more putting it off until tomorrow. The next 10 minutes are about you, and creating a space that's exclusively for your voice.
Whether you're an established company and have been around for years, or are just starting out in the world of business, a blog can always be a beneficial addition to your brand.
If you're building a side hustle to earn money on the side, looking to promote yourself as a business, or even if you're just interested in starting a blog to give yourself a platform from which to express yourself, this post is for you.
Related:
How to Start Your Own Blog in 10 Minutes Flat…
First things first:
Pick a Blog Topic
If you're blogging for your business, this should be a fairly easy decision!  However, if you're not creating a website to promote a product or service, and are simply looking to create a platform for your own voice, you should choose a topic that you'll be writing about.
Blogging about the first thing that pops into your head is perfectly fine, but you'll probably find it harder to build a dedicated audience. People like to know what they're visiting a website for. For example, you know that when you visit The Wallet Moth, you'll get to read posts that centre around money management – although sometimes I go a little outside of that (I'm sorry folks, I've got a lot to say!), I always try to bring my posts back to my chosen topic.
Related:
Choose your topic based on something that interests you. Don't start your own blogged based on something that you think could make you money fast, or could be really popular quickly. If you don't have a real passion for your subject, you'll burn out and run out of motivation to keep blogging.
Topics you could blog about include (but aren't limited to!):
Travel

Personal Finance

Blogging Tips

DIY

Food

Fitness

Home Interiors

Fashion

Sports

Music

Films

Politics
This list could be never-ending. Pick something that interests you and that you enjoy talking about. That enthusiasm is what will guarantee you keep blogging once the initial motivation wears off.
Pick a Domain Name
If I can give you one word of advice when picking a domain name, it's this: try not to overthink it. When you start your own blog or website, the name of your site can seem like the most important part but in reality, publishing great content on a regular basis is essential. Your name matters, but anything will sound great if you've built enough credibility.
Pick a name and run with it. Try to find something related to your niche or business – and do a little research beforehand to make sure your chosen name isn't already taken or associated with something dodgy! If you're a freelancer, consider [yourname].com. Alternatively if you already have a business set up, try to use the same name for your website, too.
Purchase Your Hosting & Domain
Once you've decided on a domain name, you need to find a hosting provider. I've dabbled in creating blogs for years (not many survive today I'm afraid!,), and I always choose Bluehost to host my websites, which is why I'm now recommending them to you when you start your own blog.
Bluehost is easy to navigate, has excellent customer service, and is one of the leading hosting providers online powering over 2 million websites. I always feel more confident choosing one of the leading Web Hosting providers because I know if something goes wrong with my site, they'll be on hand to tell me what happened, and how to fix it.
This link will give you direct access to hosting with BlueHost for as little as $3.95/month for your blog today:
You'll be given three options when purchasing your hosting – for a simple blog or business site, the basic package will work just fine for you.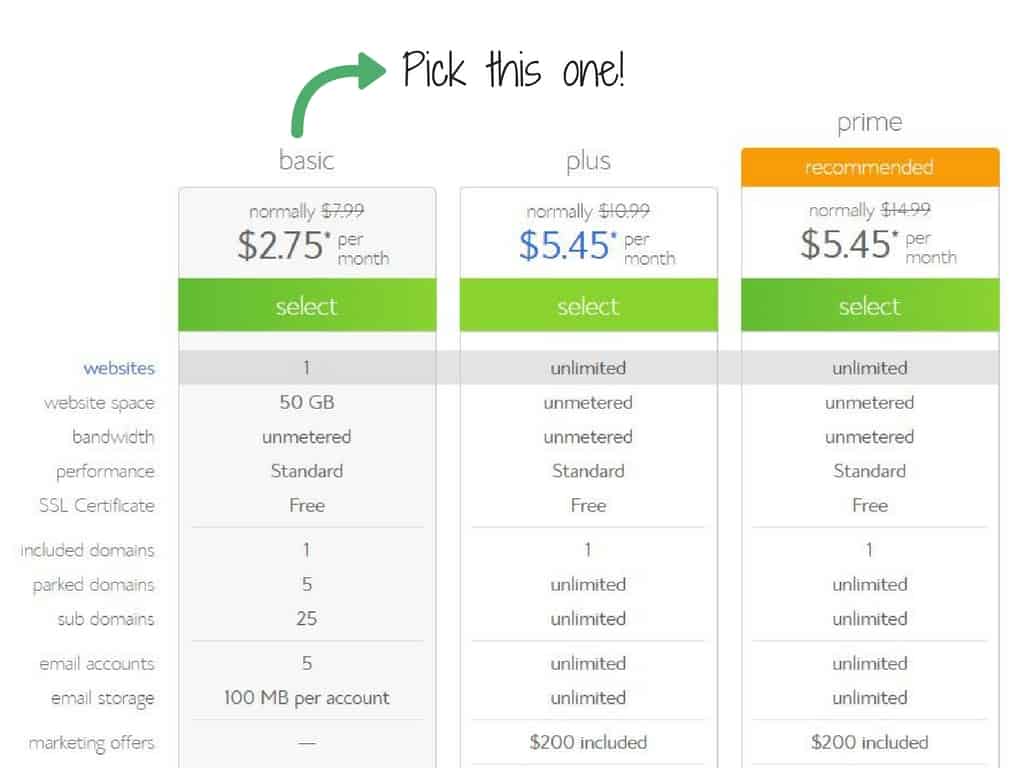 The next page will then go to package options and payment details. As you can see from the image below, there's only one box worth ticking in my opinion (let's keep costs as low as possible for now!).
Simply go directly to BlueHost.com with my link to get direct access to the cheapest web hosting option available for new bloggers.
Install WordPress
Once you've paid for your hosting and have your domain setup, you need to download WordPress to be able to start designing your site and creating blog posts! WordPress is the best option for anyone looking to start a blog, with an extremely easy to use interface. I honestly couldn't even recommend an alternative that stands up to WordPress when it comes to blogging.
BlueHost has a really easy one-click WordPress install option, and once that's done, you can operate your blog directly through a WordPress login page.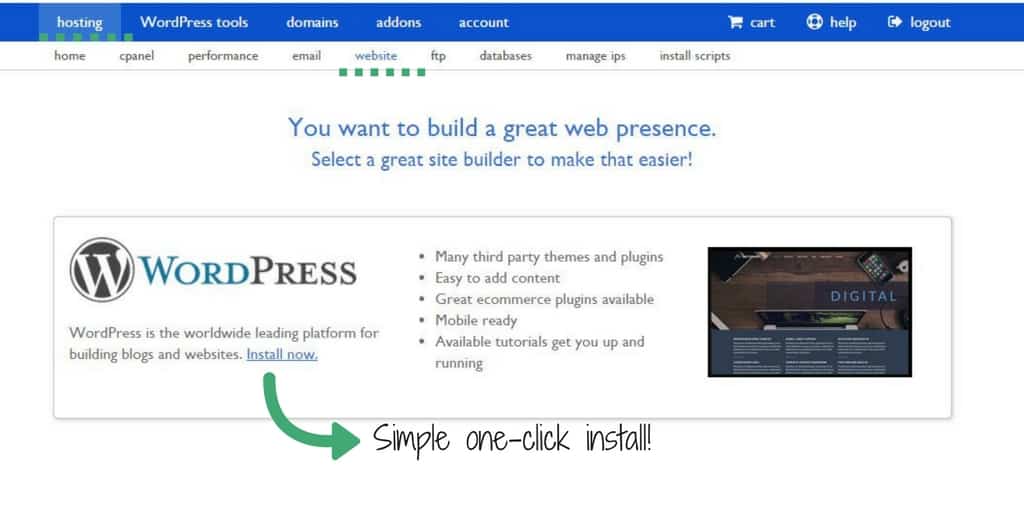 It's really as easy at that. Once WordPress is installed, you're ready to pick a theme, customise your site, and start creating blog posts!
That didn't take too long, right?
Starting my own blog was one of the best decisions I made for focusing my mind on the goals I truly want to achieve.

If you're interested in starting a blog of your own, I strongly recommend using BlueHost for a quality hosting provider at low prices (it's the only provider I use!). Check out my exclusive link for a free domain and hosting packages as low as $3.95/month.
---
Are you thinking about blogging? Get started today – you won't regret it!
I'd love to know what other blogging tips you'd find useful, let me know in the comments below!