This post may contain affiliate links. Please see my full disclosure for more information.
If you're a long time reader of this blog, you'll know that health & fitness are one of my biggest passions. It's for that reason that it's my mission to show that staying fit and healthy can be as cheap as you make it. Cheap healthy meals are not an elusive recipe: a little planning and prep each week is all you need to nail your diet (whether that's weight loss, staying the same weight or building muscle!).
Which leads us to today's topic:
Meal Prep.
A concept widely used by bodybuilders, fitness models and athletes, and something that is slowly emerging into the mainstream.
This post has been inspired due to a message from a close friend who confided she's been struggling to keep her diet and fitness on track. Of course, she is not alone.
Getting 'on track' has to be the hardest part of any journey, especially when it comes to installing habits such as healthy eating or regular exercise.
I've said it before and I'll say it again, the first step of making a habit is always the hardest part – give it two weeks and you're onto a winner. However, those two weeks can seem like a long, long time if you don't have tools and resources to support you.
Health and fitness can feel like an expensive pursuit. Gym memberships, protein powder, and 'super-foods' to name just a few fads, all come hand in hand with a pricey fee. If you're looking for budget-friendly fitness tips, check out this post:
Staying fit on the road, and on a Budget: 12 Exercises That Cost Next to Nothing!
Meal prep is the budget-minded person's approach to creating cheap healthy meals on a consistent basis. Most nutritious foods are cheap and easy to source – the next step is turning those ingredients into a delicious meal!
What is Meal Prep?
Meal prepping covers a wide spectrum. It can be:
Simply creating a meal plan for each day (or even one meal per day)
Chopping and prepping your ingredients so they're ready when you need them throughout the week (major time saver!)
Cooking a large batch-meal to have for several days in a row
Going all out. Planning, prepping and cooking all your meals in one day and simply reheating them through the week.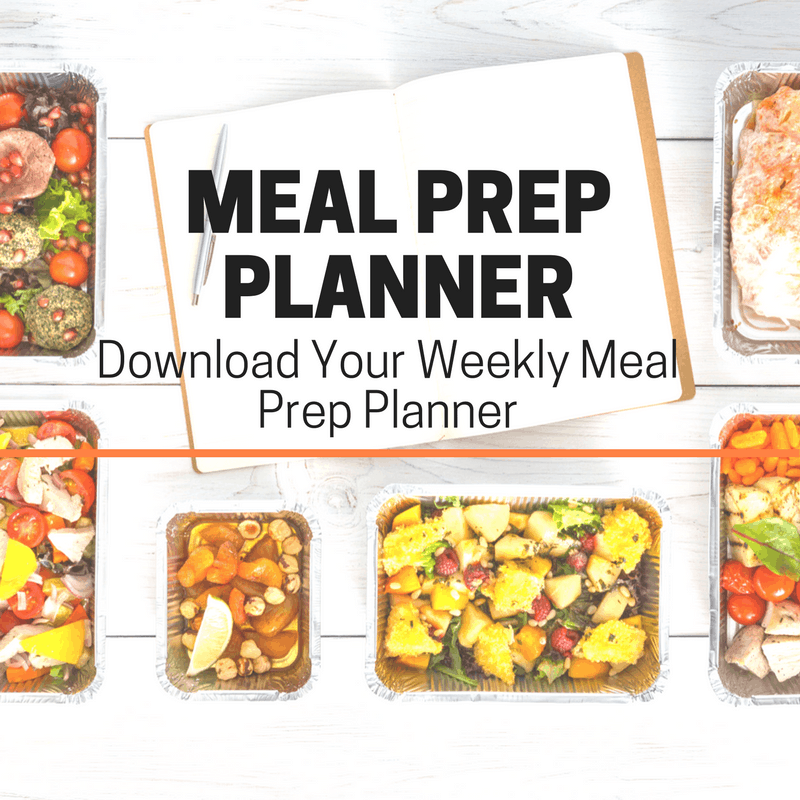 Related:
Which is best?
Honestly, if your aim is simply creating cheap healthy meals for you or your family, you could go to as simple as you like and still be seeing results – in your wallet and in your health.
The busier you are, the more a rigorous meal prep plan can help. Setting aside a few hours on a Sunday afternoon to cook your meals for the week can be a huge time saver, and provides ready-to-go healthy meals whenever you need them.
If you're just starting to look into meal prep, why not start by making a meal plan for the week first and go from there. I've created a weekly meal plan sheet and ingredients shopping list perfect for storing on your phone, or even printing out on the fridge, and I'm giving it away for free today.


Simply click the button below to receive your weekly meal planner for free. This small step can seriously organise your life when it comes to food – so get it now while it's free!
How to Create Cheap, Healthy Meals
First things first.
Try to shape your meals around similar ingredients. For example, if you decide to cook chilli con carne one night, why not use the leftover mince to great homemade burgers or spaghetti bolognaise the next night?
Planning your meals around the same ingredients will guarantee less waste, and less money spent on an assortment of foods.
However, the best way to use meal prepping to create cheap healthy meals?
Batch cook. Batch cook everything!
If you're cooking a chilli, double or even triple your ingredients and prepare a batch big enough to have for a few more meals in the week. Pick things you love to make and love to eat, and you won't get bored of eating the same meal.
Mixing up what you batch-cook each week is another great way of making sure you still find your food interesting. The worst thing you could do is force yourself to eat the same boring food every single day – that's a one-way ticket to a pricey (and unhealthy) fast food joint.
Cheap Healthy Meal Prep Ideas
Be patient, and I'll give you step by step recipes for some of my favourite cheap healthy meals to meal prep. In the meantime, here's a list of a few dishes for each meal of the day that are perfect for batch preparing.
Breakfasts
Overnight Oats

Greek yogurt and berries

Hard boiled eggs & toast

Egg muffins
Lunches & Dinners
Soup (any kind!)

Bento Box

Salad (mix meat and dressing when eating)

Chilli con Carne

Hot Mexican Chicken Wraps

Burrito Bowls

Chicken Curry

Pork Belly Stew

Black bean and Sweet Potato Fajitas
Snacks
Rice Cakes & Peanut Butter

Apple & Peanut Butter

Greek Yogurt with berries and cinnamon

Banana

Protein Bar (homemade recipe to come!)
Related:
---
Has meal planning helped you to create cheaper, healthier meals for you and your family on a more regular basis? Let me know your experiences in the comments below…